When it comes to designing a shirt, you have two basic options – design it yourself using graphic design tools such as Adobe Illustrator or use software made for the task. The good news is that there are tons of free t-shirt design software options to consider!
There are a lot of platforms that specialize in t-shirt design and can help you create something that people will want to wear. Some of these tools even integrate with T-shirt sales portals, making the process even easier.
Here, we're going to look at some of the best free t-shirt design software options available and how you can put these tools to work for you.
Embroidery Digitizing Services
If you are looking for embroidery digitizing services, EM Digitizer is one of the best embroidery digitizing company. Providing all types of embroidery digitizing. I recommend you test digitizing services.
Introduction
Using t-shirt design software is perfect for creating different t-shirt styles of your choice. There are many t-shirt design tools available these days, both for beginners and experienced users.
Let's discuss some of the tools that are used to create t-shirt designs.
These tools come in a wide range of free design apps or free design software that can work best for you. You can create your desired look for a t-shirt using this free design software. They contain images, text, numbers, brush tools, and clip art to create a variety of beautiful designs. Some software also comes with t-shirt printing options, providing great end results.
(If you are intrested in T-Shirt Embroidery. Visit our blog How to Embroidered T-Shirt)
Top 5 Best Free T-Shirt Design Software
If you are looking for the best t-shirt design software or even better free design software, you are on the right platform. Here choosing digital design software for t-shirt designing has made it an easy thing for you.
1. Custom Ink
Custom Ink allows you to create and order t-shirt designs in one tool. When you create an on-screen design, you can add text, images, and custom graphics. Shirt Maker has tons of images to help you get started, from athletic logo styles to emojis to professional imagery. Just drag and drop the image onto the shirt preview and you're good to go.
(If you want to learn about how to convert image to dst file visit our blog)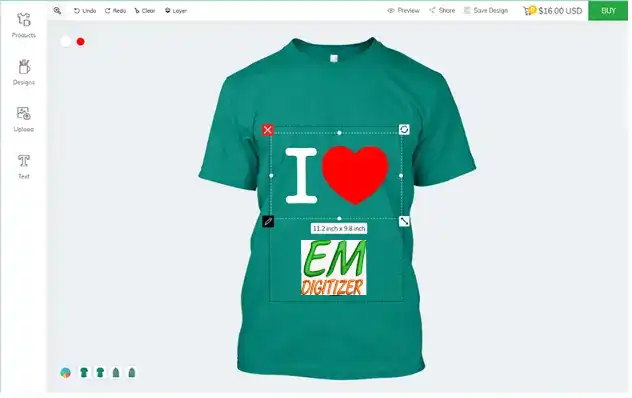 The best feature of this online t-shirt software is that it has a background grid that ensures that your text and image elements are in the safe printing zone for different shirt sizes and styles. The rest of the interface is also quite sleek. You can create shirts or a little league team to sell in minutes from start to finish.
Pros:
Easy-to-use builder.
Strong graphics options, even licensed team imagery.
Capacity to add names and numbers of sports teams.
Cons:
To get started you need a basic idea of ​​your design.
After making the design you have to order the shirts from this website.
2. Print Shop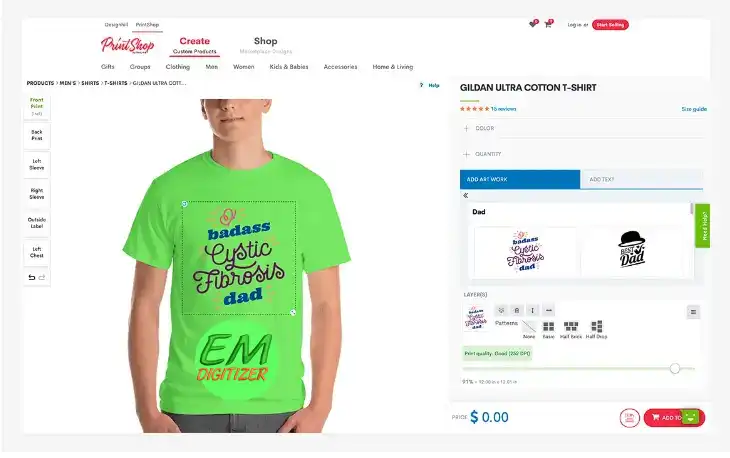 Print Shop by Design Hill lets you create custom t-shirt designs that are printed and transferred to you.
This tool uses a builder with some drag and drops and some click tools. Template options are what make this t-shirt design software stand out. You can add artwork from the ready-made gallery and add any additional customizations you may have. It's quick and easy.
Pros:
You can select shirt options and designs in one place (one-screen website design).
Templates make design easy.
The tool checks the print quality of graphics to ensure quality.
Cons:
The interface is a bit complicated.
Difficult to use if you don't have a design ready to import or use one of these.
You have to buy shirts from this website.
3. PlaceIt
Placeit is the only design tool on this list and you don't need to buy the shirts after you design them, but it comes with a catch – not all shirt designs are free. Designs can be as little as $2.95 or free with a subscription.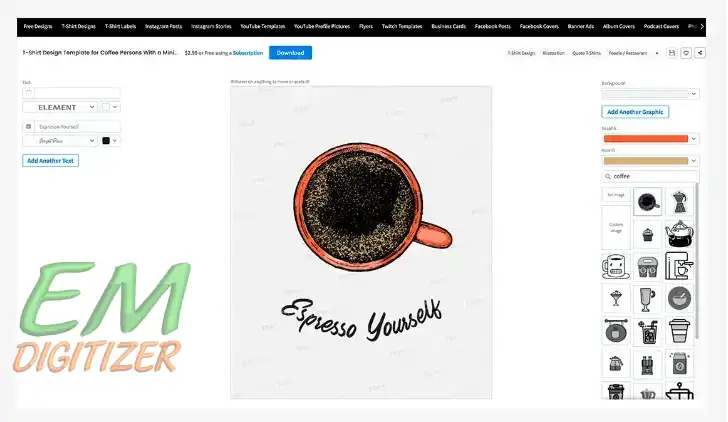 This t-shirt tool has some of the best-designed options in terms of templates though, and the interface is easy to use when it comes to custom designs. You can then export your design to use as you wish. (Although they also offer shirt orders.)
Pros:
Easy-to-use interface
Better clip art than alternatives
Can order shirts anywhere.
Cons:
The designs are not on the shirt mockup for you to see.
Not always free.
4. Design a Shirt
Design a T-Shirt is another free t-shirt maker built into a website that allows you to order shirts. The tools allow you to add images and text to all different colors and styles of shirts.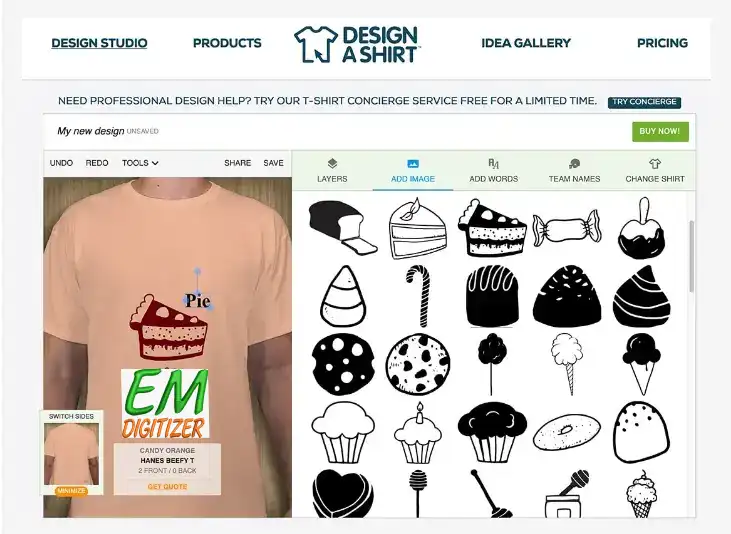 The best and most useful feature of this tool is the idea gallery, which includes some basic templates to help you get started with a shirt design project. Search by shirt type for jumpstart projects. The software is a mixture of click-to-place and drag-and-drop. This can be a bit complicated at first but allows good control over the design.
Pros:
You can see the design coming together on the screen.
Change the color of the shirt style and see your design on it
If you don't know what you want, the Idea Gallery can speed up projects.
Cons:
The interface is a bit complicated.
The clip art options are very "clip art-ish".
You have to buy shirts from this website.
5. Vexels T-Shirt Maker
Whether you're designing merchandise for your brand, selling custom t-shirts online, or even looking to quickly design cool custom t-shirts for your friends and family, Vexels is your Offers a streamlined and beginner-friendly tool for all needs.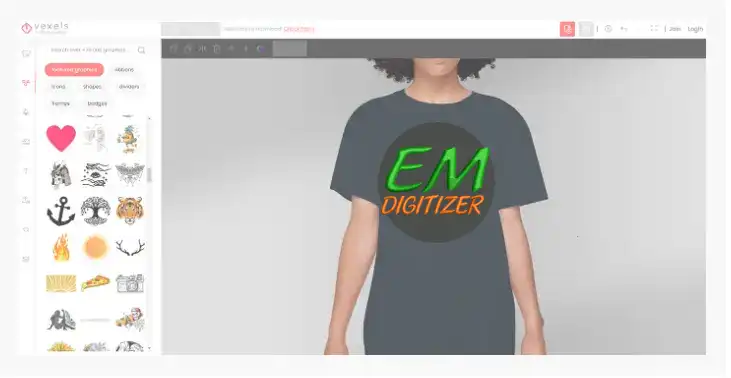 With Vexels, you get access to a huge collection of templates and graphics that you can use to design your own custom t-shirts. However, the best part of Vexels is its beginner-friendly online editor where you can easily find graphics, icons, and artwork. Also, edit pre-made templates, change colors, add text, and even upload your own designs.
Pros:
Approach over 70,000 high-quality graphics and templates
Easy to create and edit designs with the help of an online editor.
Download designs in print-ready formats.
Comes with a commercial license for sale on POD platforms.
Cons:
A subscription is required to sell designs in your store.
(If you want to learn more about digitizing software. Visit our blog best digitizing software)
Conclusion
T-shirt design using free design software has never been easier. One can enjoy it from the comfort of their home. Shirt design tools can help you design a shirt or start a custom t-shirt design business. Let your creativity flow by using t-shirt design software.
Snaptee is the world's first mobile app that enables you to create custom t-shirts with just a few taps of your smartphone. Regardless of your design or photo editing experience, you can easily create your own unique outfit with our fun tools.
You can make your t-shirt design on Canva with the bold boxing lifestyle and hobbies t-shirt template.
The traditional method of applying an image to a shirt is to use transfer paper, a printer, and a heat source such as iron. Other methods include using a heat press, screen printing, or using Cricut-cut vinyl. For a non-DIY option, many online stores accept custom orders and will print a photo on a shirt for a low cost.