Isn't it annoying when you wear your favorite embroidered dress to a special occasion for the first time and then you immediately notice a stain on it? It could be of any food products, tea, or anything else.
And you start to worry about washing embroidered clothes without ruining the pattern but don't know the exact way.
To get out of this headache, keep reading this post to learn simple and secure instructions for washing embroidered clothes so that your favorite garment stays in your closet.
Embroidery Digitizing Services
If you are looking for embroidery digitizing services, EMDigitizer is one of the best embroidery digitizing company. Providing all types of embroidery digitizing. I recommend you try digitizing services.
Why do We Need To Be More Careful While Washing Embroidered Clothes?
Let's discuss what makes the process of washing embroidered clothes tricky:
Delicate Nature Of Embroidery
Due to the delicate nature of embroidery, there are numerous factors to take into account when washing embroidered clothes while also bearing in mind the effort you put into getting them ready.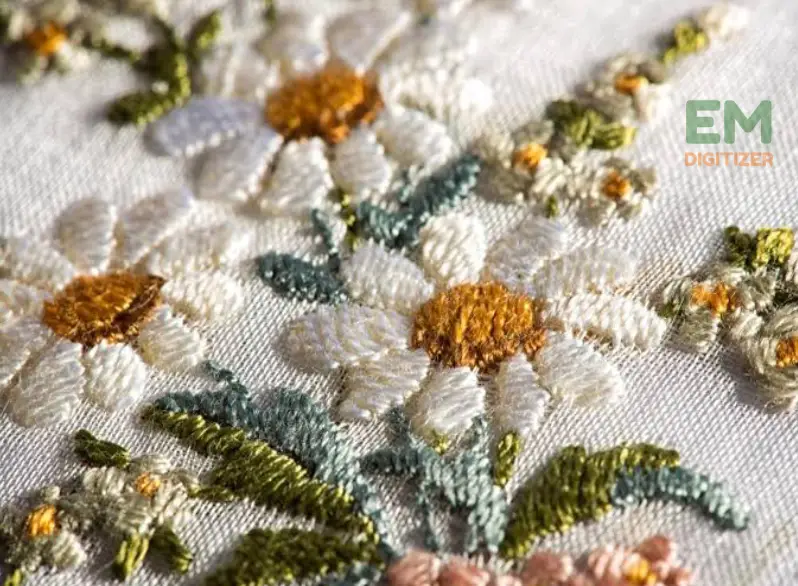 When washing embroidered clothes, extra caution is required since we need to pay attention to the fiber content of the fabric, backing, stabilizer, applied stitches, and thread type.
Bleaching Effect
Although bleaching won't harm polyester thread, it's best to avoid it while washing silk embroidered blouses.
Not only that, but washing embroidered clothes also has the potential to loosen beads, studs, and elevated stitches.
Consider The Washer Instructions Carefully
It's critical to review the washer instructions if you're going to use a machine for washing embroidered clothes.
The reason for this is that some washers, like those found in current washing machines, can be blocked and require a vigorous, forceful spin. In this situation, you are unable to simply retrieve your embroidered dress.
Hand washing or dry cleaning are two additional excellent options for washing embroidered clothes.
For instance, polyester fabric and thread are the hardest and can endure more harsh cleaning techniques than cotton.
Note:
Low-quality materials are sufficient to assess durability by determining which washing method will work.
Understand The Kinds Of Stains Which Needs To Be Removed
Natural stains, such as grass or blood, are sometimes derived from the natural world or living things. Another type is chemical, which includes oil extraction or hydrocarbons, paints or inks, etc.
One should be informed of the type of stain before proceeding for washing embroidered clothes. Although artificial stains require strong cleaning solutions, natural stains can be wiped with soap and water.
Let's look at some typical stains:
Stains of any Food Item
Any food particle and its lingering stain could depict it. like a beetroot, coffee, or tea stain.
On your embroidered clothing, these stains leave an oily, gritted, and colored impression.
Oily Stains
You're all aware that bobbin casings require lubrication. This oil might be either natural, like olive oil, or commercial, like motor oil.
The bobbin case should be oiled, although doing so might leave stains that can be difficult to remove.
Cosmetics And Blood Stains
These spills have the potential to leave behind persistent stains that are challenging while washing embroidered clothing.
Although blood stains are organic, mucus is the greatest way to remove them but it is not a convenient method.
Important Points To Consider While Washing Embroidered Clothes
We are all aware that there are two ways of washing embroidered clothes: by hand or by machine. Both of these approaches have advantages and disadvantages.
But using a machine for washing embroidered clothes is a convenient and effective method if you follow the directions.
Problems that could arise while washing embroidered clothes without using the proper techniques include:
Thread Content
Managing thread content that is silk might be challenging. Silk thread cannot be bleached; doing so would make your crafts appear sloppy.
First, the test is which approach works best for washing embroidered clothes. As bleaching agents harm rayon as well.
Fraying Of Design
If you are washing embroidered clothes with zippers, it may cause issues in the washing machine due to facing continuous friction with either the washer or drain. Hence results in the fraying of design.
Drying And Ironing Techniques
After washing embroidered clothes, using the proper drying processes can help keep the design and appeal of your embroidered clothes for a longer time.
Try to use the medium to low iron for embroidered projects as steam can cause the melting of stitches.
Color Bleeding Issues
These issues occur mostly when washing embroidered clothes by hand but this issue can be concerned with machines too.
Which Embroidery Projects Need To Be Washed?
Polyester-based embroidered items may endure pressure from a washing machine and dryer.

On the other hand, embroidered projects made with rayon as a fiber or thread only tolerate hand washing, analogous to silk and wool.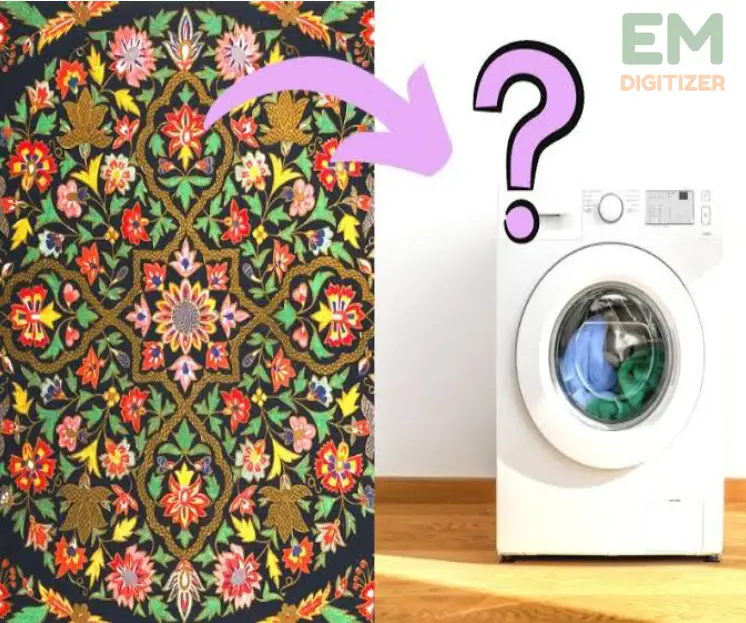 Other embroidered objects, such as embroidered bags or pouches are made to be washed later.

You can easily wash such embroidery items by following the instructions.
Side Note: To prevent shrinkage, it is advised to prewash garments with cotton, polyester, and synthetic fiber content before embroidery.
Which Embroidery Projects Cannot Be Washed?
As pointed out previously, natural fabrics such as silk and wool cannot survive intense bleaching agents and cleansers.
While rayon embroidery fabrics respond differently in the washer.
(click here if you want to learn more about the best type of embroidery fabrics)
A rayon is formed of cellulose content, which is taken from trees. Being natural in this way, it has several interesting properties. And hand made rayon garments are highly resilient, yet they lack embroidery.
Note:
It's also a good idea to double-check the fabric label about washing embroidered clothing before proceeding.
Causes Of Shrinkage Occurs While Washing Embroidered Clothes
Although rayon gives off more shine and is permeable by nature, it can shrink when washed and can generate difficult-to-manage curl when immersed.
Which Makes The Embroidered Clothes To Shrink
:
Felting

is a type of shrinkage that primarily affects embroidered clothing manufactured with wool or mammal hair as mohair.

These hairs have tiny scales on their strands, which are vulnerable to heat, humidity, and pressure and cause felting in this manner.

Integrating

is an alternative to shrinking that occurs when dampness and friction during washing and drying embroidered clothing interact.

This is the element that prompts the fabric to loosen the tension applied during sewing, relaxing the fiber and returning it to its natural condition.

The same thing happens while ironing and then washing embroidered clothing causing shrinkage.
Side Note: To prevent shrinkage, it is advised to prewash garments with cotton, polyester, and synthetic fiber content before embroidery.
Tips For Dry Cleaning Of Embroidered Clothes
A technique called dry cleaning involves removing stains by using a solvent that contains potent chemicals.

Clothes can be immersed in the liquid to dissolve the link between the soil and oil and allow them to be rinsed away.

The majority of people find the concept of dry cleaning their needlework efforts to be unappealing due to their high cost and potentially dangerous chemical residue.

It is recommended that you avoid dry cleaning items at home since they may mix with other substances and harm the body.

The risk of destroying your needlework can be avoided by hiring a competent dry cleaner, despite the cost.

Mention them first where you found the location of the stain and ask them to reverse the design.

Additionally, you mentioned the composition of your fabric and

thread type.
(Visit our blog to find more detail on embroidery thread)
And asked them to use a medium-low iron rather than steam the design from the back.
Best Tips For Washing Embroidered Clothes
Here are the best strategies for washing embroidered clothes so that they look clean without destroying the artwork.
Washing Of Embroidered Clothes By Hand
Here are the finest washing embroidered clothes tips to keep your clothes looking new without damaging the artwork.
Step 01
Hand-washing embroidered items are the best approach to protect your embroidery design. To maintain a fresh appearance, avoid using too much detergent.
It is because detergents include agents, which can minimize the surface tension of the solvent used for washing embroidered clothes.
Step 02
Continue washing embroidered clothes by holding the garments under tap water to remove all the stains. However, avoid using steep waterfalls to avoid distortion of design.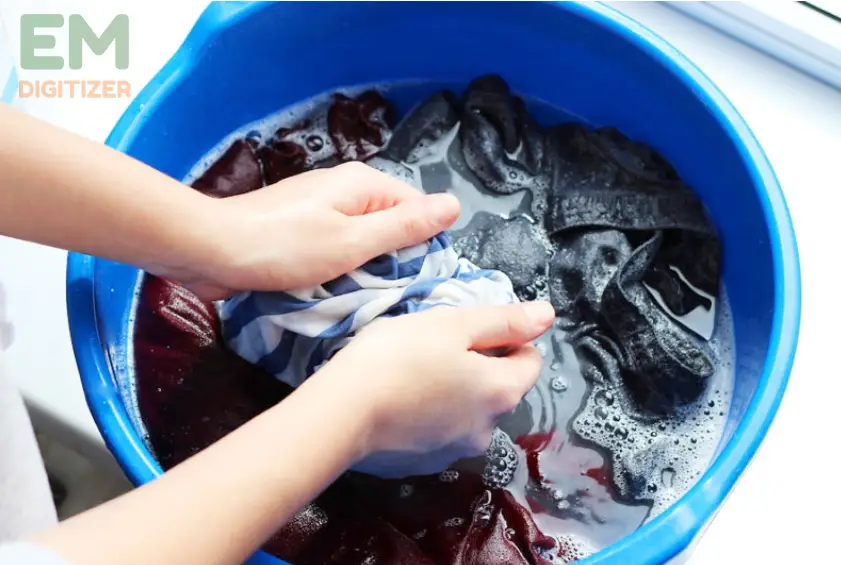 Step 03
Flapping causes ridges and strains on the seams, so try to prevent it. Additionally, it may cause thread breakage and alter the embroidery's shape.
Step 04
It is advised to use a towel or any other type of soft fabric as support, then set your embroidery clothing on top of it and flatten it out with your hand.
The embroidered cloth should be placed and wrapped up with a towel. Any dragging or straining can be avoided by doing this during washing embroidered clothes.
Step 05
The towel roll should now be gently pressed to allow the towel cloth to soak the most water possible.
Step 06
Allow the embroidered clothing to dry naturally.
Step 07
Stay there and look to see if there are any stains still present on your embroidered clothing. Repeat the process if it has.
Step 08
Start ironing the embroidery fabric from the reverse side and set the temperature to low or medium if your embroidered clothing is stain-free.
Here, it is not required to steam the embroidery. To provide a stronger grip, you may also place a towel underneath the embroidery clothing.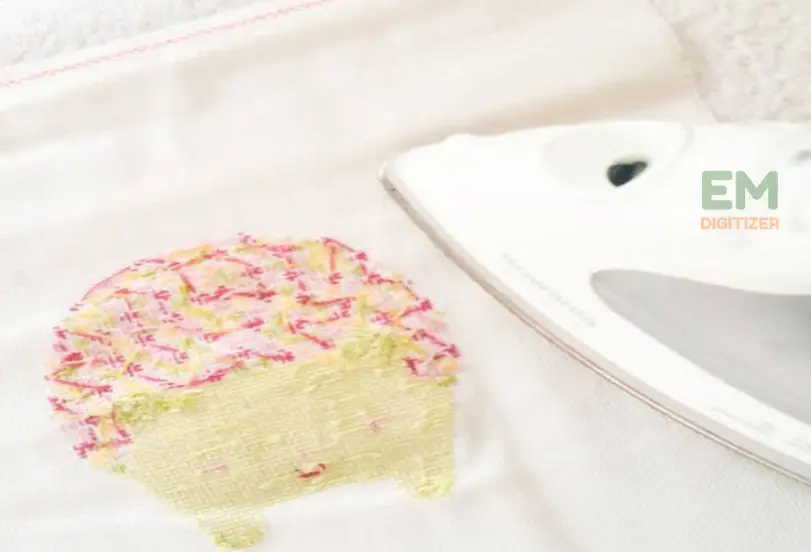 Step 09
Then, once more, let the air dry.
Washing Embroidered Clothes With Machine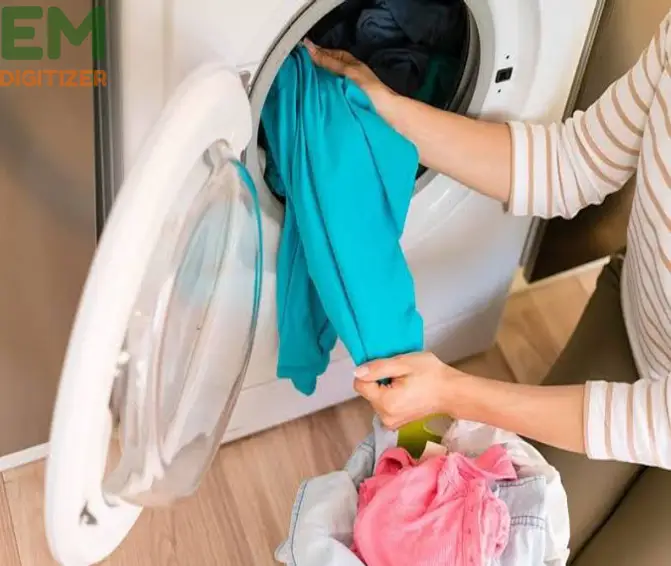 Step 01- Invert your embroidered clothes.
Step 02- To prevent abrasion, do not place your embroidered clothes in the washing machine if it has fasteners like zippers, studs, or buttons.
Step 03- Use cold water for washing embroidered clothes with these materials.
Step 04- Avoid washing embroidered clothes of silk and cotton with other garments to prevent color bleeding.
Step 05- Allow them to dry in the manner previously described.
(Want to learn in detail about washing, ironing, and drying techniques of embroidered projects, visit our blog)
Tips For Washing Embroidered Clothes Having Beads Or Other Materials
Here are a few ideas to recall:
Be sure to read the manufacturer-provided instruction label on embroidered clothing.

2

. When washing embroidered clothes with buttons, beadwork, snaps, or fasteners, it is best to wash them by hand.

Try to avoid drying these embroidered items in the dryer as they may cause issues. Therefore, it is best to leave them straight to dry.

Avoid ironing these embroidered garments with a hot red button as this can melt the plastic beads and pearls.
Tips To Remove Tough Stains From Embroidered Clothes
There are some stains that, despite washing, cannot be eradicated. So let's look at some fascinating advice for removing these stains:
By placing any decoration or accessory over the stain, you can conceal it.

However, applying heavy stitches to hide such a stain would be problematic.

Use a button to conceal a stain interestingly if it only covers a tiny area.

Such a stain can be covered with

applique

, and another fabric can be sewn over it to make it more appealing.

Utilizing a brush, other coloring supplies, and

fabric scraps

can also be a creative approach to cover such stains.
Conclusion
Comment below on how much you found this blog post to help adopt the best washing method for embroidered clothing.
The best advice and simple techniques for washing embroidered clothes have been provided, so you no longer need to worry about any stains.
Simply adopt the practice to read the care label on the particular project. And bear in mind the kind of thread and fabric used, as well as the proper ironing and drying guidelines, when washing embroidered clothes using any technique.