I'll go through the primary varieties of machine embroidery thread in this tutorial, along with how to utilize them properly. The utilization of multicolored thread, which is used to embroider any type of design, makes embroidery a very intriguing procedure. Even though there are many different kinds of machine embroidery threads in the market, it can be difficult to determine which is ideal for your machine and design, especially for beginners. As a result, you will find this post to be useful.
Embroidery Digitizing Services
If you are looking for embroidery digitizing services, EM Digitizer is one of the best embroidery digitizing company. Providing all types of embroidery digitizing. I recommend you test digitizing services.
How To Choose The Best Machine Embroidery Threads?
Like other supplies, machine embroidery thread is the main thing you need to carry out the process of embroidery. For beginners, it is critical to make the best decision for embroidery thread by keeping in mind other factors like quality, nature, weight, or thickness. But after practice, you will get mastered in the choice of thread for your embroidery project.
A question can arise in your mind Why is there a need to choose the right machine embroidery thread for embroidery? The answer is simple. Embroidery is a time-consuming process where you put all your energy and effort to complete the embroidery project but even a single mistake can destroy your hard work and affect the presentation of your embroidered projects as well.
It is better to take time to decide the best choice of machine embroidery thread rather than regretting later. But stop worrying about this. I made this post by taking into account the headache users experience before selecting the right thread and its proper use. To make you more confident in this embroidery field, I will suggest using the below-mentioned types of machine embroidery thread and their efficient use. With the right thread, looking at your embroidery projects will generate a good lead for your business. So let's discuss the factors that one should consider before selecting of suitable machine embroidery thread.
First Consider The Quality Of Machine Embroidery Thread
There are numerous types of embroidery threads available in both off and online stores but not all of these options are for you. People who consider choosing ow-cost and poor-quality thread will be annoying to deal with and results in most frequent thread breaks, fraying, and bird nesting. How will you check the quality of machine embroidery thread?
Simply take the thread into your fingers and check whether the thread is smooth or has any lump. This is how you will pick the best machine embroidery thread type according to the project. Because smoothness is the factor that decides the fluency of the needle across the fabric. Another factor is the strength of that thread to avoid any thread breaks and it is very annoying to stop to rethread again and again.
Weight Or Thickness Of Machine Embroidery Thread
It is also a matter of care to consider the weight of machine embroidery thread and this is also linked to the amount of thickness. The heavier the machine embroidery thread is, it is considered thinner. Among the ideal weight of thread being used for embroidery, 40 wt is the universal choice for all embroidery projects. And most of the trained embroiderers go with 0-weight thread for their embroidery projects. It also depends upon the nature of the project.
For example, lightweight machine embroidery thread is suitable for simple projects, and heavier thread is recommended for more intricate embroidery projects to cover the area you want to embroider. You may also need to incorporate changes to the embroidery needle according to the diameter of the thread. Make sure to check the manual before the selecting machine embroidery thread whether this thread is compatible with the embroidery machine or not.
Types Of Best Machine Embroidery Thread
Among all the types of thread available to be used in embroidery machines, let's discuss the key types and their compatibility with embroidery projects.
Polyester Machine Embroidery Thread
Polyester is a standard level for most commercial enterprises just because of its features including durability, color collection, firmness, and more. One of the best features that I consider is that polyester machine embroidery thread is not affected greatly by bleaching agents hence sustaining the color of the embroidery projects even years after. Even though it is stronger than other threads, you will see how smoothly it works with an embroidery needle to give your embroidery projects a pro look.
Use- Best pick for making embroidered clothes for all ages. To embroider creative designs for your children, polyester machine embroidery thread will help out to embroider even messy designs finely because it shows its affinity with the embroidery machine. But still, we cannot consider this thread for making all of the embroidery projects.
Rayon Machine Embroidery Thread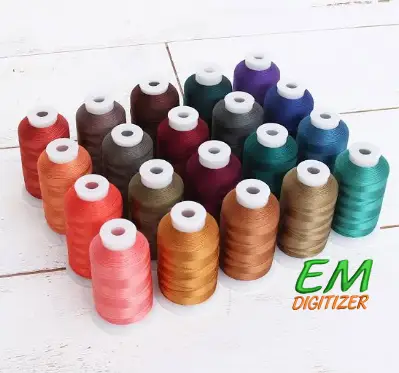 What makes this thread the best pick for machine embroidery is its gleamy finished appearance which retained the beauty of the embroidery projects for a long time. Other than that, it contains a wide range of color selection and natural fiber content.
Use– Due to its softness, suited best with less detailed and fine embroidery designs and can be the best choice when working with lace. Its only disadvantage lies in the strength it has. The best way is to perform a test to check its compatibility during the stitching of the embroidery design.
Cotton Machine Embroidery Thread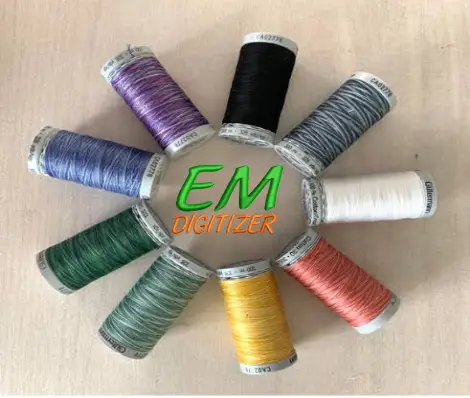 It is available in a variety of color ranges and thicknesses in stores. Cotton thread is one of the best embroidery threads due to the shiny finished look it provides to embroidery projects.
Use- If we talk about its nature, cotton thread is of a soft kind with a natural composition and it will suit best feeble embroidery projects. Although it is a compatible type of thread for most embroidery machines(let's say 30wt) test is recommended to check its smoothness during needlework. As cotton machine embroidery thread is lightweight by nature, there is a great chance of experiencing thread breaks with cotton thread. Moreover, its color is greatly affected by sunlight and it is not a durable thread and is unable to work with detailed and complex embroidery projects.
Silk Machine Embroidery Thread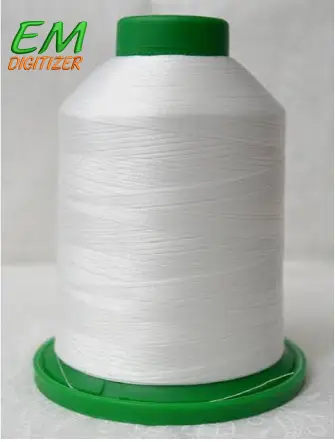 When you come into the world of fashion, the use of silk is increasing in the form of thread too. In this case of luster, it is a better choice than the above-stated types of embroidery thread. Due to its high demand, its cost is high.
Use– Highly recommended for lavish embroidery projects. But one may need help in selecting mixed-colour silk machine embroidery thread to embroider different projects.
Use Of Metallic Threads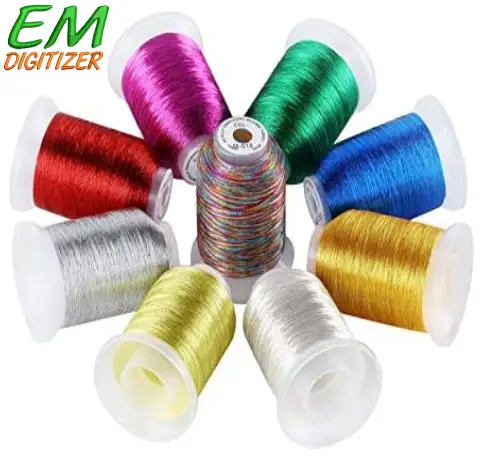 This thread is of great importance when embroidering colorful embroidery designs.
Visit our blog How To Keep Matallic Threads from Breaking.
Use-The use of this thread helps to give a fantastic look to your embroidery projects, but working with this thread will also frustrate you, especially those who never practiced this before. To enable its smooth working, one may need to use a particular needle and follow fixing techniques otherwise it takes a long time to deal with.
Things You Need To Know About Bobbin Thread
The main part of stitching is to have a bobbin and thread around it. It is positioned below the needle plate. It can be of different colors but it should shower resemblance with the fabric or top thread. This is the thread shown by the downside of the embroidery design.
If you want to know about Bobbin Thread then visit our blog Best Machine Embroidery Bobbin Thread.
Use-If I talk about its role when the needle perforates through the garment, it results in the formation of a loop by the wheels of the bobbin, and thread starts wrapping around the bobbin thread hence pulling the thread in a way to perform a stitch. If you are embroidering a dark-colored themed design, your bobbin thread should be of dark color. And the use of a re-wound bobbin is somehow recommended to avoid wasting time.
Which Brand Is Best For Machine Embroidery Thread?
You will get different results when asking others for the specific brand to purchase the best machine embroidery thread for you. Among all the types of brands Madeira, sim thread, sulky Guterman, Floriani, and embroidery can be the best choice for good quality machine embroidery thread. This varies as per your embroidery machine.
If you want to know about the Embroidery Thread Brands visit our blog about main brands of embroidery threads.
How To Check Which Thread Goes Best With An Embroidery Design?
As I have discussed the main types of machine embroidery thread, now it's your turn to choose which is best for you. To make this process easier, go with the test first. After that you desire machine embroidery thread, start stitching it on a piece of fabric. It will show how your stitches look on your favorite embroidery projects. To avoid thread breaks, try to use an entirely digitized embroidery design.
If you need help to choose needle according to your designs get help from our blog Choose The Best Machine Embroidery Needle.
Conclusion
All of the threads discussed above are special by nature and designed to be used for various purposes. Some materials, like cotton or rayon, perform well with delicate artwork, while polyester is robust enough to handle elaborate designs as well. Where silk thread is pricey but can add sheen to embroidery designs, which can make a difference. However, their quality and compatibility with embroidery machines are what matters most. Be sure to run the test after selecting an appropriate thread with attention. I hope this article has everything you require.