The process of embroidering a heart design using a machine might seem tricky, but we're here to make it easy!
In this article, we'll show you simple steps on how to embroider a heart design. Moreover, you'll find valuable tips and techniques to bring your heart-themed designs to life with precision and style.
Embroidery Digitizing Services
If you are looking for embroidery digitizing services, EMDigitizer is one of the best embroidery digitizing companies. Providing all types of embroidery digitizing Services. I recommend you try digitizing services.
Order Now
Get Free Quote
Introduction
Embroidering hearts is a favorite machine embroidery project because they represent love and emotion, making them perfect for creating heartfelt gifts and decorations.
With a machine, you can stitch intricate heart designs quickly and precisely, making it accessible even for beginners.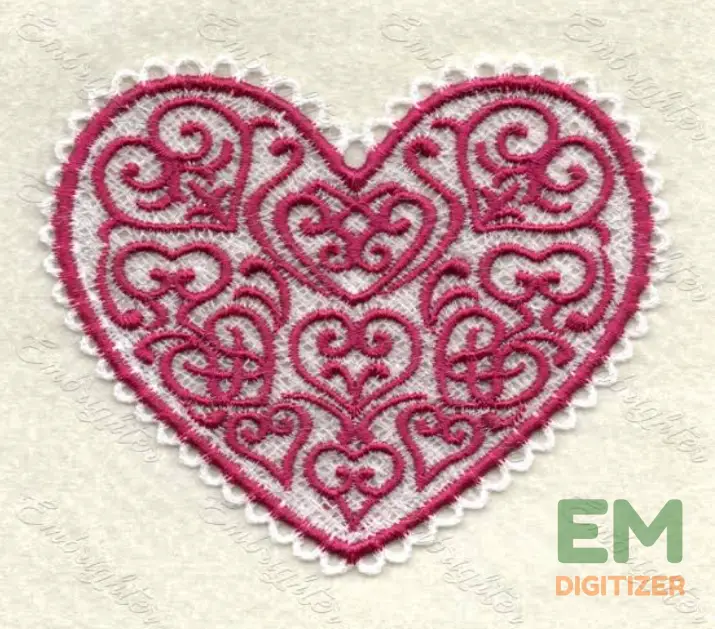 Read this article if you want to learn the fundamentals of machine embroidery.
People love embroidering hearts on items like towels, pillowcases, and clothing to add a personal touch and express affection to their loved ones.
Plus, heart embroidery allows for endless creativity, from choosing different colors to experimenting with various stitch patterns, ensuring each heart is unique and special.
So, it's no wonder that embroidering hearts remains a beloved and popular choice in machine embroidery.
Materials Needed For Embroidering Heart:
Embroidery Machine

Embroidery hoop

Fabric (cotton or any fabric of your choice)

Embroidery thread (various shades of red, pink, or your preferred colors)

Bobbin thread

Stabilizer (tear-away or cut-away)

Needles

Heart shaped Design or pattern

Scissors

Spray adhesive

Water-soluble fabric marker or tailor's chalk

User manual

Power source

Notions like pins, rulers, or seam rippers
The top embroidery business tools are listed below so you can run your business more effectively.
A Tutorial On How To Embroider A Heart:
We'll also show you how to embroider a heart in different ways throughout the guide to help you grasp the concept. Let's get started!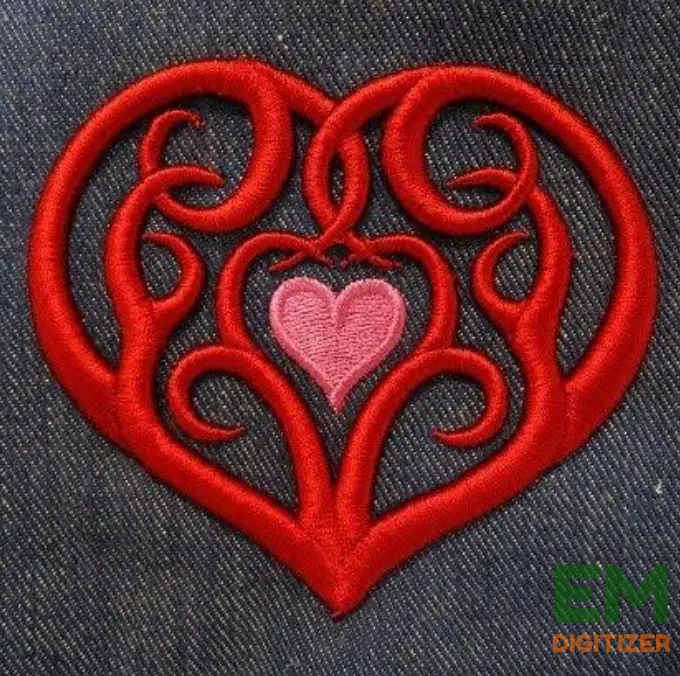 Selecting The Right Heart Embroidery Design:
When choosing the perfect heart embroidery design, keep it simple and clear. When you're picking a design, think about how good you are at embroidery and how big your project is.
If you're just starting, go for simple heart shapes. If you're better at it, you can try fancier patterns. The design must fit the size of what you're making.
So, beginners can go for small, easy hearts, and experts can try detailed ones. Just make sure your design matches your skill and project size.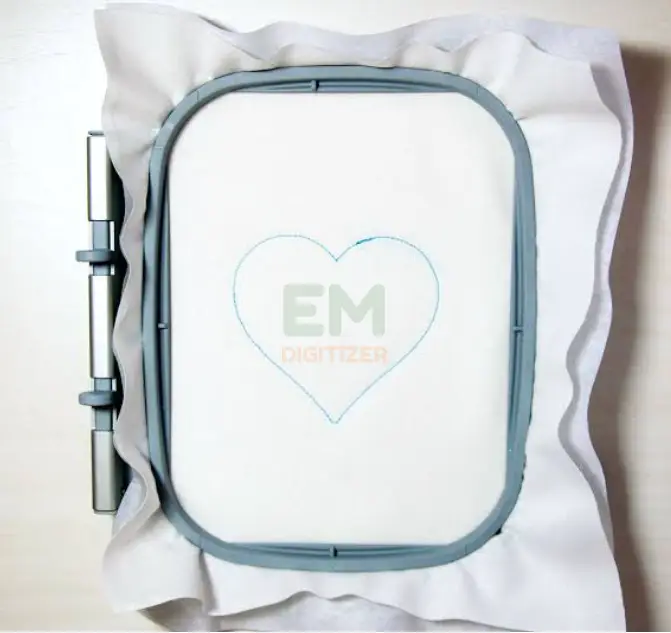 Make sure the design works well with your fabric and what you want to make, whether it's something small for decoration or a large project.
Visit our website to download premium free embroidery designs for making one-of-a-kind embroidered items.
Also, look at the design's size, colors, and how hard it is to stitch. It should match what you have in mind. It's okay to try new things, but remember that picking the right design can make your embroidery project more fun and work out better.
A Step By Step Guide:
Embroidering a heart is a creative and enjoyable process. Here, we'll provide you with brief instructions on how to embroider a heart.
Step 1:
Before you begin to embroider a heart, you'll need to choose your fabric. For example, you can use a soft cotton fabric for a gentle, romantic heart or a sturdy canvas for a bold, rustic heart.
Make sure the fabric is clean and well-ironed to ensure smooth embroidery.
Need more details for selecting the best type of embroidery fabrics, go and check the blog.
Step 2:
To embroider a heart, you'll need a heart-shaped design. You can find heart embroidery patterns online or create your own.
For instance, a simple heart outline can be a great choice for beginners, while a heart filled with intricate details can add complexity to your project.
Step 3:
Transfer your chosen heart design onto the fabric. You can use methods like tracing, iron-on transfers, or water-soluble pens. This step is crucial to guide your embroidery.
Step 4:
Now, let's talk about the thread. Choosing the right thread color is essential for a beautiful heart embroidery.
Click here for help selecting the ideal machine embroidery thread for your designs.
For example, if you're embroidering a heart on a light-colored fabric, a deep red thread can create a stunning contrast.
Step 5:
To learn how to embroider a heart with a machine, ensure your sewing machine is set up for embroidery. Refer to your machine's manual for guidance on threading and setting the correct tension.
Step 6:
Start by embroidering the outline of your heart. Use a simple back stitch or satin stitch for a clean and defined border. This will give your heart shape.
Step 7:
Now, let's fill in the heart. When you're using a machine to embroider a heart, there are a few stitches you can use to make it look pretty. The main ones are the satin stitch and the running stitch.
The satin stitch is like coloring inside the lines, filling the heart with thread so it looks smooth. The running stitch goes around the edges of the heart, making it stand out.
If you want to learn how to utilize the satin stitch in embroidery and the best approach to do it.
If you want to make the heart more interesting, you can use stitches like the French knot or seed stitch to add texture and cool details to it. These stitches will make your heart design look nice.
Step 8:
If you'd like to enhance your heart embroidery, consider adding details like flowers, leaves, or initials inside the heart. This personal touch can make your project even more special.
Step 9:
Once you're satisfied with your embroidered heart, tie off any loose threads and trim them neatly. Remove any remaining design marks if necessary.
By following these step-by-step instructions on how to embroider a heart, you can create beautiful heart designs for various projects, from home decor to personalized gifts.
Creative Ideas For Using Embroidered Hearts:
Remember, once you've learned how to embroider a heart, you can use this skill in countless creative ways. You can try making these items like:
Greeting Cards:
Once you learn how to embroider a heart, you can use your skills to create custom greeting cards. Embroider tiny hearts onto the cardstock to create beautiful and unique designs. This adds a personal touch to your messages.
You can also Stitch a sweetheart design on the front of a card to make birthdays, anniversaries, and Valentine's Day extra special.
Clothing:
Take your embroidered hearts to your wardrobe! You can add a heart-shaped patch to your favorite jeans or a cute heart motif to a plain T-shirt. It's a fun way to express your style and creativity.
Quilting Projects: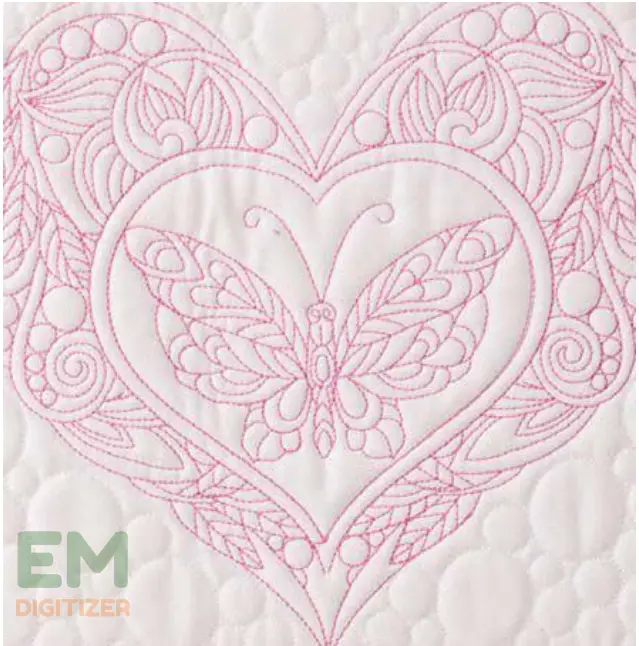 If you're into quilting, incorporate embroidered hearts into your quilt designs. These little heart details can make your quilts stand out.
Gift Cards And Labels: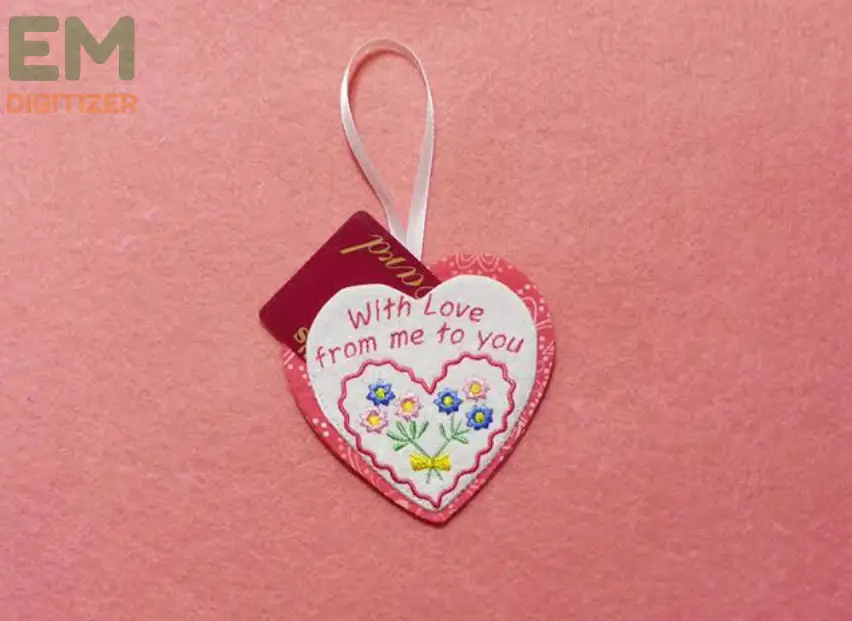 When you know how to embroider a heart, you can make custom gift tags and labels. Attach heart-shaped tags to presents or label them for homemade jams, candles, or other crafted gifts.
Baby And Nursery Decor: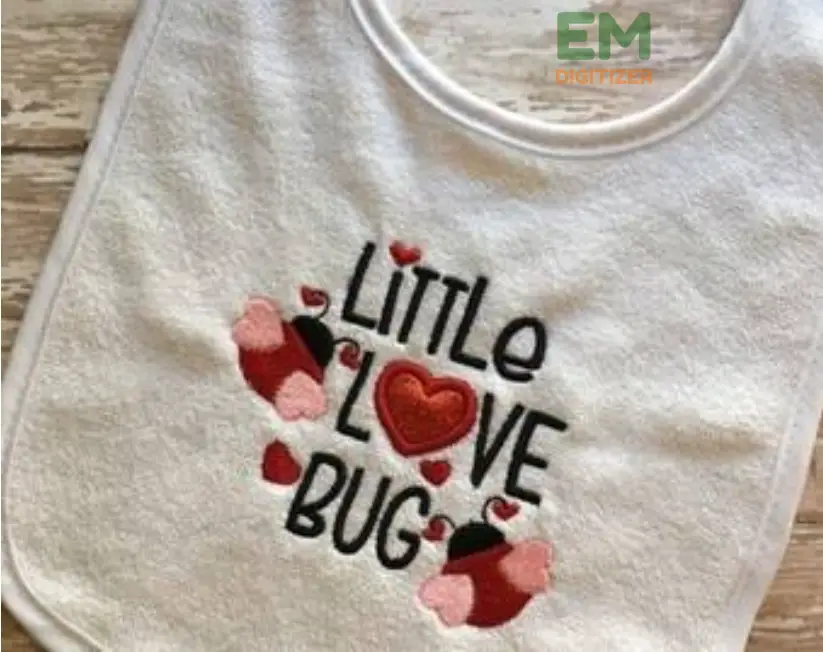 If preparing for a baby or decorating a nursery, consider embroidering hearts on baby blankets, crib sheets, or wall hangings. These little hearts add a sweet and comforting touch to the baby's space.
Wedding Keepsakes:
Are you planning a wedding? Incorporate heart embroidery into your special day by adding heart motifs to the bride and groom's attire, wedding favors, or ring bearer pillows. It adds a romantic and personal element.
Holiday Decorations: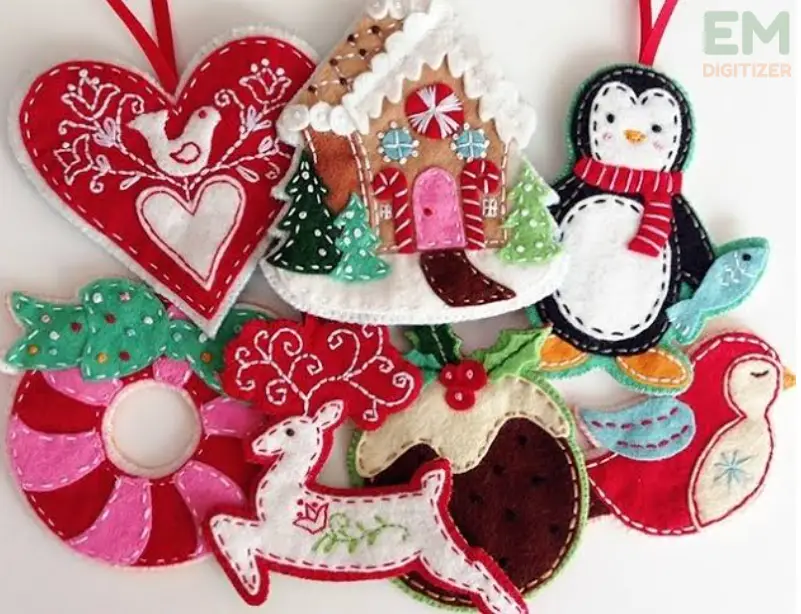 Don't limit yourself to just Valentine's Day. Use your knowledge of how to embroider a heart to create heart-themed holiday decorations. For example, red and green hearts for Christmas ornaments or pastel hearts for Easter.
Tips To Follow:
Begin with clean, smooth fabric.

Use an embroidery hoop to stretch the fabric.

Pick vivid thread colors for the best match.

Practice on scrap fabric first to check the settings.

Follow your heart pattern carefully.

Tie off threads neatly to avoid unraveling.

Keep practicing for improvement.
Conclusion
Learning how to embroider a heart with a machine can be a rewarding and creative journey. It's not just about making hearts; it's about adding a personal touch to everyday items and special occasions. Feel free to try new stitches and designs to make each embroidered heart unique. Plus, remember to share your heart-inspired creations with others.