Brother SE400 is a machine which is combines sewing and embroidery functions. It's computerized, which means you can load a blueprint, and the system can run a conveyor to sew the fabric, like a planner.
Embroidery Digitizing Services
If you are looking for embroidery digitizing services, EMDigitizer is one of the best embroidery digitizing company. Providing all types of embroidery digitizing. I recommend you try digitizing services.
Brother SE400 Overview
It also has built-in stitches for convenience, such as buttonhole stitching at the touch of a button, proving that computerization is not just limited to embroidery. Brother has a solid history of manufacturing user-friendly and reliable sewing machines.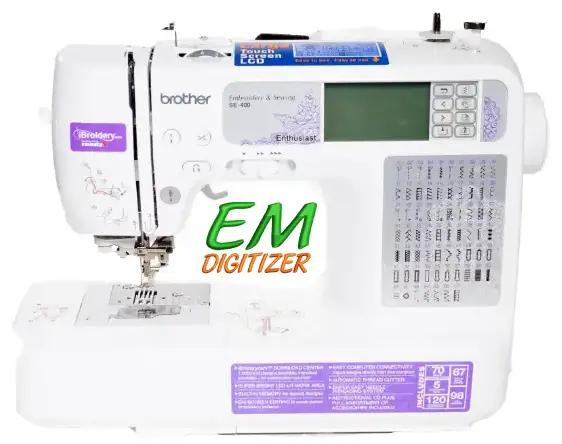 The Brother Computerized Sewing and Embroidery Machine SE400 can be wired to a computer, allowing you to take advantage of possible machine upgrades and easily download and digitize embroidery designs to the computer.
The SE400's many built-in sewing features, including 67 stitch and 98 stitch functions, appeal to both beginners and experienced stitchers. With the intuitive LCD screen monitor, built-in guides, and quick start guide, getting started with embroidery is a breeze. Choose from 70 decorative embroidery patterns, 120 frame pattern variations, and five letter fonts in the built-in embroidery style library.
Features Of Brother SE400
I'm assuming you want to do embroidery because if you just want a sewing machine you don't need a Brother SE400. There are many other sewing machines to choose from, and you will get more value for your money if you buy a specific sewing machine. So I'll cover the embroidery features first and get to the machine sewing side in a minute.
4" x 4" Maximum Embroidery Area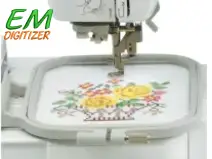 The Brother SE400 has a 4" by 4" embroidery frame. This means the maximum design size you can sew at one time is about 3.875 x 3.875 inches because there must be room inside the hoop for the embroidery foot to travel. If you want to sew a larger design, you either have to break it apart with software and sew the pieces separately, or you create the design from smaller elements by moving the hoop or re-hooping the fabric. can. The optional large multi-position hoop makes this easy.
I love my brother's SE400, but I wish it had a bigger hoop size. However, going up to a larger hoop size is too expensive and out of my budget. So I'm fine with the limit for now.
Most designs are available for a 4×4 inch hoop, but some are only for 5×7 or larger. Whether a 4×4 hoop is right for you depends on the type of projects you want to decorate.
USB Port For Downloading Designs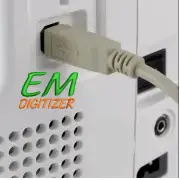 No matter how many built-in embroidery patterns your machine has, sooner or later you'll want something different. Or you may have something special in mind for a particular project. So one of the most important features to consider when looking at embroidery machines is how you get the added design into the machine.
The Brother SE400 Sewing and Embroidery Machine is equipped with a USB port so you can quickly and easily transfer your designs from your computer to the machine. Simply connect the SE400 to your computer with the included USB cable. You can transfer designs found on CDs, the Internet, etc. with copy and paste. You don't need any additional software. It works with both Windows and Macintosh using computer software.
Embroidery Card Slot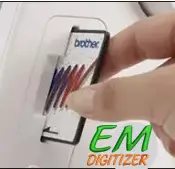 The Brother SE400 has a card slot for reading embroidery designs from Brother Embroidery Cards. It lets you use thousands of additional Brother embroidery designs, including the Nickelodeon Collection and exclusive licensed Disney characters.
If you prefer to manage your collection on embroidery cards rather than on your computer, you can write your own designs on the cards. But you'll need an optional card writer and software.
70 Built-In Embroidery Designs
The Brother SE400 also has 70 built-in embroidery designs including flowers, scrolls, capital script letters, animals, holiday motifs, etc. You simply select one of the designs using the LCD touch screen and the machine will guide you step by step through the stitching. When it's time to change colors, it will stop and ask you to load the next color. Practicing with these designs is the best and fastest way to get started because you always have them at your fingertips without trying to figure out what to download at the same time.
These are just basic designs to get you started and may not suit your taste. Note that you can easily download other designs.
Ten shapes such as circles, squares, diamonds, shields, and even a heart can be combined with 12 stitch patterns such as straight, scalloped, or other decorative stitches, to create 120 different frame styles that you can surround your embroidery designs with. Can be used for border stitching.
Five Built-In Embroidery Fonts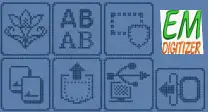 The Brother SE400 has five built-in fonts including upper and lower case letters, numbers, symbols, and non-English accented characters. Just select a font from the LCD screen, type a name or word and press Go. You can use fonts to personalize clothes, pillows, towels, etc. out of the box.
You can choose one of three sizes for the letters. The exact size and spacing of the letters vary slightly depending on the font, but the small size is about 3/8 x 3/8 inches, the medium size is 5/8″ x 5/8″, and the large size is 1 1. /4 x 1 1/4 inches.
Pros And Cons Of Brother SE400 Embroidery Machine
Pros
A computerized LCD makes switching between plans quick and easy.
Offers an abundance of stitching and design options.
Quick and easy thread and start.
Includes 8 presser feet with snap-on mounting.
Presents lessons directly through the LCD screen.
The free arm design adds extra sewing functionality.
Cons
Picking stitches through 12 screens (6 per page) is difficult.
The bobbin case requires frequent cleaning due to the built-in sensors.
Customer Reviews
Have had this machine for abo
ut 8 years now. Was intimidated to even try the embroidery part for 5 years, then finally attempted it. WHAT DID I WAIT FOR lol….. easy to use, easy to upload and customize patterns, and overall a fantastic sewing machine. Wish I'd have bought one now, though, that could embroider bigger areas. (SaddleSore)
First of all, the machine is pretty easy to use. I didn't know the slightest thing about embroidering and I was embroidering within an hour of opening the box and reading the instructions. I love that it comes with pretty much everything you need to get started except stabilizer, thread (it even comes with bobbin thread!), and projects to sew. My first impressions after owning it for a few weeks were for 5 stars, especially for the price. (Kat)
I spent last week's spare minutes reading each and every 530+ reviews given here for the SE400 before deciding to plunge in and get one. I have owned top-of-the-line Elna and Viking sewing machines over the years but wanted to get my feet wet with an entry-level embroidery machine. So many of the reviews were not only helpful but educational in themselves regarding the whole machine embroidery scene. By the time my machine arrived, I felt like I had already bonded with it and its capabilities. I had also spent shipping time looking over the many helpful (and some so NOT helpful!) YouTube videos expressly related to the SE400. (lcsr59)
Conclusion
With all these great features, the Brother SE400 embroidery machine will not only allow you to use your creativity to create and create each and every design on your clothes, but it will also help you save money when it comes to You may need something special that you can't find. on the market.
This multi-purpose Brother SE400 embroidery and sewing machine is ideal for developing your embroidery skills to create unique designs. The embroidery machine is easy to use and operate, and it produces high-quality results at a consistent speed.