In this blog, we'll explore the top 5 computers that are perfect for running embroidery software smoothly, ensuring you can be more creative with your projects without any technical limitations.
If you want to learn easy ways to learn machine embroidery, click here for 5 simple methods.
Embroidery Digitizing Services
If you are looking for embroidery digitizing services, EMDigitizer is one of the best embroidery digitizing companies. Providing all types of embroidery digitizing Services. I recommend you try digitizing services.
Order Now
Get Free Quote
Importance Of Embroidery Software In Computerized Embroidery:
Embroidery software serves as a conduit between imagination and fabric. It allows users to turn digital designs into embroidered patterns which can be created by digital embroidery machines.
Here is a collection of the best commercial embroidery machine reviews to help you pick the best option for your needs.
Designers can utilize embroidery software to modify and customize layouts, change stitch density, and observe the finished product before sewing begins.
This level of accuracy and control has enhanced the art of needlework, making it more affordable and flexible than ever before.
Visit the blog to get a list of the top embroidery software for easily editing your designs.
What Should You Look For In The Best Computer For Embroidery Software?
There are numerous crucial elements to consider when purchasing the best computer for embroidery software to make sure seamless and effective performance:
Opt for a modern multi-core processor (e.g., Intel Core i5 or i7, or AMD Ryzen 5 or 7) that will handle embroidery software more efficiently than a lower-tier processor.
This is because a quicker CPU provides fast and effective operation, particularly when handling complex sewing patterns or massive files.
When selecting the best computer for embroidery software, RAM (Random Access Memory) is an essential consideration. Embroidery software often requires a substantial amount of memory to handle complex designs and multitask efficiently.
Ideally, aim for a minimum of 8GB of RAM, but if your budget allows, go for 16GB or more. This will ensure smoother performance and faster processing of embroidery designs.
Visit Emdigitizer to find free high-quality embroidery designs.
A Solid State Drive (SSD) is highly recommended as it provides faster data access, which speeds up the software's performance and reduces loading times. Additionally, having ample storage space for your embroidery designs is essential.
While embroidery software doesn't require a high-end GPU, a dedicated graphics card with 2GB or more VRAM can help with rendering and displaying designs smoothly and enhance the overall user experience.
Suppose you're using embroidery software on a computer without a dedicated graphics card. In that case, you might notice that when zooming in or rotating a complex design, the software struggles to display it fluidly.
However, with a dedicated graphics card, the same actions would be easily performed, enhancing your workflow and design visualization.
Choose a computer with a compatible and up-to-date operating system such as Windows and macOS are commonly used for embroidery software. Make sure the version is supported by the software you intend to use such as Windows 10 etc.
Tap here to discover more about the best embroidery software for Mac, with pros and cons.
A high-resolution display with accurate color reproduction is important for detailed embroidery work. Consider a screen with good brightness and color accuracy. An IPS or OLED panel is preferable.
Ensure the computer has enough USB ports to connect your embroidery machine and other peripherals. Having USB 3.0 ports will facilitate faster data transfer.
Get complete guidelines for transfer embroidery designs to the machine right here.
Built-in Wi-Fi and Bluetooth capabilities are convenient for transferring embroidery designs wirelessly or connecting peripherals like a wireless mouse or keyboard.
Sufficient disk space is essential for storing embroidery designs, software installations, and other related files.
Embroidery files can vary in size, and having ample storage ensures you won't run out of space quickly.
Consider a computer with a spacious hard drive or, even better, a solid-state drive (SSD) for 7 access to files.
For instance, a computer with at least 512GB of SSD storage would be ideal for managing a vast collection of embroidery designs.
Embroidery software tasks can be demanding, causing the computer to heat up and these can be resource-intensive, so good cooling is crucial to prevent overheating.
Look for a computer with efficient cooling mechanisms to avoid excessive fan noise during extended use.
Investing in the best computer for embroidery software with future-proofing features is vital to ensure longevity and avoid frequent upgrades.
Opting for the latest connectivity options like USB-C or Thunderbolt ports can also help the computer stay compatible with upcoming embroidery machines and accessories.
Opting for a reputable brand with a strong track record in manufacturing computers can ensure better performance and reliability. Brands like Dell, HP, Apple, and Lenovo are known for producing reliable machines.
Let's say you decide to purchase a Dell computer for embroidery software with a three-year warranty. During the first year of use, you encounter some hardware malfunctions.
Thanks to the warranty, Dell's customer support will help you resolve the issues and repair or replace the faulty components without incurring any extra expenses.
Top 5 Best Computer For Embroidery Software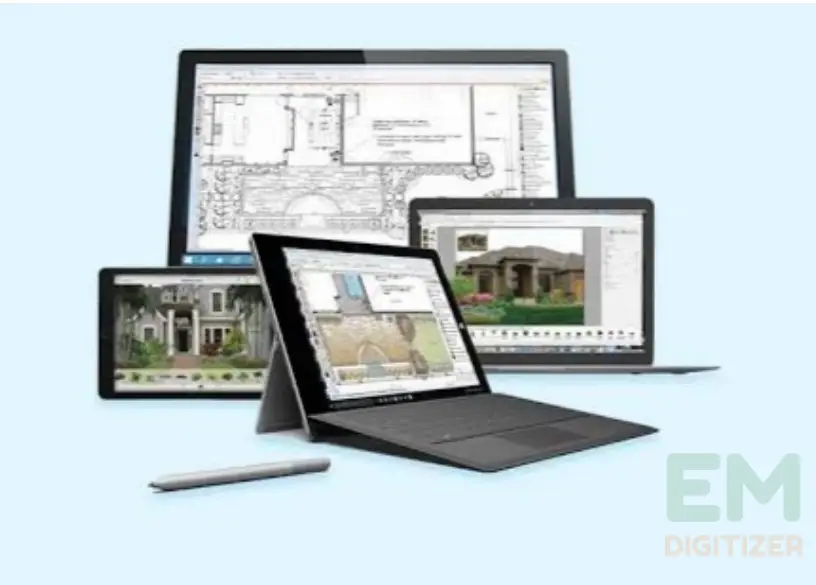 To ensure a seamless embroidery experience, it's crucial to have a computer that can handle the demands of these software applications. So here we provide a list of the best computers for embroidery software with features and applicability that suit your needs.
1. Dell XPS 15

Features And Specifications:
Here is the list of features you must consider when buying the best embroidery software computer.
High-Performance Processor: The Dell XPS 15 usually comes with Intel Core i7 or i9 processors, providing ample processing power to handle complex embroidery software.
Discrete Graphics: It often includes dedicated NVIDIA graphics cards, which accelerate graphics-intensive tasks like rendering embroidery designs.
Display: The XPS 15 boasts a high-resolution display with options for 4K UHD or FHD panels. This allows you to see intricate embroidery designs with clarity and accuracy.
RAM and Storage: It typically offers ample RAM (up to 32GB) and fast SSD storage options, ensuring smooth multitasking and quick loading of large embroidery files.
Portability: Despite its power, the XPS 15 maintains a relatively thin and lightweight design, making it convenient for travel and on-the-go usage.
Advantages:
Using the best computer for embroidery software results in these benefits:
1) The high-quality display ensures an accurate representation of embroidery designs, aiding in precise editing.
2) The powerful processor and dedicated graphics card contribute to smooth and efficient embroidery software performance.
3) Ample RAM and storage capacity allow for working with large embroidery files without slowdowns.
4) The portable design allows embroiderers to work on the go without sacrificing performance.
5) For the most up-to-date information, I recommend checking Dell's official website or consulting a Dell representative.
2. HP Pavilion 27
Features And Specifications:
The following attributes and advantages of the HP Pavilion 27 make it the best computer for embroidery software.
Display: A 27-inch high-resolution display with accurate color reproduction for detailed embroidery work.
Processing power: It could be equipped with a powerful processor, like an Intel Core i7 or Ryzen 7, for smooth and efficient performance with embroidery software.
Memory: RAM, such as 16GB or higher, to handle large embroidery designs and multitasking.
Storage: A spacious SSD (Solid State Drive) for faster data access and sufficient storage capacity.
Graphics: A dedicated graphics card or integrated GPU capable of handling embroidery software rendering and visualization.
Connectivity: Multiple USB ports and possibly an SD card reader for easy transfer of embroidery designs.
Operating System: Latest Windows version for compatibility with various embroidery software.
Touchscreen: Some models might have a touchscreen feature, enhancing user interaction with the software.
Advantages:
1) The 27-inch screen with high resolution allows for precise detailing when working on embroidery designs.
2) The powerful processor ensures the smooth execution of embroidery software, even when dealing with complex designs.
3) Sufficient RAM enables quick access to design files and seamless multitasking.
4) A dedicated GPU or integrated graphics card ensures smooth rendering of embroidery designs.
5) A touchscreen option makes it easier to navigate and interact with the embroidery software.
6) The availability of multiple USB ports and an SD card reader simplifies design file transfers.
3. Lenovo ThinkPad P Series

Features And Specifications:
Because of its outstanding features, specifications, and benefits. the Lenovo ThinkPad P Series is a fantastic pick as the best computer for embroidery software:
High-performance Processors:
Equipped with powerful Intel Core or Xeon processors, it provides fast and efficient computing for embroidery software applications.
Dedicated Graphics: Comes with NVIDIA Quadro or AMD Radeon Pro graphics cards, enabling smooth rendering and design visualization.
Large RAM Capacity: Offers ample memory options, up to 64GB or more, allowing for seamless multitasking and handling of large embroidery designs.
High-Resolution Display: Boasts a high-quality display with options for 4K resolution, ensuring accurate color representation and detailed design work.
Robust Storage: Provides ample storage options, including SSDs or HDDs, for storing large embroidery design files.
Advantages:
1) The powerful hardware in ThinkPad P Series laptops ensures efficient and smooth operation of embroidery software, even when dealing with large design files.
2) The robust build quality of ThinkPad laptops ensures they can withstand the demands of daily use in a professional setting.
3) The high-resolution displays with IPS technology offer accurate color representation, crucial for embroidery design precision.
4) While these laptops are powerful, they are still designed to be relatively portable, making it easier to take your embroidery projects on the go.
5) ThinkPad P Series laptops typically feature a range of ports and connectivity options, allowing you to connect various embroidery-related peripherals.
6) Lenovo's reputation for producing reliable and long-lasting laptops makes the ThinkPad P Series a dependable choice for embroidery professionals.
4. HP Envy Desktop

Features And Specifications:
HP Envy serves as the best computer for embroidery software due to a set of features like:
Powerful Processor: Look for a model with a high-performance processor (e.g., Intel Core i7 or i9, AMD Ryzen) to handle complex embroidery software tasks efficiently.
RAM: A good amount of RAM (e.g., 16GB or more) allows the computer to handle multiple embroidery design files and software tools simultaneously.
Dedicated Graphics: A dedicated graphics card (e.g., NVIDIA GeForce) can accelerate certain embroidery software functions and improve overall performance.
Storage Options: Opt for models with sufficient storage space, such as a combination of SSD (for fast boot times and software loading) and HDD (for storing large embroidery files).
High-Resolution Display:
A high-quality display with good color accuracy is essential for visualizing intricate embroidery designs accurately.
Connectivity: Ensure the desktop has multiple USB ports and other relevant connectivity options to connect embroidery machines and peripherals.
Advantages:
1) HP Envy desktops are designed to provide excellent performance and multitasking capabilities, handling embroidery software with ease.
2) HP is known for manufacturing reliable products, and the Envy desktop line is no exception, ensuring stable operation for your embroidery projects.
3) HP Envy desktops often feature sleek and modern designs, which can complement your workspace.
4) HP offers customer support and warranty services, ensuring assistance if any issues arise with your desktop.
5. ASUS ROG Zephyrus G14

Features And Specifications:
Have a look at this best computer for embroidery software in terms of features and specifications:
Display: 14-inch IPS-level display with various resolution options, including Full HD and Quad HD.
Processor: Equipped with powerful AMD Ryzen processors, such as the Ryzen 9 or Ryzen 7 series.
Graphics: NVIDIA GeForce RTX series graphics card for high-quality visuals and smooth performance.
RAM: Configurable with up to 32GB of DDR4 RAM, allowing for smooth multitasking.
Storage: Multiple storage options, including fast PCIe NVMe SSDs, for quick data access.
Connectivity: Offers a range of ports, including USB Type-C, USB Type-A, HDMI, and more, for easy connectivity with embroidery machines and accessories.
Keyboard: Comfortable backlit keyboard with customizable lighting options.
Design: Sleek and portable design, making it easy to carry around and use for embroidery on the go.
Battery Life: Long-lasting battery life for extended use without frequent charging.
Cooling System: Efficient cooling system to prevent overheating during prolonged embroidery sessions.
Advantages:
1) The excellent screen offers outstanding color precision, which is critical for accurately embroidered creations.
4) The illuminated keypad and other configurable options allow you to tailor the computer to what you like.
5) The quick SSD drives allow for instant access to artwork files and lower the loading time.
6) The variety of ports allows easy connection to embroidery machines and peripherals.
Conclusion
It is critical to get the best computer for embroidery software to optimize your creative potential. Whether you prefer a laptop or a desktop computer, these options provide the efficiency and features needed to tackle intricate embroidery patterns.
We have picked the top 5 best computers that cater to the special needs of embroidery fans after extensive study and analysis. Before making a decision, we recommend carefully analyzing your needs and preferences.
The HP Envy 32 All-in-One is a strong contender for the best overall computer for embroidery software. It offers a large 4K display with excellent color accuracy, a powerful processor, ample RAM, and a dedicated graphics card for enhanced performance.
In general, embroidery software does not require a constant internet connection to operate. Once the software is installed on your computer, you can use it offline to create and modify designs. However, some embroidery software may offer online features or cloud storage options that require an internet connection.
If you're on a tight budget, the Dell Inspiron 27 7000 All-in-One is an excellent option. With a competent processor, enough RAM, and a huge display, it offers a decent blend of performance and cost.