How can you do that if you want your applique to be fashionable enough to show off your devotion? To create something unique, reverse applique is available.
In this article, I'm going to talk you through the highly intriguing method of reverse applique, including what kind of cloth to use and the different types of stitches that can be used.
Embroidery Digitizing Services
If you are looking for embroidery digitizing services, EMDigitizer is one of the best embroidery digitizing company. Providing all types of embroidery digitizing. I recommend you try digitizing services.
Applique Embroidery VS Reverse Applique
In appliqué embroidery (Click here if you want to embroider applique designs), an additional cloth is placed over the backdrop fabric and the two are stitched together to produce a distinctive embroidery. Patches are kind of used in applique embroidery to produce the design on huge clothes. This needlework is used to create items like pillows, curtains, and garments.
In contrast, you work with reversed fabric while using reverse applique, as the name suggests. Before cutting the top layer of cloth so that the background design is visible, extra material is first layered underneath the primary fabric.(Here is the article about all types of embroidery fabrics)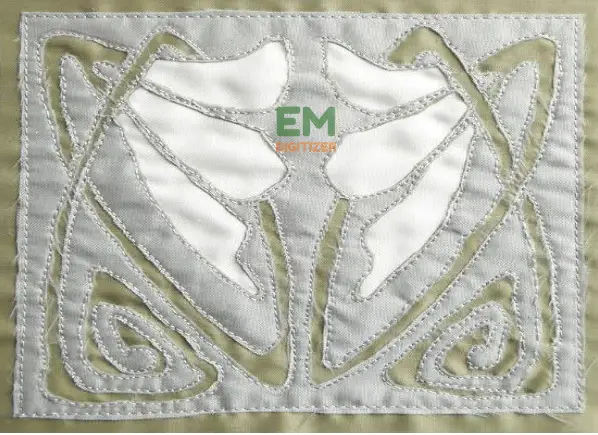 For the top and bottom, you can use applique fabric in multiple colours and your favourite stitches for assistance. Reverse applique for quilted items like towels and aprons, as well as apparel, looks so distinctive.
If one is assigned the task of creating a complex and elaborate embroidery design, one can easily seek reverse applique assistance. Although some effort is required, once you've mastered reverse applique, you'll be able to use it to embroider shirts, jeans, and many other items.
Before I begin the tutorial, let me first explain the benefits of reverse applique, when it is appropriate to use it, and what kind of fabric is suitable for creating this craft.
Which Type Of Applique Suits Best To Your Embroidery Projects?
The task of reverse applique is challenging. Most embroider run into difficulty with just one error. But this process goes so smoothly because of practice and patience. Applique can be done manually or mechanically. The best match for your embroidery projects is up to you to decide.
The type of fabric you're using and the design you want to embroider are the only factors that matter. Follow the instructions precisely for the best results with reverse applique.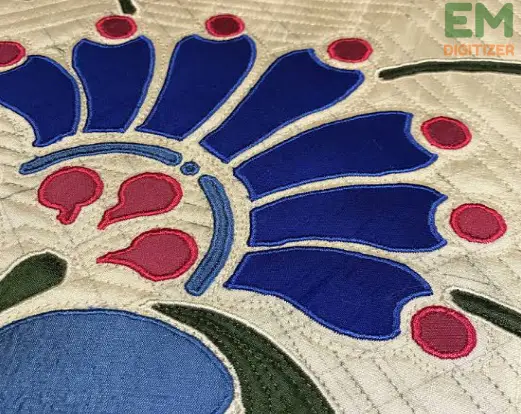 You may produce excellent outcomes while staying within your budget, whether it's for apparel or home décor. One benefit of machine-based reverse applique is the ability to increase desired project dimensions. The appliqué design cannot be fixed if there is even a small error in the project.
Suitable Fabrics for Reverse Appliques
To make something unique, appliqué cloth is added as a base and is then stitched together.
The best fabrics for reverse applique are listed below including
Natural fabrics

Cotton (Quilting or tightly woven)

Linen

Silk

Stretch textiles like jersey, which are thick enough to be utilised as a main fabric

Denim

Interference textiles with two sides
When And Why To Use Reverse Applique?
Reverse applique is the greatest option if you want to add complexity and intricacy to your embroidery work.

Reverse applique can be incorporated into your craft in a variety of ways. You can apply reverse applique to your apparel (from casual to formal gowns) and make quilts, pillows, couches, towels, sheets, and other articles with special designs.

The majority of people choose this method to fix cutting errors. For instance, you may have intended to cut the additional fabric layer but unavoidably removed a piece of the main pattern. Simply cut out the top of the fabric layer to reveal your backdrop design, which will cover the error intriguingly.
Supplies Needed To Create Reverse Applique Embroidery Design
Pointed Needles

Floss

Stabilizers

Pins

Applique fabric

Applique designs to reverse

Sharp-end scissors
Step By Step Guide
Let's begin the process of making reverse appliques for your detailed embroidery projects with machines.
Reverse Applique (Without Stabilizer)
Here are a few basic steps to go:
Step 01- Place and Hoop the Fabric
The applique fabric should be positioned underneath the main fabric of your choice in the first stage. Denim, velvet, cotton etc, will be used. This is how you should hoop the fabric into the embroidery machine. There is no need to use a stabilizer if running stitches are used to sew the design.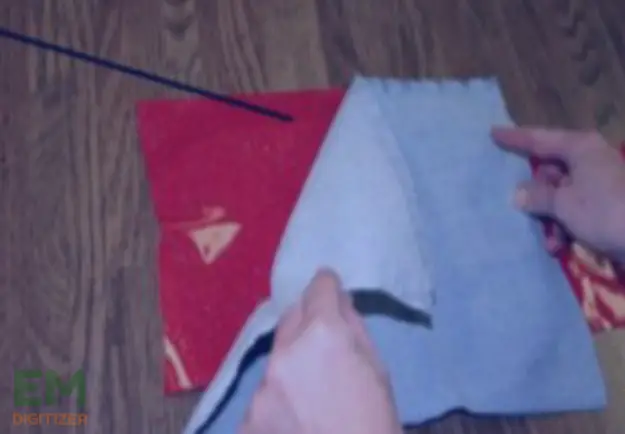 Step 02- Embroider the Design
Considering that it just takes a few minutes, begin stitching the design on each side. Apply your preferred stitch uniformly to each side. The embroidered applique fabric should be taken out of the hoop once the embroidery is finished.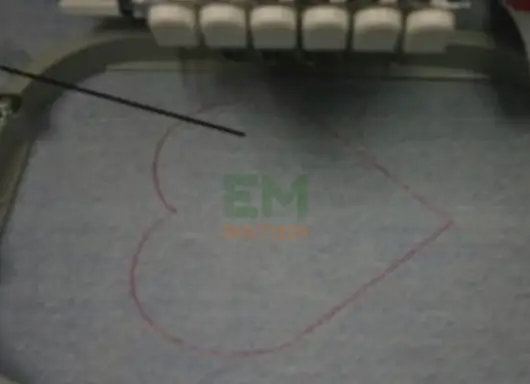 Step 03- Cut the Applique Design
Then, using a pair of sharp, pointed scissors, flip the fabric inside out and remove the applique. You won't notice that part until the applique embroidery is complete because it is inside the design.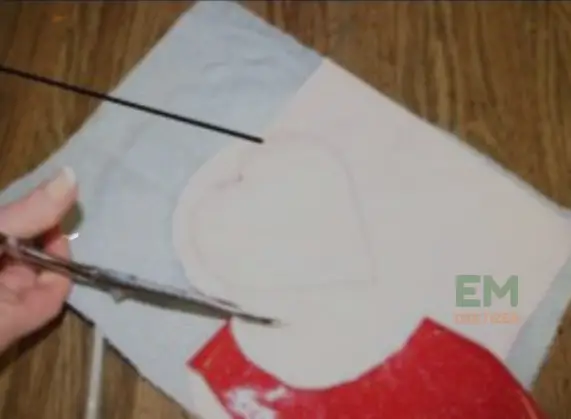 Step 04- Carefully Trim the Edges Of the Design
Tilt that reverse applique pattern over once more to continue trimming along the edges where your stitches have been applied. The applique design will afterwards be visible from underneath in this manner.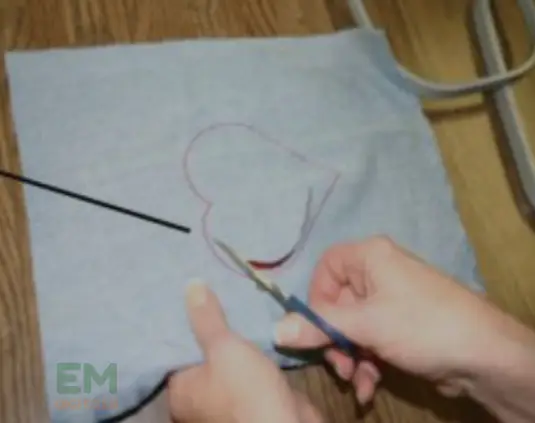 Depending on the edges you leave, this stage allows you to create a fringe effect. The amount of unfrayed material is based on how precisely you trim the design.
Final Step
The process comes to an end here. The reverse applique design can be utilized for many needlework projects after being laundered, causing the edges to seem frayed.
Reverse Applique Machine Embroidery Method (With stabilizer)
Hoop The stabilizer-Take a piece of water-soluble stabilizers and hoop it carefully.
Positioned The Fabric– Focus on the applique fabric in the stabilizer's centre to make the chosen fabric piece float on it.
Start Stitching The Design-Begin by stitching a single circle that will serve as the primary positioning point for the reverse applique embroidery design.
With the fabric facing the stabilizer's back on the right side, put the applique fabric over the hoop.
Stitch Thoroughly-Carry on stitching the pattern from all sides.
Unhoped The fabric-To display the reverse applique underside, once more remove the cloth from the hoop.
Final Step-You has full reverse applique stitching if you are working with raw.
But if you want to add a satin stitch to cover the raw edges, maintain the hoop and reposition it where you want to add your final stitch.
(If you want to avail Applique Service click here to go our Applique Embroidery)
Conclusion
I do not doubt that you will like reading this post and using these instructions to create amazing reverse applique embroidery projects. The process for this kind of reverse appliqué machine embroidery is simple. One can create more intricate embroidered crafts. Now that you have your machine, you may use any pattern you want to adorn anything, from unique clothing to accessories.