Are you considering purchasing the Singer 4452 sewing machine but aren't sure if it's the right choice for you?
In this Singer 4452 review, we'll explore the machine's features and benefits to help you make an informed decision.
Singer 4452 Review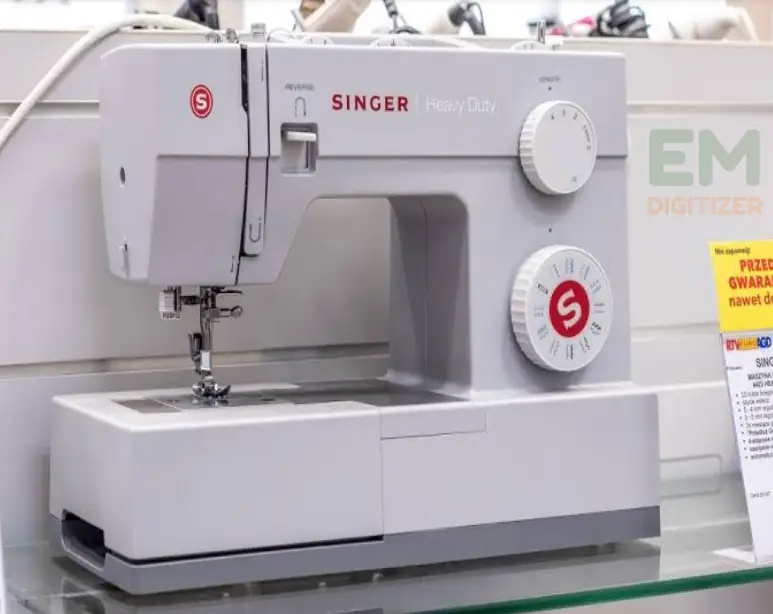 First, let's talk about the basics!
The Singer 4452 is a heavy-duty sewing machine designed for use in a variety of settings, including at home, or in a small business.
Check out our blog to learn about the best machine types for home-based businesses. We'll help you make the right choice for your needs.
It has a powerful motor that can stitch through multiple layers of fabric (Canvas, denim, leather, etc) with ease, making it ideal for:
Quilting

Upholstery

Other heavy-duty projects
Another benefit of the Singer 4452 is its usability. It has an intuitive control panel that makes it easy to adjust settings like stitch length and width.
It also has a range of convenient features, such as a built-in thread cutter and a drop-in bobbin system.
You can get started with it using the in-depth user manual that is included, as well as by consulting a thorough Singer 4452 review.
Embroidery Digitizing Services
If you are looking for embroidery digitizing services, EM Digitizer is one of the best embroidery digitizing company. Providing all types of embroidery digitizing. I recommend you test digitizing services.
Singer 4452 Review Of Features
I'll go through the features in the Singer 4452 review. These characteristics provide you the freedom to decide whether or not you're going to sew.
Free Arm
To begin the Singer 4425 review, let's talk about the machine's detachable Free arm that allows you to sew small, tubular, or circular items such as sleeves, cuffs, and collars with ease.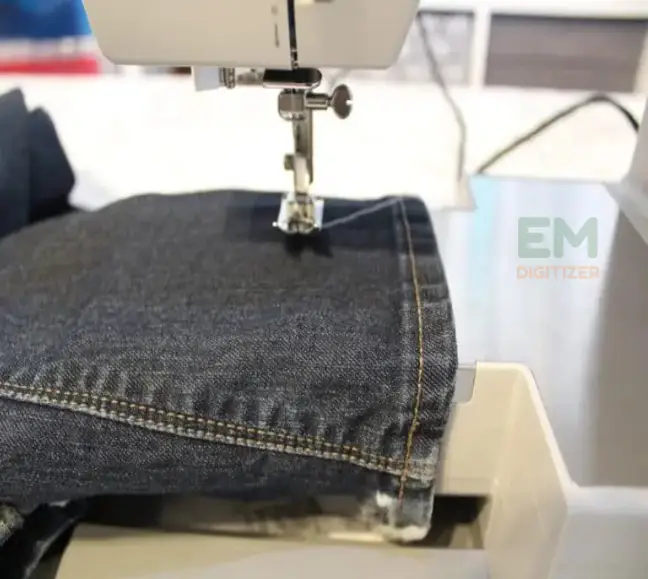 When you remove the free arm from the machine, it exposes the area under the needle, which makes it easier to manipulate your fabric.
You can simply slide your small, tubular, or circular item over the free arm and sew without worrying about the fabric getting stuck or bunching up.
32 Built-in Stitches
With this machine, you can use its 32 built-in stitches that include basic, decorative, and stretch stitches.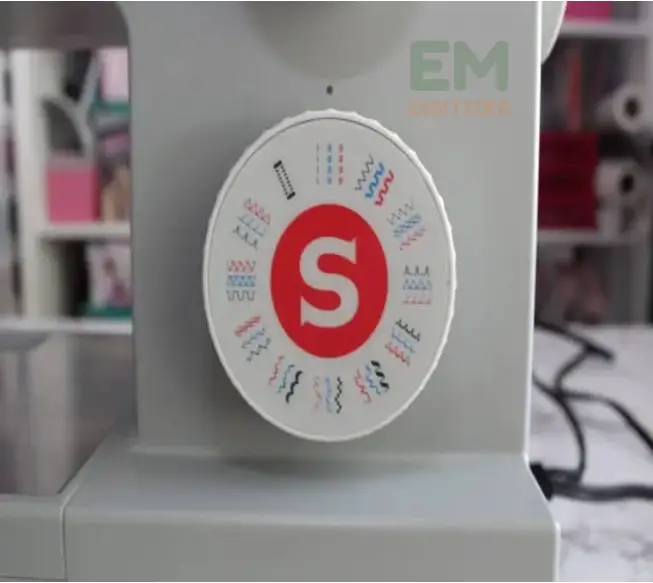 This variety of stitches built into the machine saves you time and effort so you don't need to switch out stitches or change the machine settings frequently.
These stitches allow for versatility in sewing and can handle a wide range of fabrics.
Although any form of fabric can be used for stitching, it is important to take the fabric type into account in connection with the composition of the design.
To find out more about top embroidery fabric, visit this link.
Clearance Plate
The ability to maintain the proper distance between the needle and the fabric is one of the nicest perspectives of the Singer 4452 review.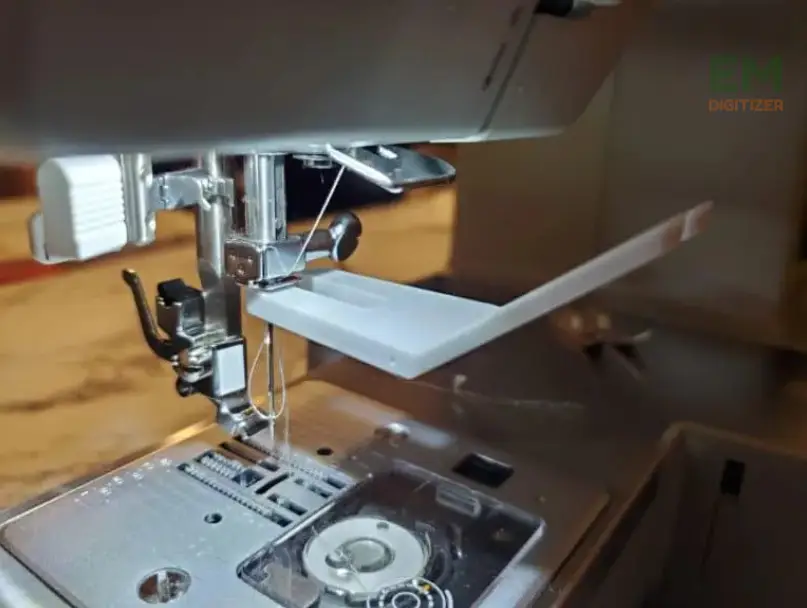 A clearance plate is a small metal plate located directly under the presser foot of the sewing machine.
By adjusting the clearance plate, you can ensure the fabric is fed evenly through the machine.
It can also help to prevent stitching errors, such as skipped stitches or uneven stitches.
Even though skipping stitches is a regular sewing machine issue, you shouldn't disregard it because it compromises the quality of your stitching. To learn about the causes and cures for skipping stitches, see my blog.
Automatic Needle Threader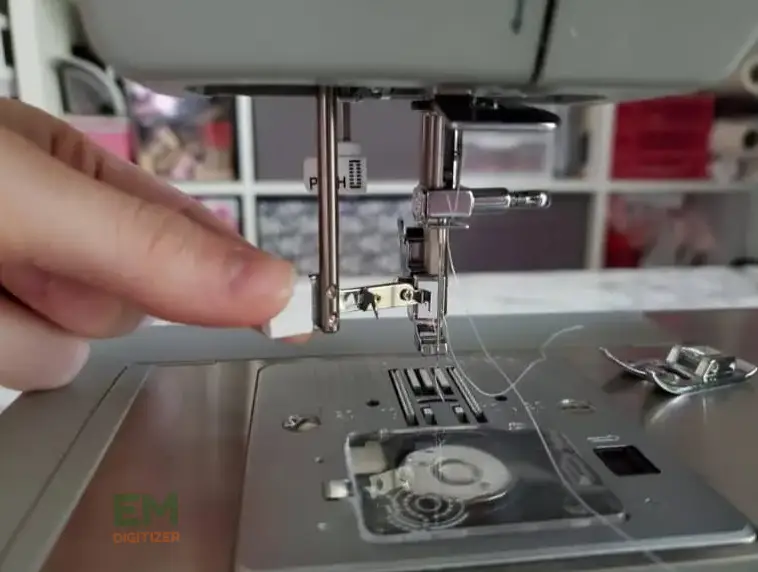 The Singer 4452's automatic needle threader feature, which makes threading the needle a joy, will come in handy if you have impaired vision and can't thread the needle repeatedly.
Adjustable Presser Foot Pressure
If you want to handle a wide range of fabric, you can simply adjust the pressure on the presser foot or can change it as per need.
Top Drop-in Bobbin System
It is designed to simplify the bobbin-changing process and ensure that the machine creates high-quality stitches.
The machine will automatically pick up the thread from the bobbin and create stitches as you sew.
It's important to keep the top drop-in system clean and free of lint or debris to ensure smooth and even stitching.
Needle Positioning System
The needle position determines where the needle enters the fabric. This can be adjusted to help you sew different types of seams, such as topstitching or inserting a zipper.
Changing the needle position can also help you avoid previously sewn seams, fabric folds, or bulky seams, which can all cause issues with your stitches.
Extra-high Presser Foot Lifter
The extra-high presser lifter on this machine is a feature that allows the presser foot to be raised to a higher position than on a standard sewing machine.
This feature also helps to prevent the fabric from becoming stuck or jammed under the presser foot, which is a common problem that I often face when sewing thicker fabrics.
Adjustable Stitch Length And Width
This feature lets you customize the length and width of your stitches, giving you more control over the look and functionality of your sewing projects.
Reverse Stitch Lever
What's most significant about the Singer 4452 review is that it has a reverse stitch lever that is located on the front of the machine, close to the needle.
This function is useful for reinforcing stitches at the beginning and end of a seam, as well as for creating a locking stitch to prevent unraveling.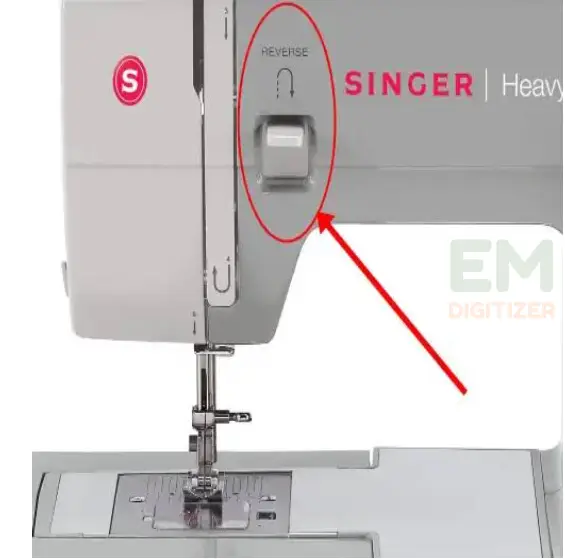 It can also be used to backstitch to the beginning of a stitch line, or to reinforce a corner or seam intersection.
To use the reverse stitch lever on the Singer 4452, you simply need to press and hold it down while sewing.
Once you release the lever, the machine will return to forward stitching.
Does This Machine Come With Any Accessories?
I'll talk about the essential accessories that come with the machine in this singer 4452 review.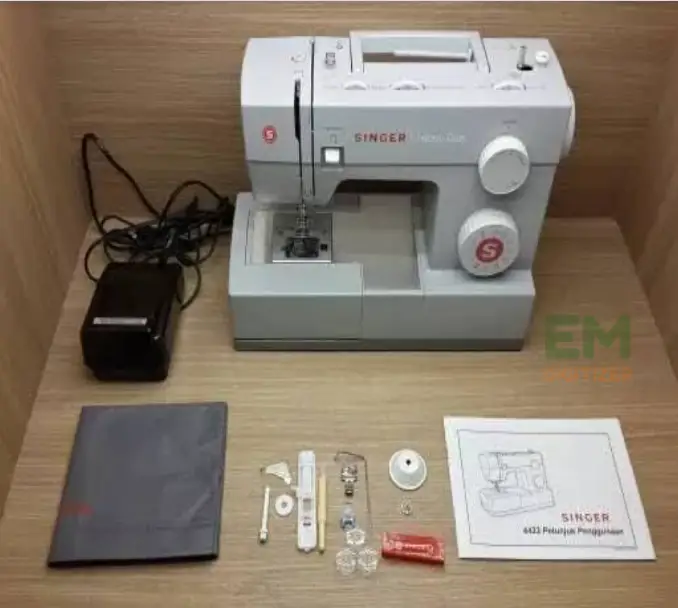 Clearance plate

A pack of needles

Bobbins

Spool caps

Spool pin felt

Screwdriver

Lint brush

Seam ripper

Soft-sided dust cover
Singer Sewing Machine Tote Bag

Edge/quilting guide
Singer 4452 comes with the following feet:
This is the standard foot that comes attached to the machine, used for most sewing projects.
For sewing zippers, piping, and cording.
This foot helps you create buttonholes in a variety of sizes.
This foot is designed for sewing buttons onto fabric.
Used for sewing on fabrics that are prone to sticking or dragging, such as leather, vinyl, suede, and other synthetic materials.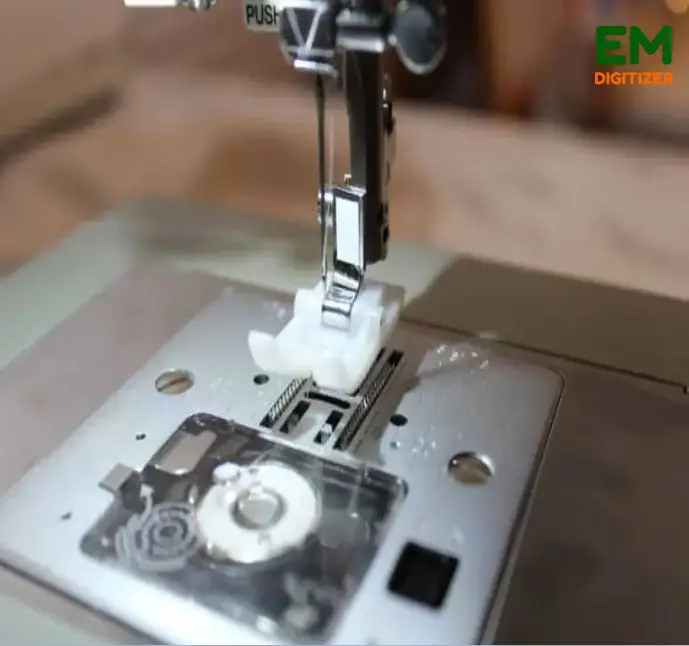 The non-stick coating on the bottom of the foot allows it to glide smoothly over the surface of the fabric, preventing it from getting caught or snagged.
When sewing multiple layers of fabric, such as quilts or heavy denim, it helps to keep the layers moving smoothly through the machine without bunching or puckering.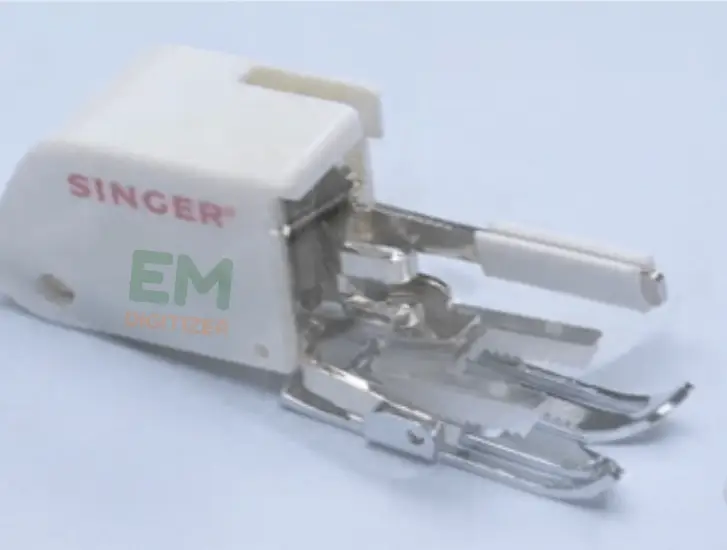 So, go ahead, get your hands on these must-have accessories, then see how they affect your stitching adventure while keeping the singer 4452 reviews in consideration.
Role of Singer 4452 In Quilting
The Singer 4452 can be used to quilt the layers of a quilt together.
Quilting involves stitching through all layers of the quilt (the top, batting, and backing) to create a design or pattern. The Singer 4452 can handle the thickness of the layers and has various stitch options that can be used for quilting.
Moreover, it has a variety of decorative stitches as shown in the singer 4452 reviews that can be used to add interest and texture to your quilting projects.
You can use these stitches to create intricate designs on your quilt top or to embellish the binding.
Would you like to add an embroidered logo or tag to give your quilt the final touch? In this article, I've got a step-by-step tutorial for you.
Pros Of Singer 4452 Sewing Machine
Here I'll discuss several benefits, which make up the core of the Singer 4452 review, following the features listed in the aforementioned Singer 4452 review.
The Singer 4452 is designed to be user-friendly, with clear instructions and simple controls that make it easy for beginners to learn how to use it.

The machine has a reverse stitch lever, which allows you to reinforce seams and prevent unraveling.

Stainless steel bed plate that provides a smooth and even surface for fabric feeding.

It also has a one-step buttonhole feature that makes it easy to create perfect buttonholes.

The machine is built with a heavy-duty metal frame that ensures stability and durability.

The machine has an automatic needle threader that saves time and reduces eye strain.
Check out the blog; after doing some analysis, I determined which sorts of embroidery machines would be most beneficial to you considering the investment you make.
Cons Of Singer 4452
People are expressing unfavorable opinions regarding the Singer 4452 review for the reasons listed below.
It may be too heavy and bulky for some users, making it difficult to move around.

The noise level is quite high.

Automatic threaders may require frequent adjustments and may not work as smoothly as expected.

Bobbin winding mechanism may be confusing and difficult for beginners.

After reading the Singer 4452 review, some people claimed that the tension was inconsistent.
Go here to view the complete tutorial on thread tension, which impacts both the overall consistency as well as the quality of the stitches.
Unavailability of protective case

You may seek other tools and accessories not mentioned in the Singer 4452 review.
Singer 4452 Review Of Comparison
Singer is a well-known brand when it comes to sewing machines. After the Singer 4452 review with other models, I have discovered some common differences.
Although Both Singer 4452 and 4411 have the same stitching speed per minute which is 1,100 and share some common features.
However, take a look at the Singer 4452 review of comparison with 4411 in terms of what differs.
No. of Stitches
Singer 4452 has 32 built-in stitches and Singer 4411 has 11 built-in stitches.
Automatic Needle Threader
The Singer 4411 does not have this feature.
Presser Foot Pressure Adjustment
You can easily adjust the presser foot pressure to suit the thickness of the fabric with 4452 but Singer 4411 does not offer this feature.
2) Singer 4452 Vs Singer 4432
Both the Singer 4452 and Singer 4432 are powerful machines with 32 built-in stitches with the same sewing speed, an automatic needle threader, and a drop-in bobbin system.
Consider comparing the Singer 4432 with Singer 4452 review:
Presser Foot Pressure
The Singer 4452 allows you to adjust the presser foot pressure, while the Singer 4432 does not offer this feature.
Accessories
Singer 4432 has fewer accessories while 4452 comes with more accessories and four additional presser feet as I mentioned above in the singer 4452 reviews of accessories.
Needle positions
Singer 4452 has an extensive needle positioning system which is absent in Singer 4432.
Price
The Singer 4452 is slightly more expensive than the Singer 4432.
Conclusion
The Singer 4452 review, which covered the benefits and drawbacks of this model, is now complete.
In summary, the Singer 4452 is a tough and durable sewing machine that provides a variety of features and attachments to make it simple for you to finish both simple and complicated sewing projects.
Whether you are a beginner or an experienced sewer, you might find the singer 4452 reviews helpful as it is sure to satisfy your demands and beyond your assumptions.