Adding embroidery digitizing services to your embroidery business is inevitable.
Now embroidery digitizing is the demand of all and Sundry. The reason is its exclusive quality work and infinite aspects to work on. You are asked to make embroidered shirts, jackets, uniforms, accessories, logos, paintings, text, promotional products and more as a sample for your customers or as an order of different organizations for branding purposes. To make all this possible, you need to digitize the design and this is the reason you need embroidery digitizing services.
In this article, I am gonna show you the top best types of embroidery digitizing services that will help you out not only to customize your items but to sell your services at a global marketplace.
Embroidery Digitizing Services
If you are looking for embroidery digitizing services, EM Digitizer is one of the best embroidery digitizing company. Providing all types of embroidery digitizing. I recommend you test digitizing services.
Embroidery Digitizing
It can be simply defined as:
"Conversion of any form of artwork into the suitable file format with the help of embroidery software that lets machines read and understand the format to create the design."
To carry out this process, one must have all essential tools and materials needed to embroider on a design(most importantly machine, software, floss, needle, thread, scissors etc). If you have your embroidery machine, you have a lot of options to work on. Today modern users need to get their clothes embroidered with small letters, text, floral designs, logos, mini creatures, and characters and want more fun.
Once you get mastered such embroidery digitizing skills, you can start selling your services too. But if you are a customer and you need embroidered items to be ready, you need to go for embroidery digitizing services. You just need to place the order and fill out the order form. After that, send the draft of the design(either drawn by hand or taken from the internet) to the embroidery digitizing services provider company and you will be amazed by the result. To get the best embroidery digitizing services at your hand, make sure to check out the affiliated links below.
Top Best Types Of Embroidery digitizing services
Here's the list of embroidery digitizing services of superb quality you will need for your projects.
Logo Embroidery Digitizing Service
It is the best type of embroidery digitizing as it is directly linked to the advertisement, promotion, branding and representation of organizations, charitable companies, brands, sports teams and schools.
For example, embroidery shirts with a logo of a brand such as Nike, Adidas, polo shirts, logo embroidered uniforms etc.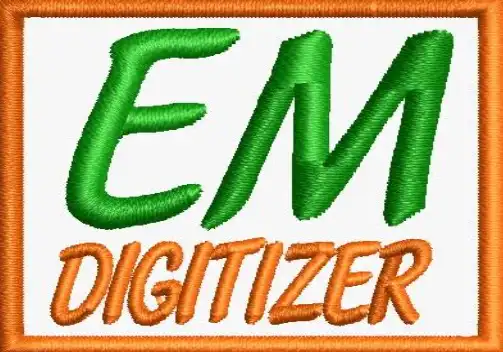 Embroidery digitizing service provider companies can do it all for you. Skilful digitizers have the skills to turn the image into stitch files that will be digitized successfully without destroying the original quality on any kind-of soft or sturdy fabric for a specific purpose. You crisply see even small details from far. If you want people to recognize the distinctive features of your work or business, adding a digitized logo is the greatest step. Most people get an idea about your product or brand by seeing your logo so it should be digitized accurately in an impressive way. Being a businessman, adding logo digitizing to your company makes it preferable among competitor companies who offer the same.
Click here if you want these high-quality services with Super fast turnaround time at affordable prices.
Left Chest Embroidery Digitizing Service
In this embroidery digitizing service, professional digitizers make use of embroidered logos or designs and after that convert them into files that can be easily read by your machine to create the design on the left or right side of your clothing(e.g, embroidered shirts, embroidered jackets, hoodies etc). Like other types of embroidery, you need to have multi-function embroidery software that will help you to embroider a unique design (e.g, Wilcom embroidery software system). Not all of the embroidery digitizing services provider companies make use of this type of embroidery digitizing. It is because this type of digitizing is more intricate and you need to be careful about the choice of colours, fine stitches and most importantly the location at which you want your design to embroider.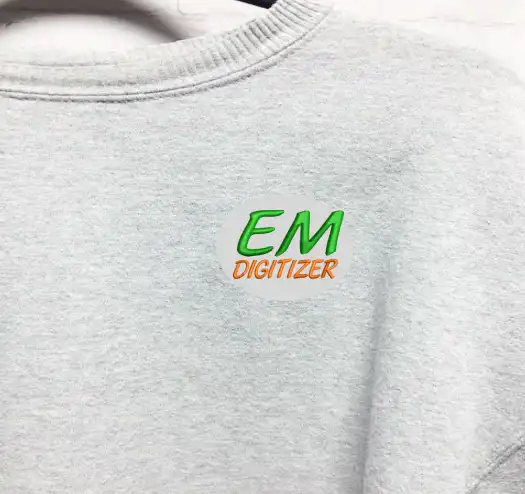 If you are a restaurant owner and you want all of your staff in a uniform with a left chest embroidered logo or text to create an impression on your customers or a part of any other representative company or sports team, left chest digitizing would be the leading option for you.
If you are looking for such a service that will add value to your company or brand so that it retains for a long time, click here.
Applique Embroidery Digitizing Service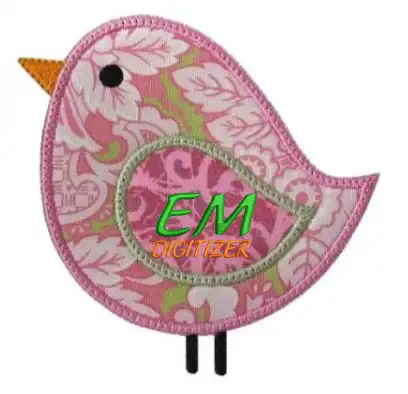 Different fabric pieces of multiple colours, shapes, sizes and textures when stitched on top of the base fabric for decorative purposes are all under the umbrella of applique embroidery. A large number of the human population are moving expeditiously towards something more exclusive and find all in applique embroidery so the reasons are here. It is the most unique type of embroidery to personify quilting, upholstery and room decor. There are hundreds and thousands of ways to scrutinize the world of embroidery and one of them is applique design from table sheets to blankets. Adding this embroidery digitizing service to your business makes it remarkable and beautifies your embroidery projects to give them a fresh and stylish look.
Want to embellish quilts and other accessories with applique embroidery digitizing ideas? Click here.
3D Puff Embroidery Digitizing Service
What comes to your mind when you hear the puff word? One can easily assume the raised portion is either letter or design mostly embroidered on caps, hats, jackets, bags or any other medium to exhibit a 3D look that will be noticed even in a mere look. Adding this type of embroidery digitizing feature makes your projects distinctive and ultra-modern because you are applying artwork (e.g, lettering) on the top so that it will be highlighted from the rest of the portion. Most commonly seen in the form of embroidered logos, alphabets and any other raised look on caps, jackets, beanies, hats, shirts and puff embroidery patches too. The purpose of adding 3D puff embroidery digitizing service is to deal with the branding demand of your customers of various groups and it can also be the parts of your casual wear to unveil your bold taste and personality.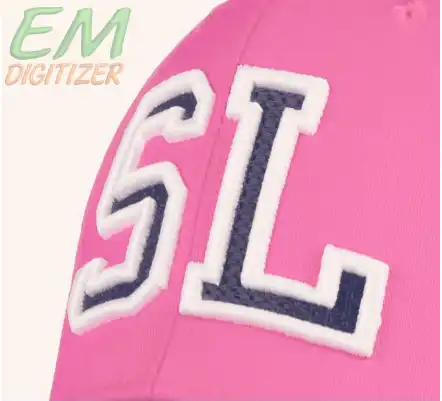 If you want to take advantage of this service and want high-quality 3d puff embroidered patchwork, click here.
Cap Embroidery Digitizing Service
Caps are not only embroidered for branding and sports, many of us love to carry the caps as a part of our outfits.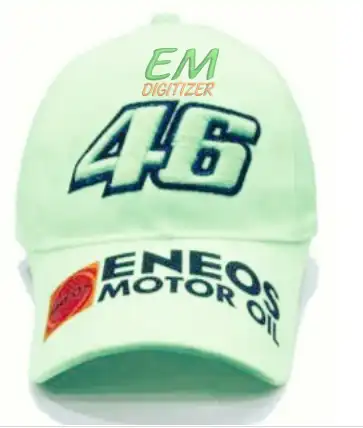 Caps can be embroidered for casual events and other outdoor activities. Adding cap embroidery digitizing services to your business grows your business at a large scale. You can also embroider caps for higher branding units as well as for the local community too. You can digitize the embroidered logo and letters with a 3D effect. Cap digitizing is slightly different from other types due to its shape and sturdy material and you will need a specific embroidery machine with hoops and frames to carry out the design.
If you are a huge fan of your favourite team and want to show affection, cap digitizing service is here. Click here to drop an order. You will not be disappointed anyway.
Patch Embroidery Digitizing Service
In this type of embroidery digitizing service, skilful teams of digitizers hired by the respective company convert the image or logo into the appropriate file format first and then digitize the design on desired fabric. This kind of embroidered patchwork is often used to give honour to a top-ranked individual at certain posts, used on the officer's uniform, public service provider workers and other customized logo patches embroidered for branding purposes. The basic purpose of this service is to add a professional look to your project and clothing so that more people get to know about your achievement and services. In the case of custom patches, you can also use them in marketing and can hang out as free pieces outside the shop.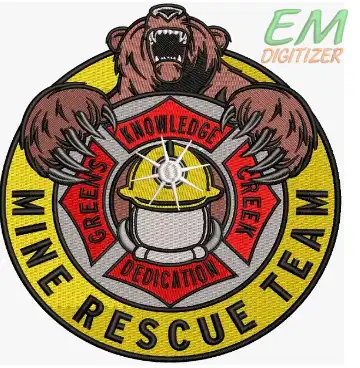 All thanks to the digitizer who knows how to take work from the machine and which software to use to accomplish the patchwork for a specific cause.Excited to do something more professional for your projects, check out here.
Conclusion
Here's the list of the top best types of embroidery digitizing services that will glorify not only your projects but if you own these services, your embroidery business reaches the sky. Emdigitizer is one of the best embroidery digitizing services provider companies that will help you to personalize and decorate your clothing to quitting and home decor. Our highly trained experts provide all of these services with a quick turnaround time exactly as per customer satisfaction at affordable prices.