Have you ever thought of embellishing your accessories or items with just embroidered lace? If not, this post might bring something more innovative for you.
Because I'm going to demonstrate an incredibly original way to use lace embroidery to decorate your wine glass charm. Wine glasses, drinking cups, and candle holders can be embellished with a DIY stunning lace embroidery wine charm to add a whimsical touch to your table. Wine charms can be embroidered to serve as more than just table decorations for various events (e.g Christmas or themed parties) Additionally, you can send them as gifts to your loved ones. You can showcase your love of creativity and bold taste by using lace embroidery wine charm.
Embroidery Digitizing Services
If you are looking for embroidery digitizing services, EM Digitizer is one of the best embroidery digitizing company. Providing all types of embroidery digitizing. I recommend you test digitizing services.
DIY Stunning Lace Embroidery Wine Charm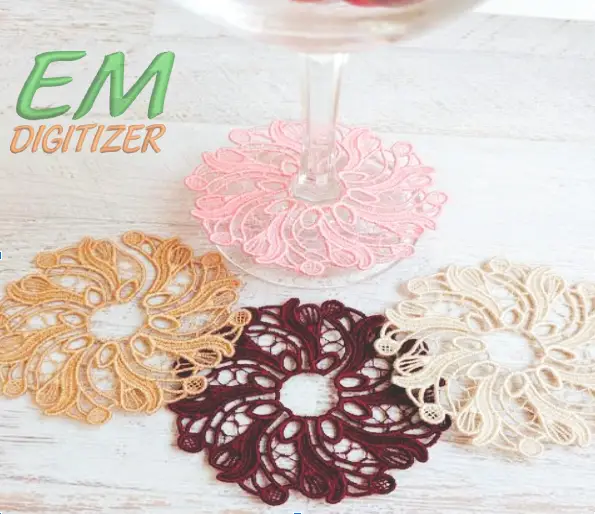 There is not even a single way left where you can't use embroidery. We go for embroidery to adorn the fabric and other materials with unique creativity. Isn't it interesting to bring this creativity to the lace?
Among a list of applications of lace embroidery, I am going to show you how to easily perform lace embroidery with the use of inexpensive materials to make wine charms. One can make festive table items with these dye lace embroidered wine charms. Using Lace embroidery is the easiest way to add extra charm to the items for whatever the occasion is.
One of the best advantages you can get while going with lace embroidery is that it fits your budget and is still graceful. You will need to have only floss and stabilizer to carry lace embroidery.
Why Is There A Need To Embroider Wine Charms?
These charms can be created in any shape according to the material such as round or oval shaped and then attached to your wine-drinking glasses and mugs.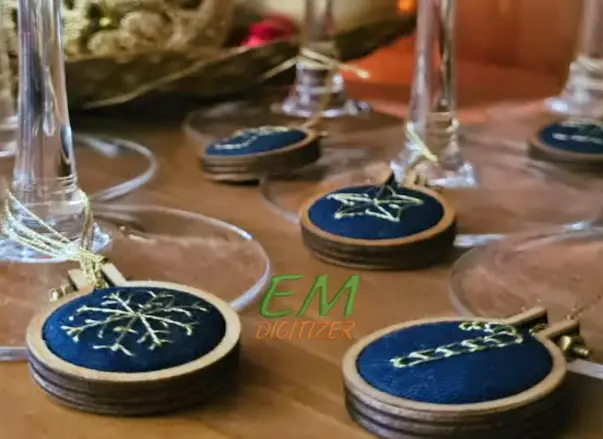 You can make use of multi-color threads and suitable stabilizers to beautify your creativity of wine charms for your bar and can sell your services during hosting events and for beverage industries who want to differentiate their kinds of drinks from others. And the plus point is you are still on budget.
Overview Of Lace Embroidery Design For Wine Charm
Before starting to create dye-embroidered wine charms with lace, let's take an overview of FSL lace embroidery designs for wine charms to add to your embroidery box.
FSL Lace Embroidery Design
It is entirely up to you which design to choose to make a stunning wine charm because it will decide how your design is going to be stitched out nicely. There is a lot of free-standing lace embroidery design available but design selection is important whether it will beautify your embroidered items or can destroy your efforts too. Select the design which is digitized properly and can be stitched out smoothly without puckering.
If you can't know how to embroider free-standing lace. Then Don't worried we have a solution. Here is our complete tutorial about How to embroider Free-Standing Lace Embroidery go and check it.
List Of Material You Need To Create DIY Lace Embroidery Wine Charm
Look at these supplies one should have in their sewing kit to embroider wine charms with lace embroidery at affordable rates.
Appropriate Stabilizer For Lace
The use of the right stabilizer is a crucial factor for FSL lace embroidery as it affects the final look of your project design. And the other reason is that you are not using any fabric to hold the lace on. A stabilizer that suits best FSL lace embroidery design is dissolved wash-away mesh.
As FSL lace embroidery design demands a more perfect and clear look seen from far, this stabilizer can be dissolved easily so that one won't see any remaining stabilizer in the lace embroidery project design hence permitting a smooth and crispy look. It is easy to use and leaves no marks of excessive stabilizer throughout your design.
You just need to have lukewarm water to soak it in and this stabilizer won't destroy the stitches and lace. As a result, your lace embroidery design looks soft and stunning.
If you can't decided which stabilizer is best for your project. Then go check our complete blog about Stabilizer.
Thread For Lace
One can go with any type of thread for lace that cannot stretch. A suitable thread for lace embroidery is Rayon as it is both soft and strong to work best with the applying speedy stitches during lace embroidery. Thread choice depends on the look you want with your lace embroidery design.
But the use of rayon thread for lace is highly recommended because it provides a basic foundation for detailed work even with delicate design. Metallic threads are of great choice in lace embroidery but require a lot of effort in their handling too. It could be annoying for you to deal with frequent thread breaks with metallic thread but the results would be admirable if you get out of it.
Bobbin Thread
Again with bobbin thread, care is needed in the selection of color. It is highly recommended to use the bobbin thread to match your top thread color being used during lace embroidery. Because of the lace design which is visible from both sides.
Needles
Here you can go with a metallic needle having big eyes then a normal needle is the best choice for lace embroidery.
Additional Supplies
Embroidery machine

Hoops

Make use of a Towel

A bucket of lukewarm water to disappear the Stabiliser residue

Pins

Lace embroidery design

Scissors

Rings
Step By Step Procedure To Create DIY Stunning Lace Embroidery Wine Charm
When you have collected all the supplies needed to carry out lace embroidery to create stunning wine charms, follow these steps.
Step 01- Hooping Of Stabilizer
To start the process, the first step is the hooping of your chosen stabilizer which is a wash-away mesh. Use pins to hold the stabilizer at a place to the hoop.
Step 02- Adjust Thread Tension
In the second step, make sure to check the thread tension. Tension should not be too tight or loose between the top and the bobbin thread. It can be normally checked through tension knobs on the machine.
Step 03- Loading Of the Hoop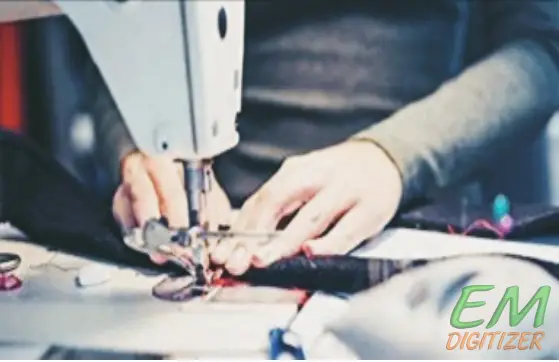 After adjusting the tension, the loading of hoops is done into the embroidery machine and makes sure of its secure attachment. Then start stitching your desired lace embroidery design at a moderate speed.
Step 04- Stitch Multiple Design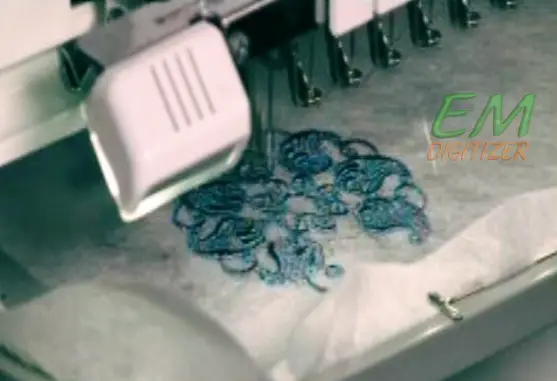 Once you have finished stitching the lace design for one glass or cup, step forward to carry out stitching the lace embroidery design for the rest material.
Step 05- Remove Excess Stabilizer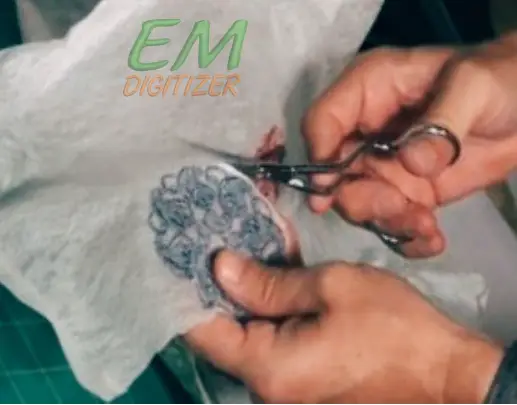 After completing all rounds of stitching your entire lace embroidery design, remove the excess stabilizer carefully but cutting out the lace design. Because if the stabilizer keeps showing through the design, your lace design loses its charm and this mistake can be easily spotted by your customers and destroy the quality of the design.
Step 06- Wash Out The Design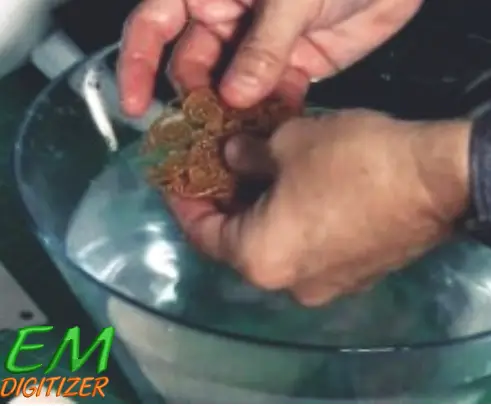 To get a fine result, sock the design into a bucket of lukewarm water. By doing so, all the residues will get removed from the lace embroidery design. After that, lay the design flat on the towel and slightly press your design to separate the water from the design.
Step 07- Give Shape to the charm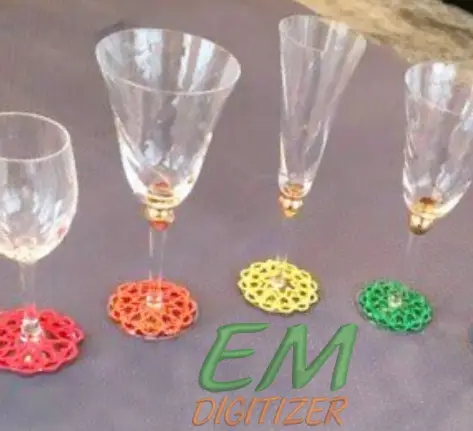 At this stage, you will set a specific shape for the wine charm with rings around stems concerning the materials you want to decorate, such as wine glasses, mugs, candle covers, and many more accessories while on a budget.
Embroidering lace is a fun and easy way to add a bit of extra beauty to your projects, like wine charms. You can pick any design you like, and the supplies you need are quite affordable.
Conclusion
This article is entirely devoted to the tutorial for making a stunning DIY lace embroidery wine charm. Use the proper, high-quality materials to complete the lace embroidery process, just like you would do with other types of embroidery. Lace embroidery is done for various purposes, including decorating items for the home, or wine bar, or embroidering items to send as a treasured gift to others.
You guys will get an idea of how simple it is to make beautiful lace embroidery wine charms of any shape and design by using these tips. Another benefit of lace embroidery is how inexpensive the materials are, which is always a plus point.