Have you ever rushed out of your house and realized that you have taken the wrong set of keys with you?
If so, perhaps you require a more convenient way to carry your keys without them protruding from your pockets or causing harm to the contents of your bag.
Why not consider making a custom embroidered key holder that suits your preferences?
In this blog, we'll guide you through the steps to create your own easy and practical in-the-hoop embroidery key holder that can be customized easily.
Embroidery Digitizing Services
If you are looking for embroidery digitizing services, EMDigitizer is one of the best embroidery digitizing company. Providing all types of embroidery digitizing. I recommend you try digitizing services.
In-the-Hoop Embroidery Project
In-the-hoop embroidery key holder is a type of keychain that is made using embroidery techniques, where a design or pattern is embroidered onto fabric using a hoop to keep it taut.
The keyholder typically consists of a small piece of fabric that is embroidered with a design, which is then attached to a metal key ring or a clasp.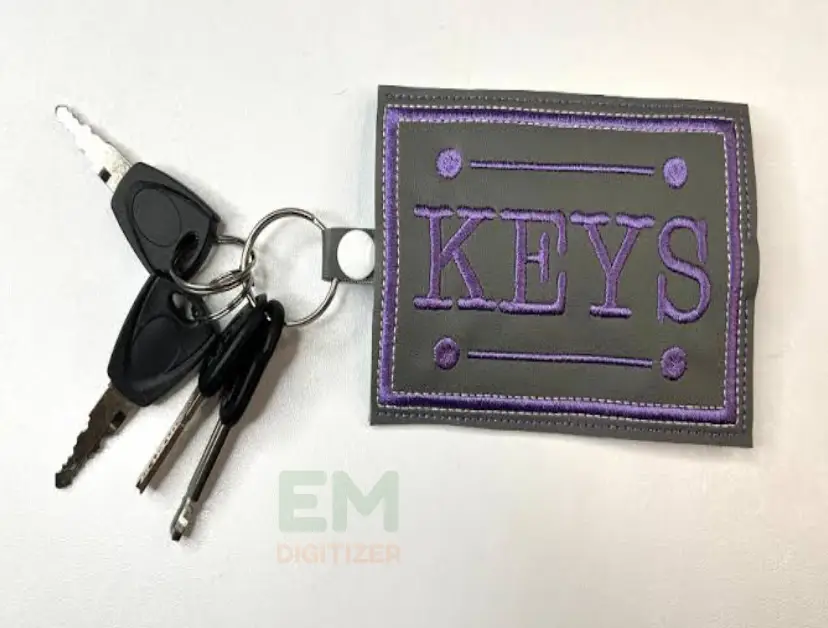 The design can be anything from a simple monogram or initial to a more complex pattern or image. The materials used for the embroidery can vary depending on the design and the desired effect.
But some common elements you may find in-the-hoop embroidery key holders include threads of various colors, needles, and the hoop itself.
Overall, the in-the-hoop embroidery key holder is a fun and creative way to add a personal touch to your keys while keeping them organized and easy to find.
Why Is There A Need To Make Your Own In-The-Hoop Embroidery Key Holder?
It's common to mistakenly take the wrong key when you have several keys at home. To avoid this, you can customize your key holder by using various colors of fabric and thread.
An in-the-hoop embroidery key holder is an excellent tool for carrying your keys conveniently. It helps you keep all your keys organized, and protected, and prevents them from causing damage to other items in your bag or purse, like your phone.
This key organizer helps you free up space in your pockets or purse and prevents the bothersome sound of jingling keys.
It features two distinct snaps that allow you to secure your keys both inside and outside of the holder, making it a practical solution for keeping your keys organized.
By utilizing recycled materials that you already have, you can create an eco-friendly machine embroidery project that won't break the bank.
Here's how to create something original with unused or recycled supplies.
It only takes a few minutes to stitch and assemble a wallet, making it an ideal choice for those who want to save money and be environmentally conscious.
Instead of spending excessive amounts of money on generic, store-bought gifts, personalize your own and enjoy the process.
Presenting a list of the best and most affordable embroidery gift ideas in this blog for people you love on special days.
We have a simple yet thoughtful gift idea for your loved ones: personalized key holders. These in-the-hoop embroidery key holders are not only a great way to keep your keys organized but also add a personal touch.
For making in-the-hoop embroidery key holders, you'll require some basic materials, and with your embroidery software, you can customize the text on your keychain. So, let's begin!
We'll guide you through making a unique key holder that can be customized in just a few minutes, perfect for any special occasion.
Material Required For Making In-the-hoop Embroidery Key Holders: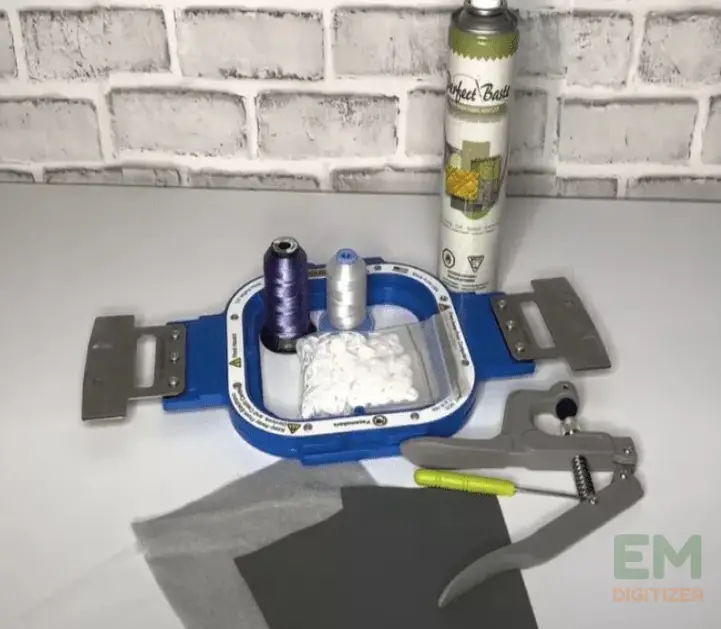 Keep in mind that you may already have many of the embroidery supplies in your possession, and this is an excellent opportunity to repurpose old textiles.
You will need the following materials for the in-the-hoop embroidery key holder:
Either vinyl or leather

Two pieces measuring 4 x 6 inches each

One piece measuring 0.5 x 7 inches

A piece of felt measuring 7 x 7 inches

Snap fasteners or pliers

Tear away stabilizer

Embroidery machine

Spray adhesive

Embroidery floss

Scissors

Embroidery design for a key holder

It is recommended to have painter's tape and a chopstick on hand as well.
In-The-Hoop Embroidery Key Holder- A Complete Tutorial
Here is the step-by-step guide for making a masterpiece in-the-hoop embroidery design for a key holder:
Step 1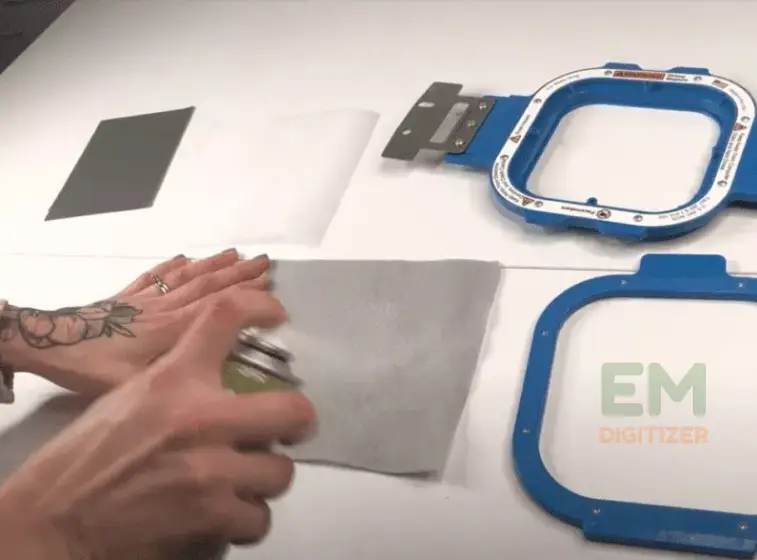 Firstly, apply the adhesive spray to one side of the felt pieces and affix them onto the tear-away stabilizer, ensuring there are no creases.
Step 2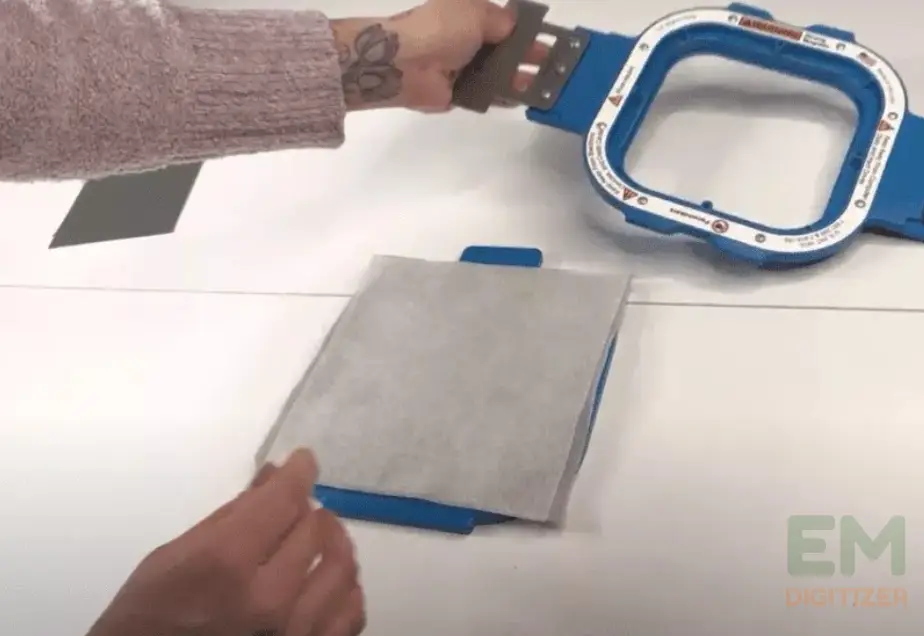 Next, position the hoop over the stabilizer with the felt facing downward and the stabilizer facing upward, and secure the layers within the embroidery hoop.
Step 3
Apply a small amount of tacky embroidery spray to one of your 4×6-inch leather or vinyl pieces and ensure it is even.
If you're considering embroidering on leather and vinyl, click here for the full guidelines.
Step 4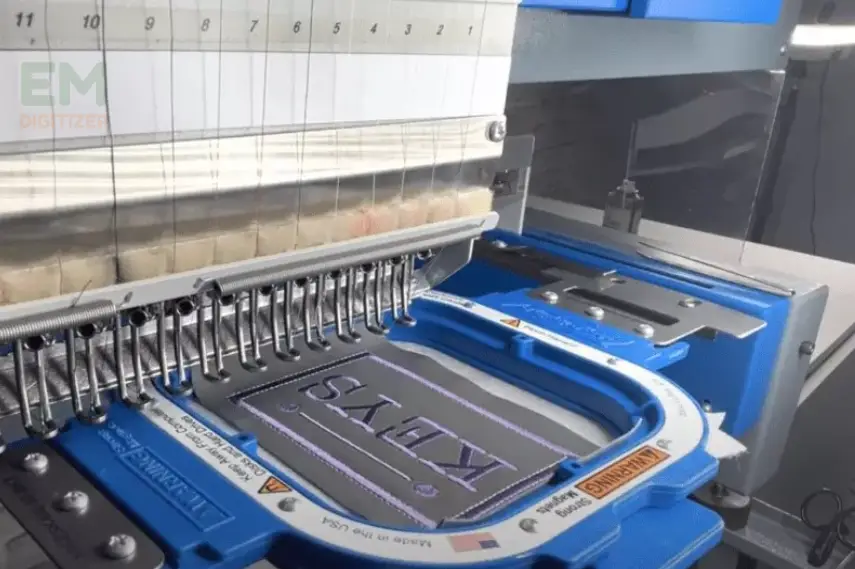 Now you need to insert your hoop into the machine and continue with the embroidery process until the last tack-down line has been embroidered.
For a more customized touch, you can modify the embroidery design by adding different texts like names or other words.
You can explore this option by using a 30-day free trial of Hatch embroidery software to edit and personalize your design further.
You can also read a review of the remarkable features offered to users of the Wilcom Hatch Embroidery Software.
Step 5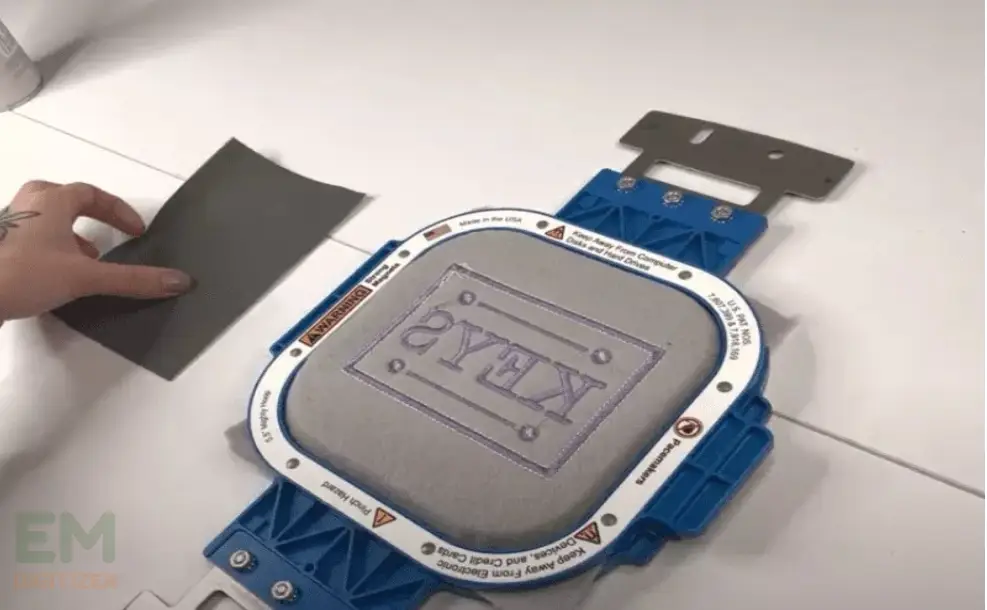 Take the hoop off the machine and place it in an inverted position on the table.
Step 6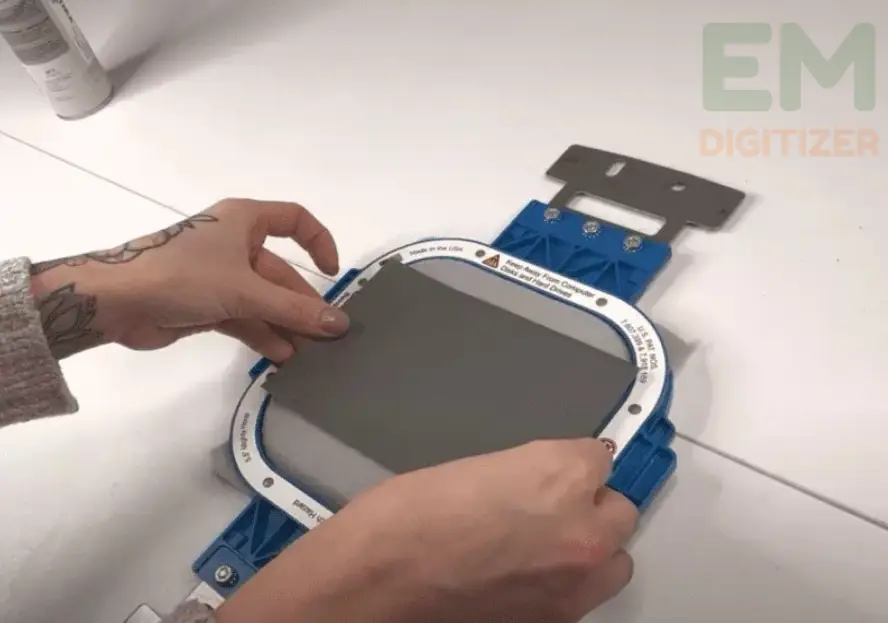 Apply spray adhesive to the reverse side of your other 4×6″ piece of leather or vinyl and then affix it to your stitching (the top side of the leather or vinyl should be facing you), ensuring that it is even.
Step 7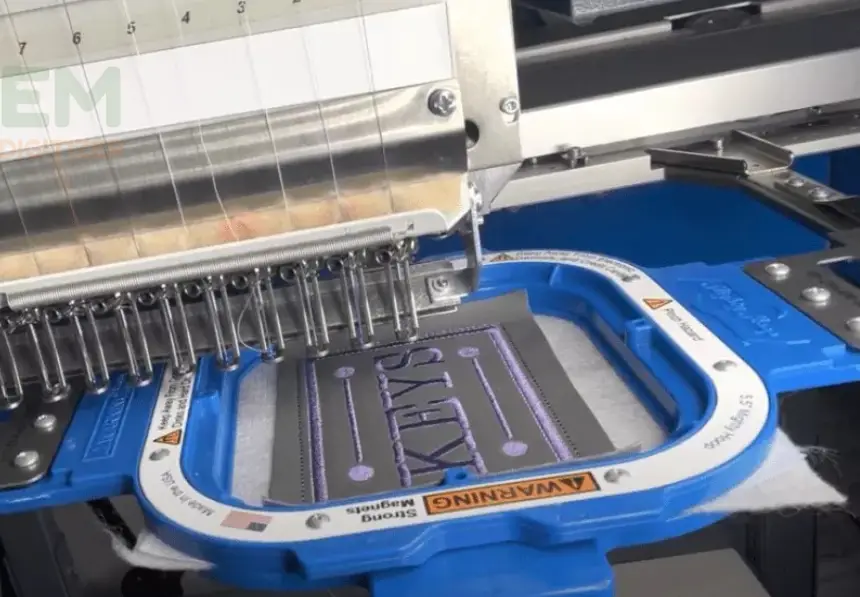 Reinsert the hoop into the machine and sew the final tack down the line, which is the perimeter of your design.
Step 8
Take your hoop out of the machine and take your design out of the hoop, and if necessary, remove any threads on the back.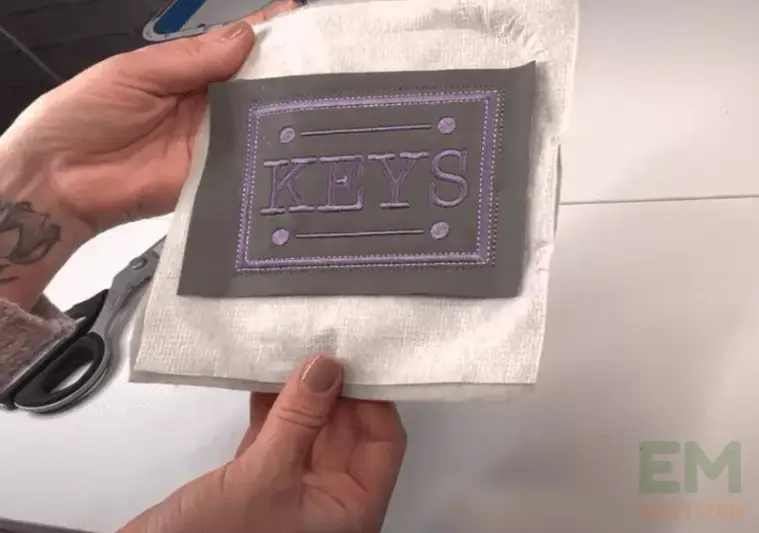 If you are new to embroidery and want to produce reliable results for your projects, don't forget to check the best embroidery hooping guidance.
Step 9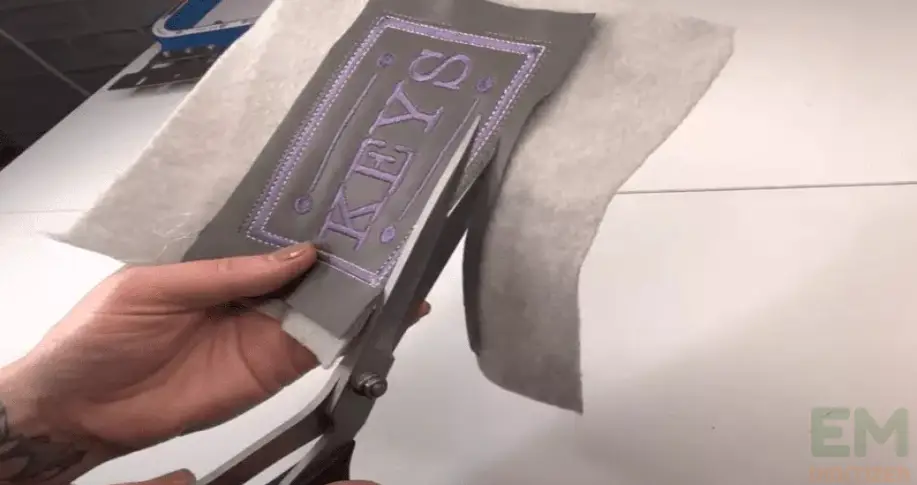 Remove the stabilizer by tearing it away and then trimming around the contour of your design. Once you complete these steps, you will be left with a pocket.
Step 10
You should take the leather or vinyl piece measuring 0.5 x 7 inches, affix a stud snap fastener at one end of the piece, and then attach a socket snap fastener slightly adjacent to it.
Also, make sure you leave sufficient space for a keychain to be attached once the piece is folded.
Step 11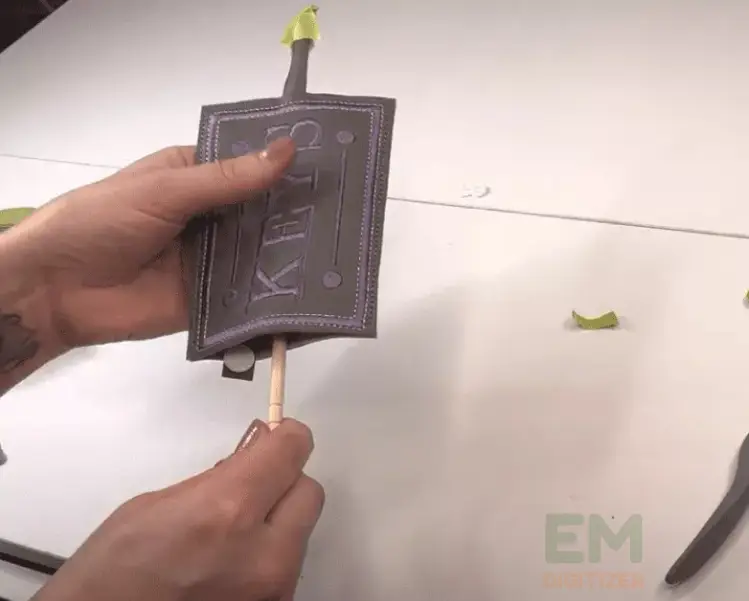 We must insert the lengthy piece through the key holder. To accomplish this task, we discovered that attaching a strip of painter's tape to the end of the leather or vinyl and utilizing a chopstick to push it through is the most straightforward method.
Step 12
Gently pull out the leather or vinyl piece so that it nearly comes out of the hole, but don't completely remove it from the pocket.
After that, add a stud snap fastener to the tip of the elongated piece and check where it aligns with the top of the in-the-hoop embroidery key holder. If desired, trim any excess material around the stud snap.
Step 13
You may consider adding a socket snap fastener at the top of the smaller hole to guarantee that your keys will stay attached to your in-the-hoop embroidery key holder even while in use.
Step 14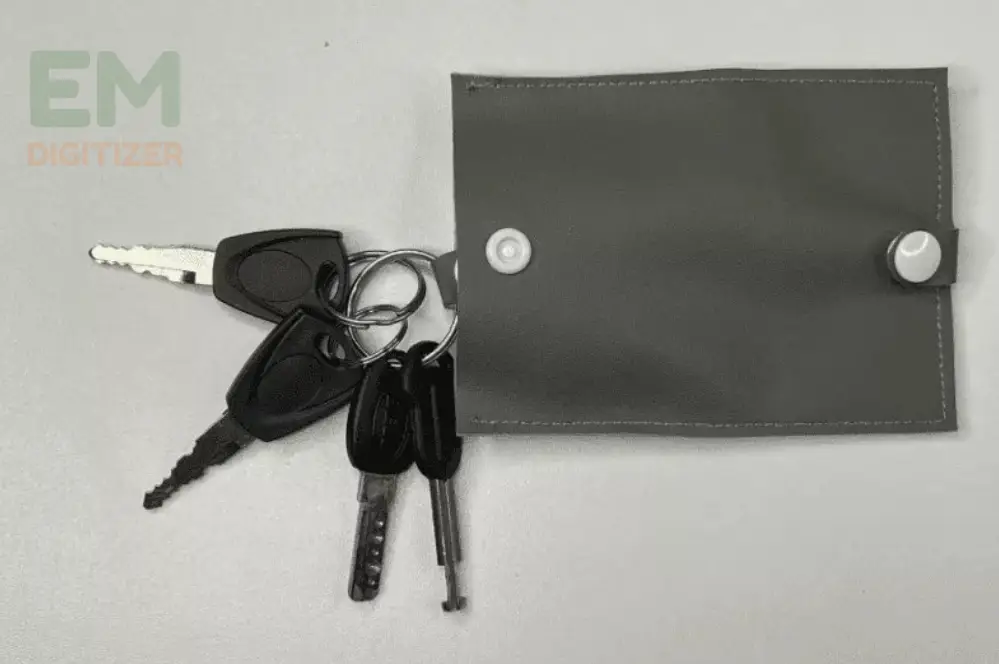 Congratulations! You have created your own easy and practical in-the-hoop embroidery key holder. You can insert your keys into the double-ended snap, which will allow you to either tuck them inside the key fob or attach them to a key chain.
Now you can use it to keep your keys organized and add a touch of personality to your daily routine.
Conclusion
Looking for a quick and easy gift idea for birthdays, home decor, or just for yourself?
You may consider this in-the-hoop embroidery project, which can be personalized to your liking and used to keep your keys neatly organized, freeing up space in your pocket or purse.
With a few simple materials and some creativity, you can create a unique key-in-the-hoop embroidery key holder that is both practical and beautiful.
Happy embroidering!