In recent years, there has been a surge in interest in machine embroidery, where the designs are digitized and stitched using an embroidery machine.
To create these designs, one needs to convert the design into a digital format that the embroidery machine can read.
SVG and PES are two different file formats, with SVG being a vector graphics format and PES being an embroidery file format used by embroidery machines.
If you have a design in SVG format that you would like to embroider, you will need to convert it to PES embroidery format first. In this tutorial, we will show you how to convert SVG to PES so that you can embroider your designs with ease.
Embroidery Digitizing Services
If you are looking for embroidery digitizing services, EMDigitizer is one of the best embroidery digitizing company. Providing all types of embroidery digitizing. I recommend you try digitizing services.
Overview
SVG (Scalable Vector Graphics) and PES (PE-Design Embroidery Format) are two different file formats used for different purposes.
SVG Files
SVG stands for Scalable Vector Graphics, which is an XML-based vector image format used to display graphics on the web.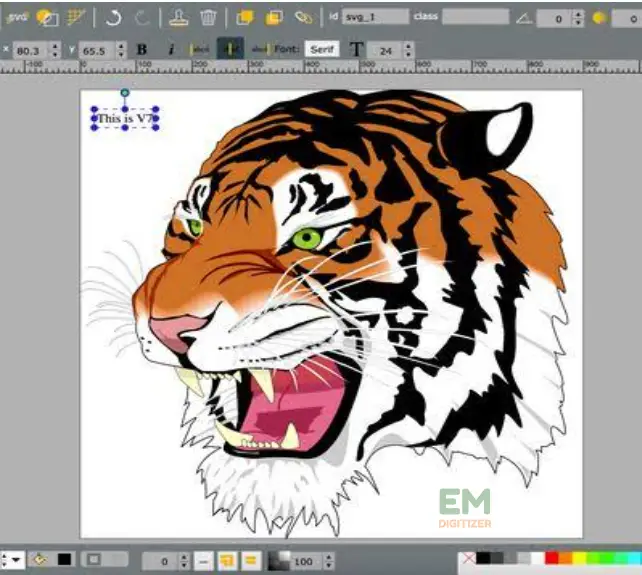 Unlike raster graphics, which are made up of pixels, SVG images are made up of paths, shapes, and curves, which can be scaled up or down without losing quality.
Applications:
Web design particularly for icons and logos.

Used in mobile applications to help conserve device memory and improve performance.

Used to create interactive charts, graphs, and maps that can be animated and updated in real-time.

Print formats for use in brochures, flyers, and other marketing materials.
PES Embroidery Format
PES is a file format used by embroidery enthusiasts, hobbyists, and professionals to digitize and save embroidery designs.
PES stands for "Pattern Embroidery Stitch" and is a proprietary format owned by Brother Industries, a manufacturer of sewing and embroidery machines.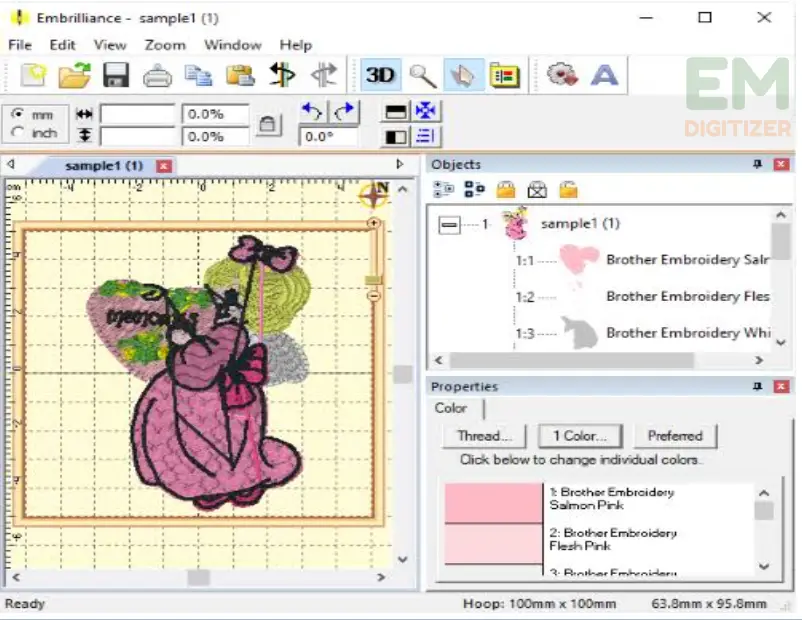 PES files are created using software like Embird, Wilcom, or PE-Design, which converts digital artwork into a PES file format that can be read by the embroidery machine.
By following the steps outlined in this blog post, you can convert JPG files to PES files for embroidery purposes as well.
PES files contain information about the stitching sequence, thread colors, and other necessary data that the embroidery machine requires to create the design.
It is compatible with most embroidery machines, not just Brother machines, it is compatible with various types of embroidery machines, including Brother, Babylock, and Bernina.
Applications: It offers a great way to create custom embroidery designs and add unique touches to clothing, hats, bags, home decor, and accessories.
SVG TO PES Conversion
Converting an SVG to a PES file is necessary if you want to use a digital embroidery machine to stitch your design onto fabric.
This SVG to PES conversion process requires specialized software that can interpret the vector graphics in the SVG file and convert them into the stitch-based embroidery instructions required by PES files.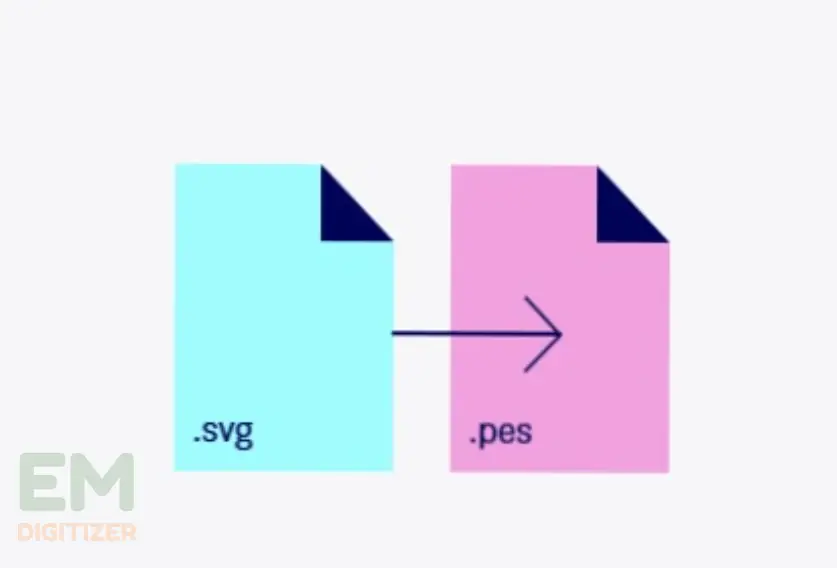 However, it's important to note that the SVG to PES conversion process may not always be perfect, as embroidery machines have limitations in terms of the number of stitches and thread colors they can handle.
Therefore, it's important to test the converted design on a small scale before using it for a large project to ensure it meets the required specifications.
A Complete Tutorial Guide For SVG To PES Conversion
If you're interested in creating embroidery designs, you may have come across the need to convert SVG to pes. You can follow these steps:
Step 1: Choose A Conversion Tool
There are several conversion tools available online that allow you to convert svg to pes. These software programs offer a range of features and functionalities for creating and editing embroidery designs.
Choose the one that best suits your needs and budget. Some of the popular ones are:
Ink/Stitch

Hatch

Embird

EmbroideryDesigns.com

Wilcom TrueSizer etc.
Other than conversion tools, you can also use popular embroidery software that supports SVG to PES conversion:
SewWhat Pro: This is an affordable embroidery software that allows you to create and edit embroidery designs. It supports a wide range of file formats, including SVG and PES.
Embrilliance Essentials: This software is a little more expensive than SewWhat Pro, but it has a user-friendly interface and advanced features. It also supports a wide range of file formats, including SVG and PES.
Step 2: Upload Your SVG File
Once you have chosen your conversion tool, upload your SVG file to the tool. Most tools have an upload button or an option to drag and drop the file.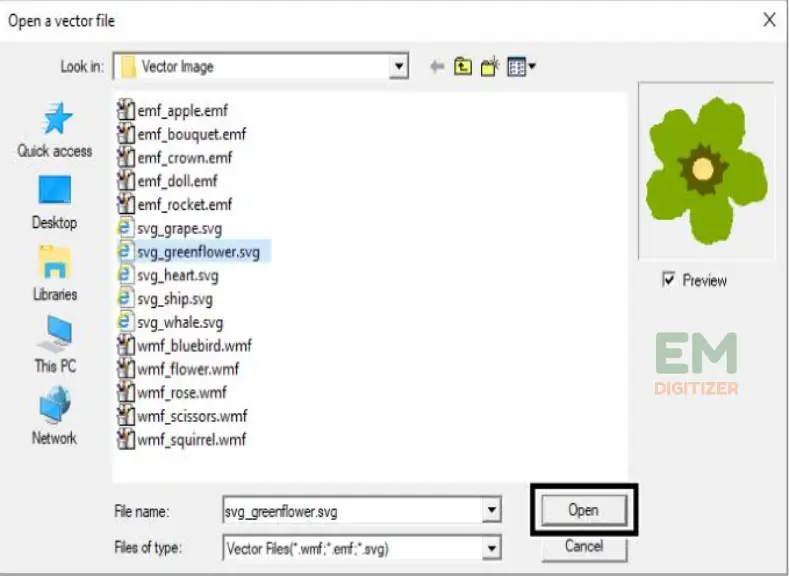 Follow the instructions provided by the tool to upload the file. The conversion tool will analyze your file and prepare it for conversion.
Step 3: Edit Your Design (Optional)
Some conversion tools allow you to edit your design before conversion. If you want to make any changes to your design, do it now.
Step 4: Select The PES Embroidery File Format
Choose the PES format as your output format. Make sure that you have selected the correct version of PES that your embroidery machine supports.
Step 5: Set The Conversion Parameters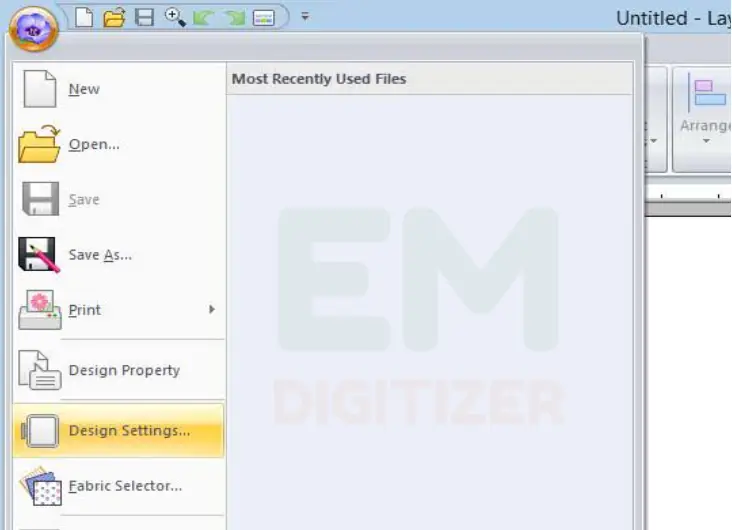 Different conversion tools have different options for SVG to PES conversion that you can customize to achieve the desired result. Some of the parameters that you can adjust for converting SVG to a PES file include:
Size

The number of colors

Stitch density

The stitch type
It is important to note that the settings you choose will depend on the type of embroidery machine that you are using. If you are unsure which parameters to set, you can leave them at the default values.
Step 6: Convert Your Design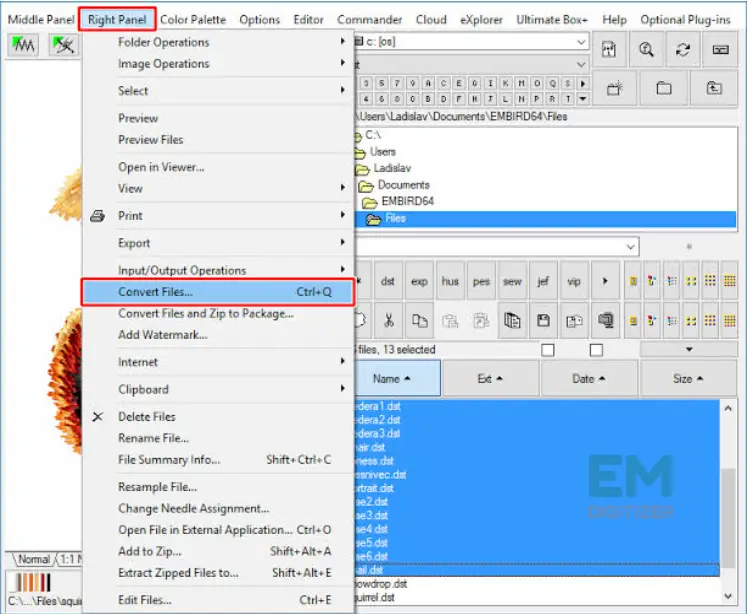 Click on the "Convert" button to start the conversion process. The time it takes to convert your SVG to PES will depend on the size and complexity of your design.
Step 7: Download Your PES Embroidery File Format
Once the SVG to PES conversion is complete, download your PES file to your computer. Save it to a location where you can easily find it.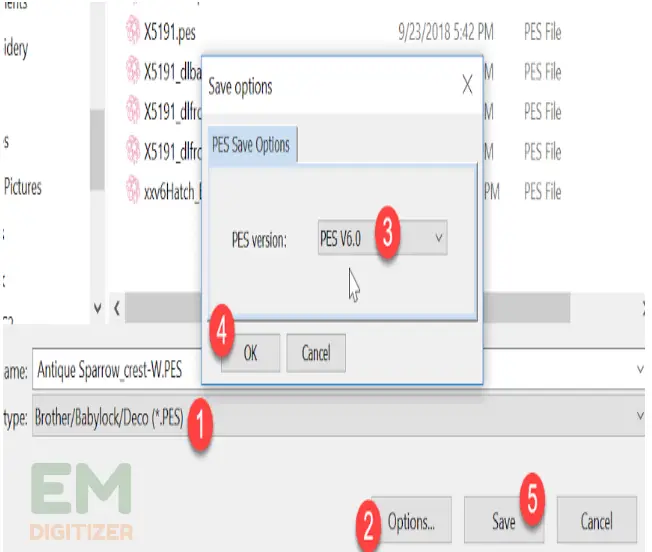 If you're having trouble locating your design on your device, go and organize embroidery designs in the way explained in this blog to prevent losing that design file.
Step 8: Check The Converted PES File
After you've saved your PES file, it's a good idea to open it in your embroidery software to make sure everything looks as it should.
You can also use the preview function (e.g, Wilcom TrueSizer) to check the design before transferring it to your embroidery machine.
Step 9: Transfer The Design To Your Embroidery Machine
Once you're satisfied with your PES file, it's time to transfer it to your embroidery machine. There are several ways to do this, depending on your machine and software.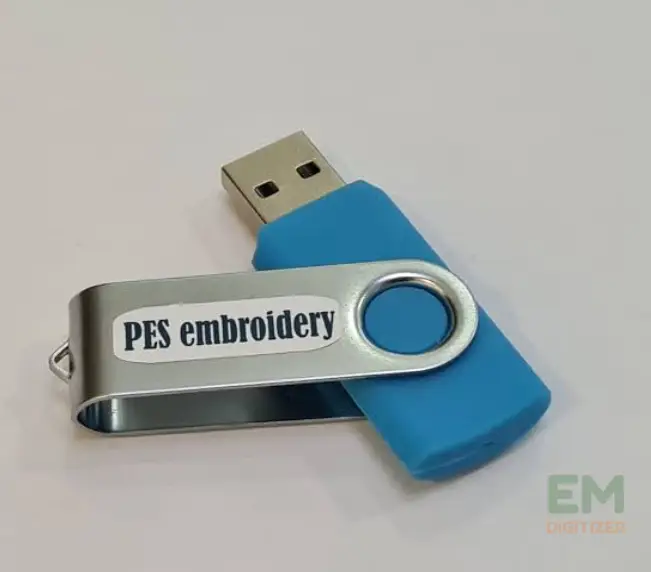 One common method is to save the PES file to a USB drive and plug it into your embroidery machine.
This tutorial explains in detail how to use a USB to transfer embroidery design from a computer to an embroidery machine for embroidery.
Ensure that your embroidery machine is compatible with the PES format and that you have followed the manufacturer's instructions for transferring designs.
Step 10: Embroider Your Design
Finally, it's time to embroider your design. Ensure that you have selected the correct thread colors and hoop size before you start the embroidery process.
Follow the instructions provided by your embroidery machine to get the best results.
If you're a newbie and want to get amazing results, read through the easiest machine embroidery learning methods provided in this post.
Alternative Method: Use An Online SVG To PES Conversion Tool
If you don't have access to embroidery software or don't want to invest in one, you can use an online SVG to PES free conversion tool.
Here is a collection of the top free converters to assist you in converting embroidery file formats into machine-appropriate formats.
Simply upload the SVG file to the tool, and it will automatically convert it to PES format. Some popular online conversion tools used to Convert SVG to PES include Convertio, FreeConvert, and Online Convert.
About Emdigitizer
I wanted to share some information with you about the Emdigitizer Company which is a reputable company that specializes in providing embroidery digitizing services.
With their expertise in embroidery digitization, they can convert your SVG files into high-quality PES embroidery files that can be used with any embroidery machine.
Whether you're looking to create custom patches, hats, or shirts, Emdigitizer can help you bring your designs to life.
So, if you need help with converting SVG to PES files, consider reaching out to Emdigitizer. They can provide you with a quote for their services and help you get started on your embroidery project.
Additionally, below is a list of the embroidery digitizing services that Emdigitizer offers at quick turnaround times that are affordable.
Conclusion
In short, converting SVG to PES Embroidery File Format can be a straightforward process if you follow the right steps.
Remember to choose the right SVG to PES conversion tool, set the correct parameters, and save the file in a location that is easily accessible.
With these steps, you can enjoy the benefits of embroidering your SVG designs on any embroidery machine that supports the PES file format.
Other tools that can help you succeed in machine embroidery and grow your embroidery business are listed in this article.