If you're a fan of machine embroidery, you know that it's a fantastic way to personalize and decorate just about anything.
However, if you're looking to take your embroidery to the next level and make it stand out, you'll want to explore your creative side.
Whether you're looking to experiment with different materials, try out new stitches, or incorporate unique designs, there are countless possibilities for getting creative with machine embroidery.
With a little bit of imagination and some basic know-how, you can transform even the most basic embroidery projects into stunning works of art.
So why not start exploring your creative potential today? Let's get started and see what magic we can create together while being creative with machine embroidery!
Embroidery Digitizing Services
If you are looking for embroidery digitizing services, EMDigitizer is one of the best embroidery digitizing company. Providing all types of embroidery digitizing. I recommend you try digitizing services.
How To Be Creative With Machine Embroidery- Overview
Machine embroidery can be a fun and creative hobby that allows you to express your style and create unique, one-of-a-kind pieces.
Being creative with machine embroidery can be an enjoyable and soothing activity, providing opportunities to craft presents for cherished individuals.
Undoubtedly, as embroidery enthusiasts, we invest considerable effort and commitment into producing machine embroidery ideas projects.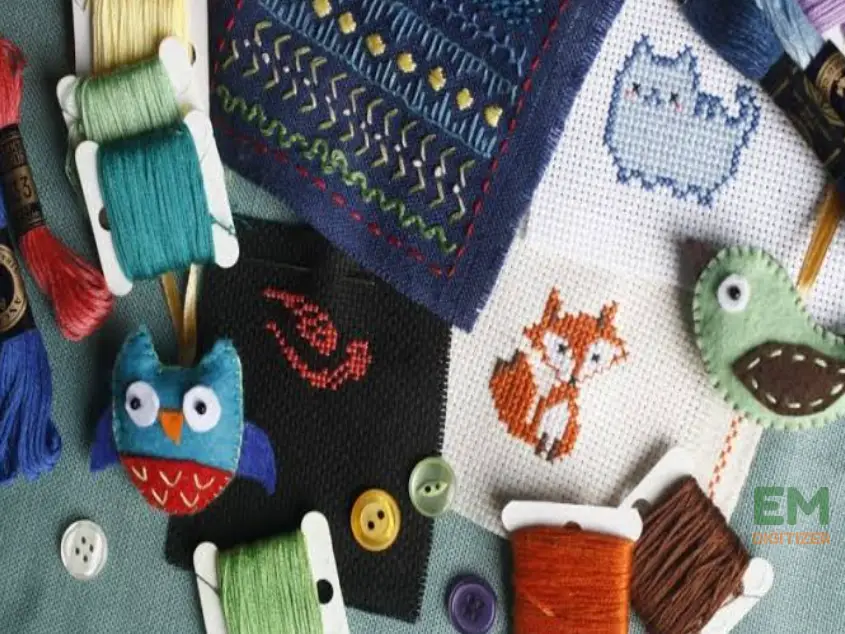 Here are some cool ways to be creative with machine embroidery:
Personalize Clothing: Embroider your initials or a fun design onto your favorite clothing item to add a personal touch.
Create Artwork: Use embroidery to create beautiful and unique pieces of artwork. You can use different threads and fabrics to create texture and depth.
Decorate Home Accessories: Add embroidery to your pillows, curtains, or tablecloths to create a custom look for your home.
Make Gifts: Embroidered gifts are thoughtful and personal. Consider embroidering a special message or design onto a blanket or towel for a loved one.
Get the best embroidery gift ideas for your friends and family for special occasions here.
Experiment with Different Fabrics: Try embroidering on different fabrics such as denim, silk, or leather to create unique textures and effects.
Mix and Match Designs: Combine different embroidery designs to create a one-of-a-kind piece. You can mix and match colors and patterns to create a truly unique design.
Play with Thread Types: Experiment with different types of threads such as metallic or glow-in-the-dark to add an extra element of fun and let you be creative with machine embroidery projects.
Get the full guide here if you are unsure of the different thread types and their use for different projects.
Embroider onto Photographs: Add embroidery to photographs by printing them onto fabric and then embroidering them onto the fabric.
Visit this blog to learn the step-by-step procedure for digitizing a photo for embroidery on your preferred material.
Create 3D Effects: Use foam or other materials to create a 3D effect with your embroidery. This can be a fun way to add texture and dimension to your projects.
Here is a complete guide on how to create 3D embroidery to make your products look three-dimensional.
Use Embroidery to Repair Clothes: Rather than throwing away clothes with holes or tears, using embroidery to repair them is a great way to be creative with machine embroidery.
Interesting Ways To Be Creative With Machine Embroidery
If you're seeking novel techniques to innovate your machine embroidery, then you are on the point!
Here are four simple yet effective concepts that you can easily execute for being creative with machine embroidery designs:
1- Applique Machine Embroidery Projects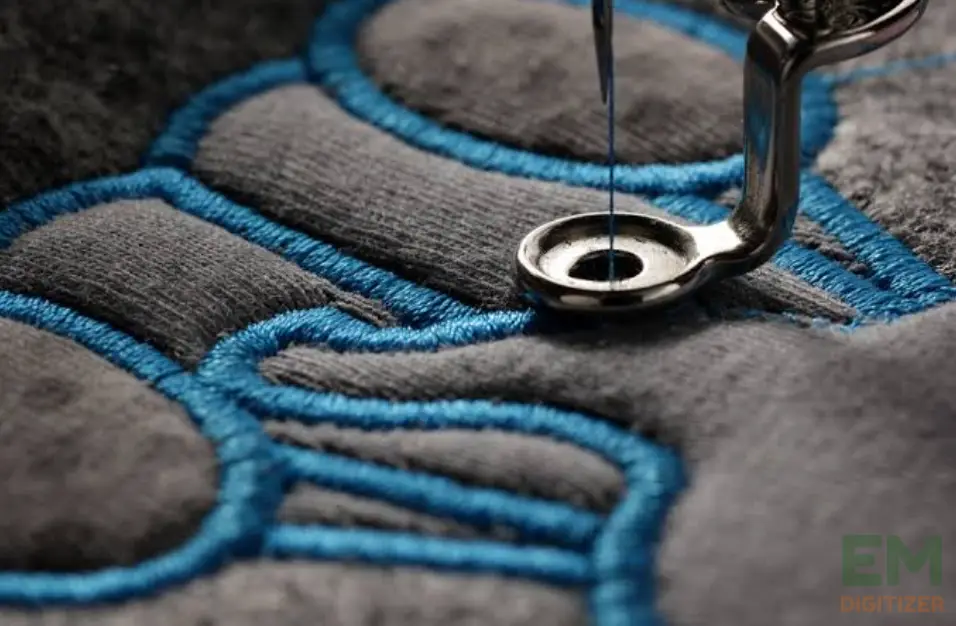 Using applique embroidery designs means using less stitching and more fabric, resulting in an enjoyable and visually appealing outcome.
For those who are unfamiliar with applique, it involves attaching smaller fabric pieces onto the embroidery design and stitching them in place."
When learning how to create applique machine embroidery ideas projects, it's important to remember that they are simpler than they may appear.
Many beginners may feel intimidated by the process, but in reality, it's quite easy. With a little practice, anyone can easily embroider applique designs.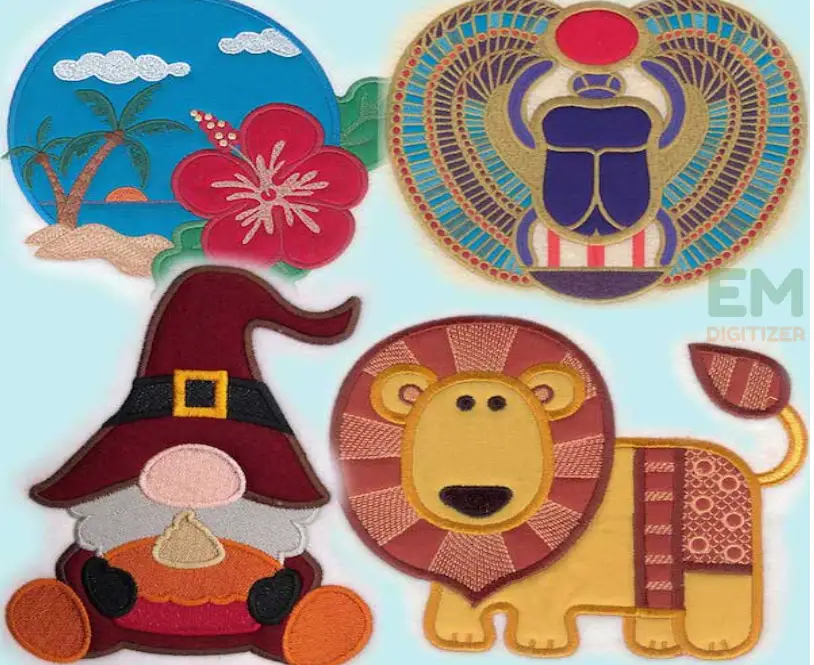 The art of applique embroidery is widely embraced due to its versatility and enjoyable nature. With this technique, you can easily tailor your design by choosing your preferred fabric type and pattern.
When it comes to digitization, incorporating applique is an effective method to decrease the overall stitch count in a design while still achieving an attractive visual outcome.
By utilizing an applique technique, you can substitute larger fill areas with a single piece of fabric, resulting in reduced machine run time without compromising the design's appearance.
See how to digitize large embroidery designs using applique in a few simple steps by clicking here.
2- Use Paintings To Be Creative With Machine Embroidery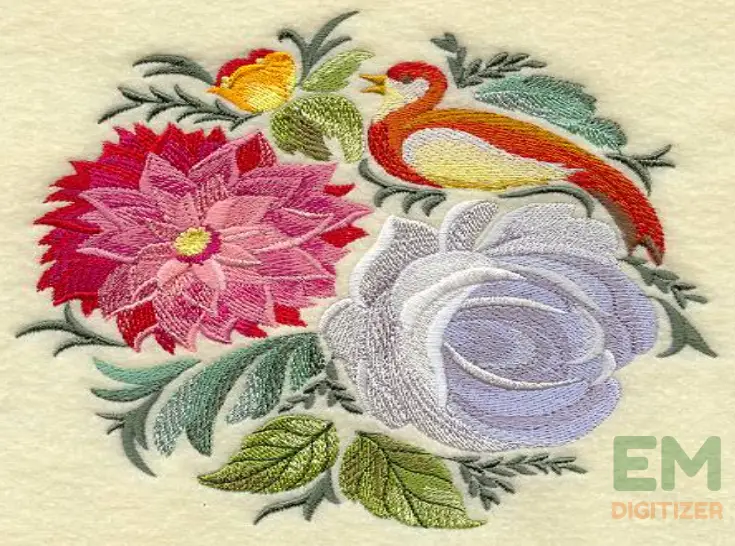 The options to be creative with machine embroidery are limitless as embroidery is considered a form of art.
So why not amplify its beauty by blending it with other art forms such as painting and coloring?
If you're seeking an embroidery project that involves creativity and artistry, this technique would suit you perfectly.
By utilizing fabric paint or fabric pencils, you can design patterns that can be painted, helping you to be creative with machine embroidery and ideal for people of all ages!
The process of painting your embroidery using fabric pencils or paints, and switching between traditional tools like brushes and modern machines, can be an enjoyable experience.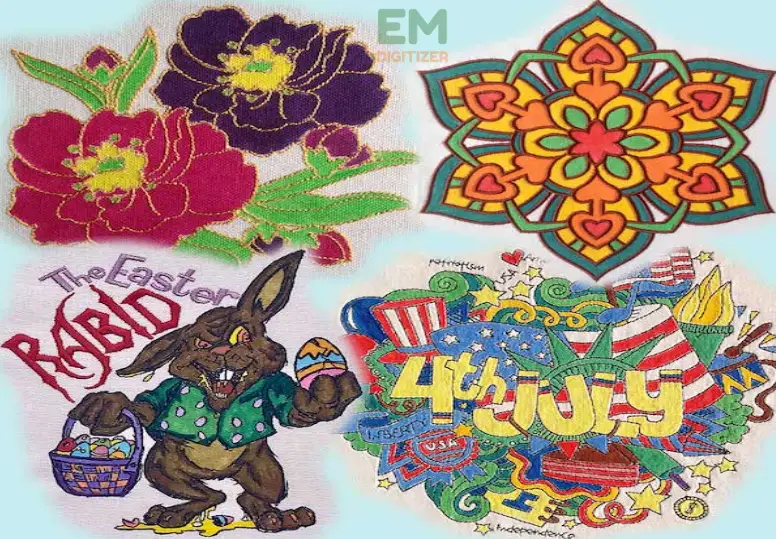 Not only does it decrease the number of stitches needed, but it also adds a more lifelike touch to your machine embroidery projects.
Creating embroidery paintings can be an excellent way to enhance your home decor. Imagine having a unique and beautiful piece of art that you created on display in your home!
3- In The Hoop Embroidery Projects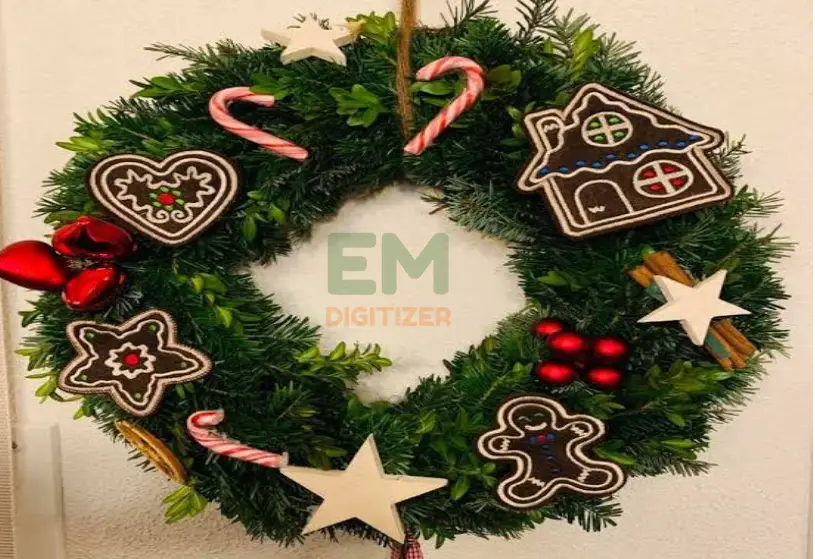 Engaging in ITH (in-the-hoop) projects is a fantastic approach to enjoying oneself, exploring one's creativity, and crafting amazing projects from scratch.
One might wonder if all embroidery designs are done in the hoop, and the answer is yes.
On the other hand, an in-the-hoop project enables the creation of a three-dimensional finished object or item entirely using the embroidery machine.
Suppose you were to create an ITH Christmas embroidery ornament. In this case, ornaments would not be embroidered with a design but rather crafted using a machine.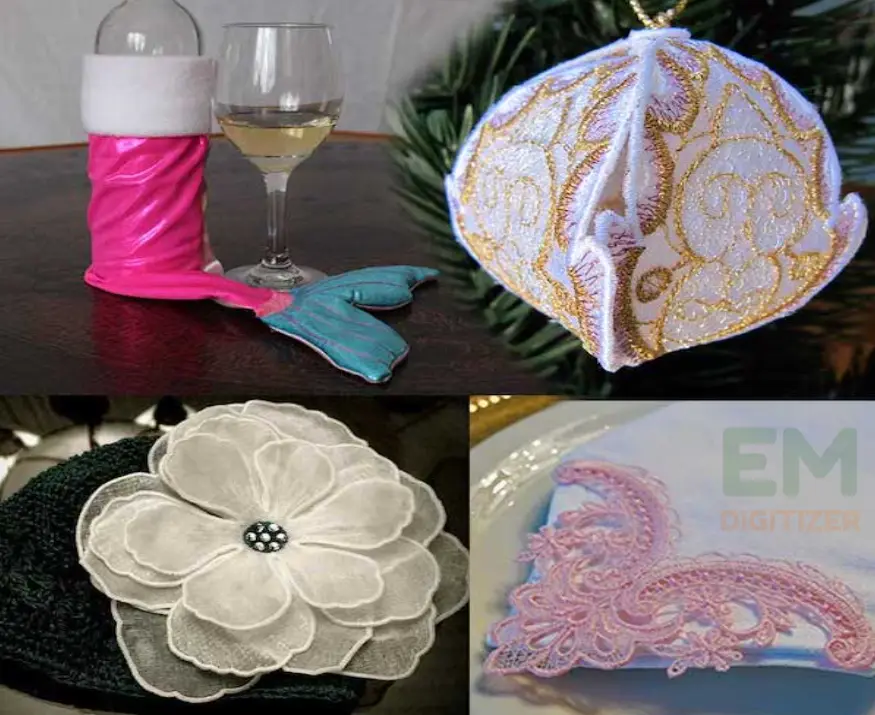 A variety of in-the-hoop projects that allow you to be creative with machine embroidery are available for selection, such as:
Wine coasters

Sleeping masks

Bookmarks

Purse/bags

Christmas stockings

Ornaments

Key fobs

Personalized gifts etc
Click here for a complete tutorial guide on how to:
It's incredibly simple to finish our ITH projects! We offer instructional tutorial blogs that provide a step-by-step guide, making the creation process simple.
In-the-hoop projects are an excellent way to experiment with new embroidery techniques and generate designs that you may have thought were impossible to produce with your embroidery machine.
4-Mylar Embroidery Designs – Designs that Shine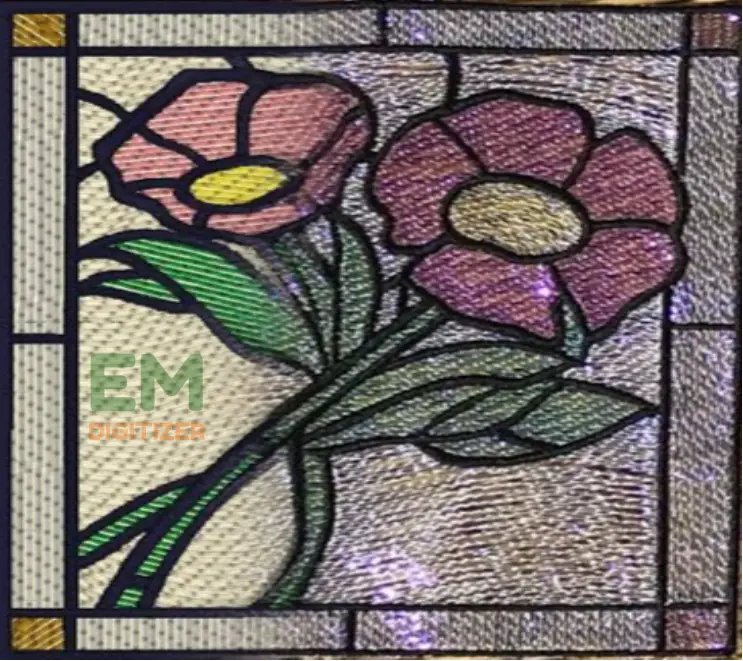 Mylar embroidery patterns offer an uncomplicated yet immensely efficient means of incorporating a sparkling effect into your designs, resulting in a stunning visual impact.
Over the past few years, Mylar designs have become increasingly popular as a simple way to incorporate shine and color into your upcoming embroidery project.
Instead of opting for metallic embroidery threads, you might want to consider using Mylar as a more cost-effective option that can lend your designs a shimmering, glittery effect.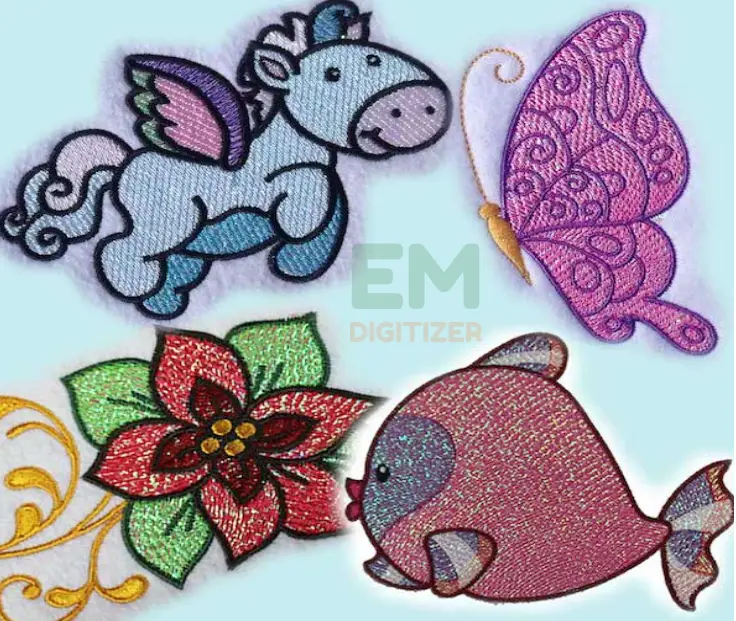 Shiny plastic films known as Mylar sheets have diverse applications beyond embroidery.
However, if you intend to use them for embroidery purposes, it's advisable to purchase the thinner variant, which is typically available in the wrapping paper section of craft stores.
It is important to avoid using mylar balloons for embroidery as the thickness of the material can yield different outcomes and potentially damage the embroidery machine.
One great advantage of mylar is its universal approach to color. Rather than purchasing different colored mylar, it reflects the color of the thread you use.
This means that after securing it with stitches, you can run your machine normally without the need for additional materials.
Note- With these innovative techniques, you can be creative with machine embroidery and produce stunning designs that go beyond simply hooping and starting the machine.
Conclusion
Machine embroidery is a fun and versatile way to explore your creativity and with these four ideas incorporating different textures, using unusual materials, experimenting with colors, and playing with designs – you can take your embroidery to the next level and create unique and beautiful works of art.
Don't hesitate to share your results, as there are no wrong ideas in machine embroidery and digitizing. Incorporate these tips into your next project and take pride in your creation!
Happy stitching!