The Singer 4423 is a heavy-duty sewing machine that is designed for those who want to tackle a wide range of sewing projects.
It comes with a powerful motor and a sturdy frame, which make it suitable for sewing thick fabrics and handling heavy use.
In this post, we'll examine the Singer 4423 review in more detail and give you a rundown of its pros and cons as well as some comparisons to other sewing machines.
Embroidery Digitizing Services
If you are looking for embroidery digitizing services, EM Digitizer is one of the best embroidery digitizing company. Providing all types of embroidery digitizing. I recommend you test digitizing services.
Heavy Duty Singer 4423 Review
High-duty sewing operations can be handled with the Singer 4423 Heavy Duty sewing machine.
It is a well-liked option for sewers who commonly work with heavier materials like denim, leather, and canvas.
It offers speed, versatility, and ease of use, making it an ideal choice for various sewing projects.
For example– quilting, repairing denim jeans or creating leather bags, garment construction, and home decor.
Due to the robust nature of this cloth, there are numerous considerations while embroidering leather. keep calm; I'll give you some excellent advice on how to embroider on leather. Browse this blog further.
Why do we need singer 4423?
If alternative models are available in the market, why do we need this particular machine?
You can find the answer to your query in the singer 4423 review, which is why I selected it.
1- Despite its heavy-duty capabilities, the Singer 4423 is easy to use and features an automatic needle threader, a drop-in bobbin system, and adjustable stitch length and width.
2- The Singer 4423 comes with 23 built-in stitches, including primary, stretch, decorative, and buttonhole stitches.
This variety of stitches allows you to sew different fabrics and designs, giving you more creative options.
3- It comes with a user manual that provides you with clear instructions on how to operate the machine, thread the needle, and select stitches.
4- It also has an automatic needle threader, making it easier for you to thread the needle.
5- It is a reliable machine that can handle regular use without breaking down or requiring frequent maintenance.
The most crucial expenditure that the businessman might invest is in a sewing machine that can handle embroidery tasks. After research, I have figured out the embroidery machine types in my previous blog that will be most useful to you.
Singer 4423 Review Of Features
When it comes to the Singer 4423 review, this sewing machine has more cutting-edge features.
For a comprehensive Singer 4423 review, I will now describe each of these characteristics using images of each element.
Free Arm
The first feature that is loved about this machine is a removable free arm, which makes it easy to sew cuffs, sleeves, and other small items.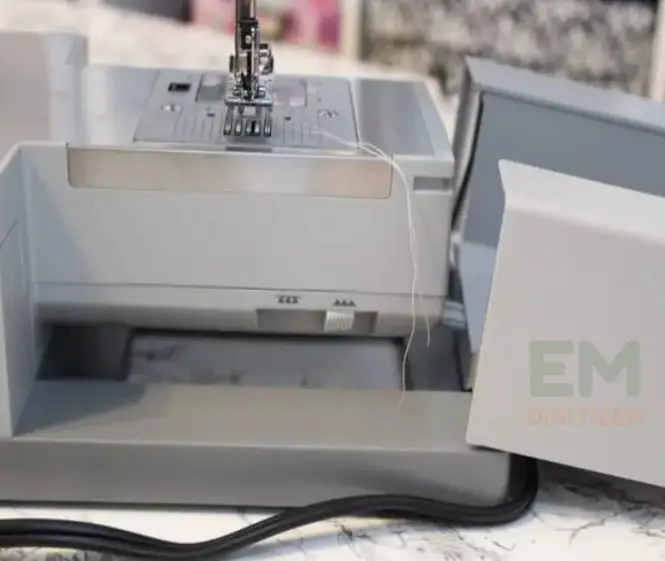 High Sewing Speed
With a maximum sewing speed of 1,100 stitches per minute, the Singer 4423 is one of the fastest sewing machines on the market.
This makes it ideal for those who want to complete sewing projects quickly and efficiently.
23 Built-in Stitches
Another best feature is that this machine comes with 23 built-in stitches, including basic, decorative, and stretch stitches, to allow you to create a variety of sewing projects.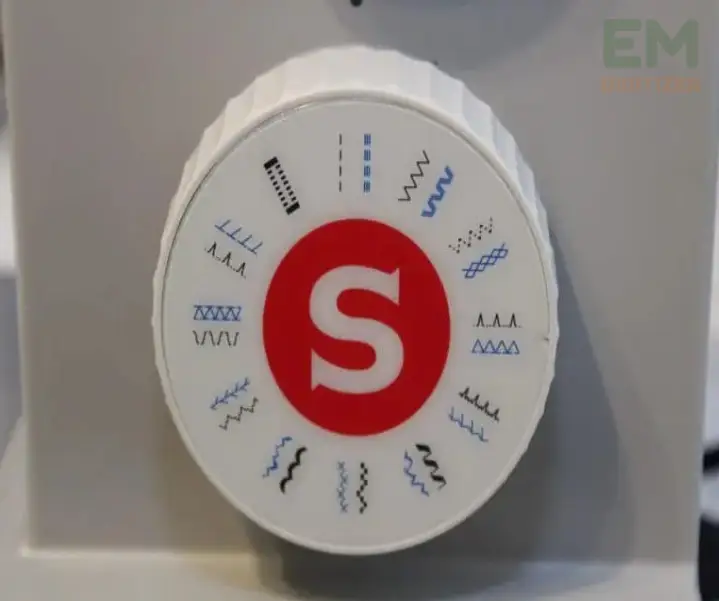 Heavy-Duty Metal Frame
It has a sturdy metal frame that provides stability and durability, making it suitable for heavy-duty use.
Automatic Needle Threader
Threading a needle can be a time-consuming and frustrating task, but the Singer 4423 comes with an automatic needle threader.
This feature makes it easy to thread the needle, even for people with vision problems or dexterity issues.
But this is the machine's fragile component that is brittle and readily breaks if it is overused.
Adjustable Presser Foot Pressure
You can adjust the presser foot pressure to suit the thickness and type of fabric you are working with, ensuring a smooth and even stitch.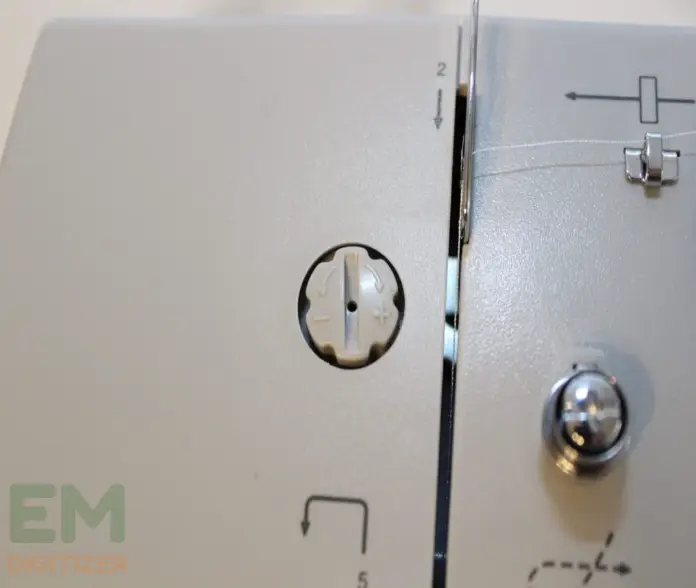 Top Drop-In Bobbin
It is easy to use and makes it simple to change the bobbin for your project when it runs out.
The lack of comprehensive information regarding the suitable machine embroidery bobbin thread in the machine handbook is challenging for novices. To get better results, click here to master the fundamentals of bobbin thread.
Adjustable Stitch Length And Width
The machine allows you to adjust the stitch length and width to suit your sewing needs.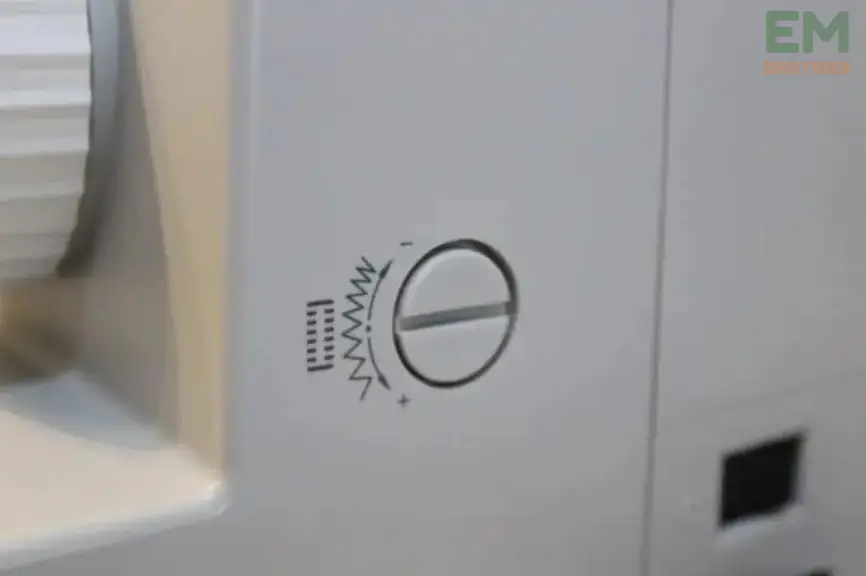 Built-in LED Light
It provides you with bright illumination, making it easy to see your work even in the low-light condition which is a plus point.
Versatility
It can sew through thick layers of fabric and multiple layers of denim and leather, thanks to its extra-high sewing speed.
Look at the picture below which I take to give a practical Singer 4423 review.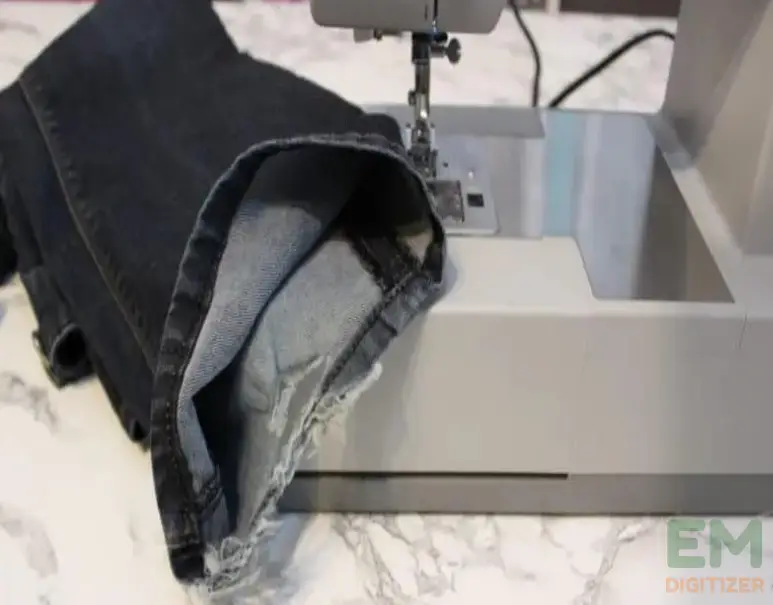 Adjustable Thread Tension
The adjustable thread tension allows you to fine-tune the tension for different types of fabric, ensuring perfect stitches every time.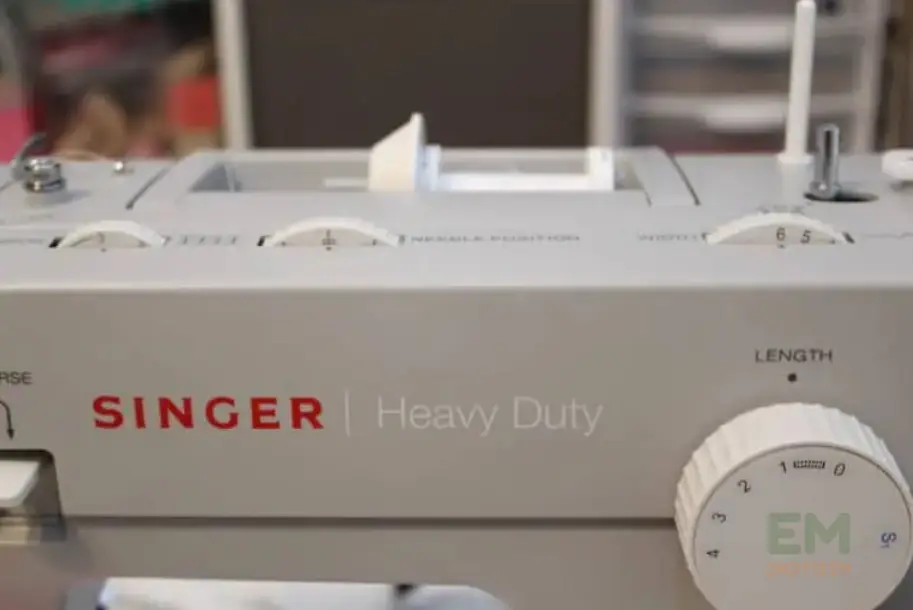 This feature helps to eliminate your headache about tension issues which is a frustrating task.
To view the full tutorial on understanding thread tension, which has an impact on the overall quality and consistency of the stitches, go here.
Needle Positions
It has three needle positions – left, center, and right – which make it easy to sew precise seams and edges as shown in this picture.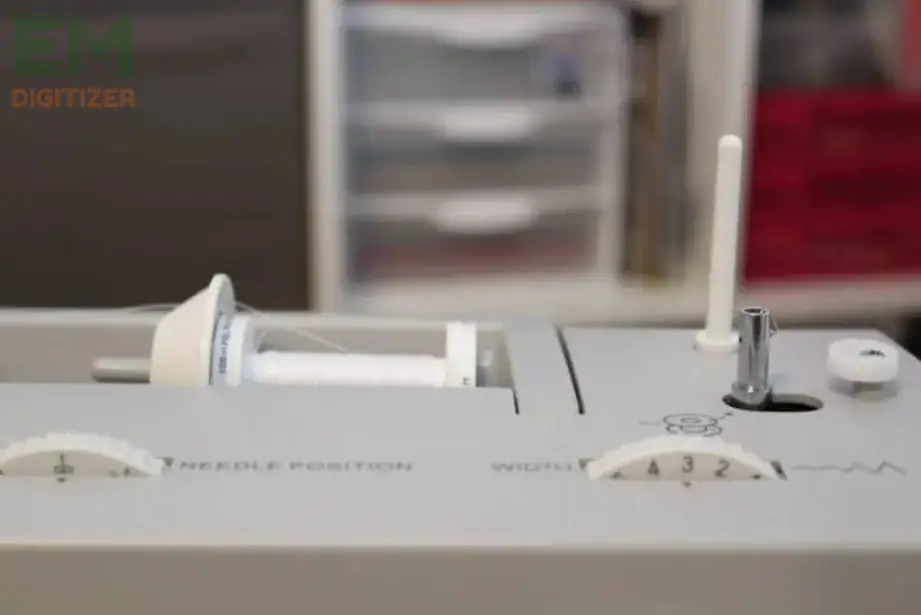 What Comes With A Heavy Duty Singer 4423 Sewing Machine?
Have a look at the singer's 4423 reviews of accessories: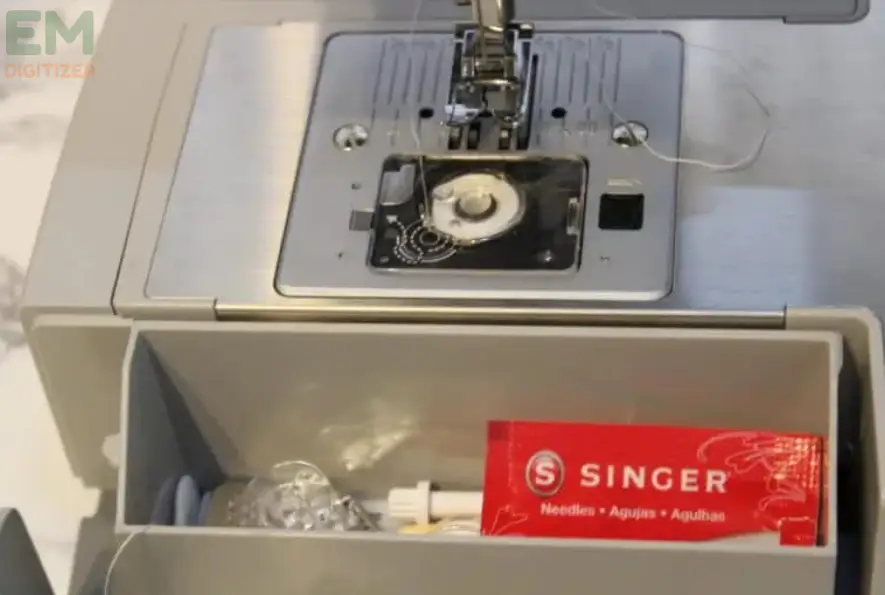 A foot pedal

Power card

Variety of presser feet(4)

Guide for quilting

Needles

Bobbins

Spool case

Seam ripper

Spoon pin felt

Screwdriver

Cleaning brush

Grey cover

Guide manual for startup

Warranty card
Visit our site to learn how employing embroidery tools and accessories wisely may advance your company.
Type And Function Of Presser Feet
When you open up the box, this machine comes with 4 presser feet. Let's have a look at singer 4423 review of presser feet and how they can help us in sewing projects.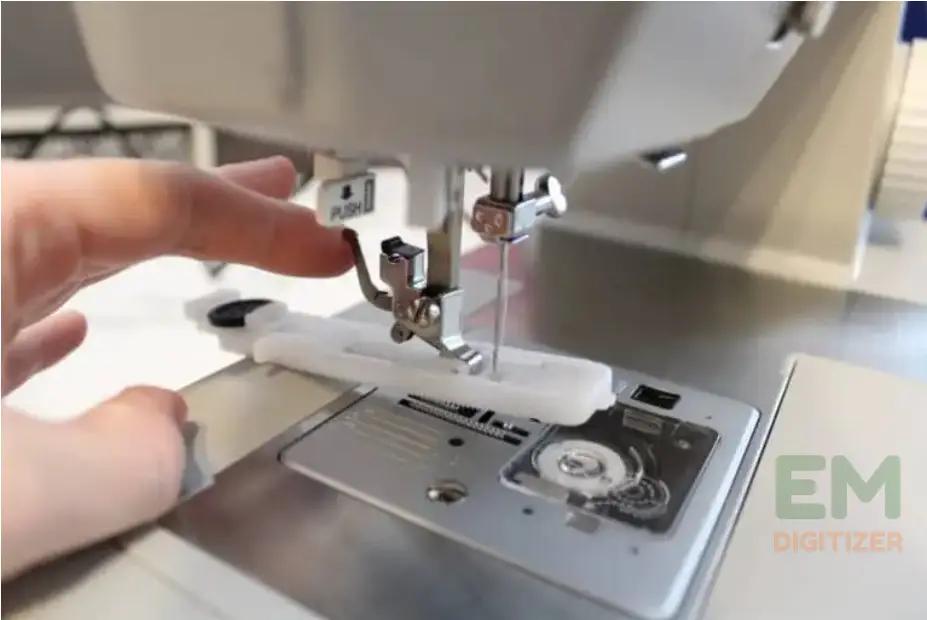 1)All-purpose foot– It can be used for most sewing tasks, including straight and zigzag stitches.
2)Buttonhole foot– It has markings on the foot that help to guide the fabric and ensure that the buttonhole is the correct size.
3) Zipper foot– It has a narrow design that allows it to get close to the zipper teeth and sew them in place.
4) Blind hem foot– It has a guide that helps to fold the fabric in the correct position before stitching, resulting in a neat and professional-looking hem.
Many other types of presser feet can be used such as a walking foot for quilting or a rolled hem foot for creating narrow hems.
But, you have to buy them separately, which is why I left them out of the singer's 4423 reviews.
Pros Of Singer 4423
Following are some factors that encourage people to acquire a positive outlook after reading a Singer 4423 review.
The Singer 4423 has a metal frame and stainless steel bedplate, making it durable that can withstand the wear and tear of frequent use.

The Singer 4423 can sew up to 1,100 stitches per minute, which makes it a great choice for those who need to complete sewing projects quickly.

It has a powerful motor that allows it to sew through thick fabrics such as denim, canvas, and leather as I showed in the singer 4423 reviews.

Relatively easy to use, even for beginners, thanks to its user-friendly design and simple controls.

It comes with an instruction manual that provides step-by-step guidance.

You can adjust the stitch length and width to suit your needs, giving you more flexibility when it comes to your sewing projects.

Saves time and effort by automatically threading the needle for you.

It is reasonably priced compared to other heavy-duty sewing machines on the market.
Cons Of Singer 4423
Some people expressed dissatisfaction with the singer 4423 reviews as a result of the following shortcomings:
The machine does not come with an extension table, which can make it challenging to work on larger projects.

Lack of an automatic thread cutter so you'll have to manually cut the thread after each seam.

It has 23 built-in stitches, this is a relatively small number compared to some other sewing.

Due to its powerful motor, the Singer 4423 can be quite loud when in use.

Some users have reported tension issues with the machine, particularly when working with thicker fabrics.

The pressure on the presser foot is too strong, which can cause the fabric to pucker or stretch.
One of the potential problems with needlework is puckering, which produces unimpressive results. As I occasionally run into this difficulty, I am able to overcome it with experience and skill. If you're interested, check out our blog post on how to avoid puckering.
The machine only comes with a 25-year limited warranty, which may not be long enough for some users.

it may not be suitable for advanced sewing projects or those that require more specialized features.
Singer 4423 Review Of Comparison With Other Machines
Here is the singer 4423 review in terms of its comparison with the other available machines.
1) Singer 4423 vs. Singer 4411
The Singer 4411 is another heavy-duty sewing machine from Singer.
While the two machines have many similarities, I am going to share a Singer 4423 review in terms of differences.
Speed

– The Singer 4411 has a slightly lower maximum sewing speed of 1,100 stitches per minute.

But Singer 4423's maximum speed of 1,300 stitches per minute.

Built-in stitches

– In terms of stitches, the Singer 4411 has 11 built-in stitches, compared to the Singer 4423's 23 built-in stitches.

Built-in needle threader

– The Singer 4423 also has a built-in needle threader, which is not available in the Singer 4411.

However, both machines offer basic, decorative, and stretch stitches.
2) Singer 4423 vs. Brother CS6000i
The Brother CS6000i is a computerized sewing machine that is designed for beginners.

It has a wide range of stitch patterns and features that make it easy to use.

However, the Brother CS6000i is less powerful than the Singer 4423 and is not designed for heavy-duty use.
3) Singer 4423 Vs Janome HD3000
The Janome HD3000 is another heavy-duty sewing machine that is designed for sewing thick fabrics.

It is also a bit slower than the Singer 4423, with a maximum sewing speed of 860 stitches per minute.

However, the Janome HD3000 has a more robust build quality and comes with a wider range of accessories.
The Janome MB 7 might be the greatest multi-needle machine you can get in your pricing range. Let's visit the blog where I provided a brief overview of the Janome product along with some of its benefits and cons.
Conclusion
I'm attempting to give you a quick Singer 4423 review, and it's an excellent option for anyone seeking a robust sewing machine that can handle a variety of fabrics and projects.
It is faster and more powerful than many other sewing machines in its price range, and it is also built to last.
I'm hoping that after reading my in-depth Singer 4423 review, you'll have enough information to make an informed decision on whether or not to use it for craft projects.