Step right up, everyone! Welcome to the Embroidery Horror Show! This topic may not always be obvious, but it can certainly make an unwelcome appearance at the wrong times.
Have you ever encountered the terrifying situation of seeing bubbly bobbin thread peeking out at the edges of your embroidery, giving an unsightly appearance?
This is known as the "bobbin on top" issue, and it can be frustrating to deal with. But fear not, as we'll discuss how to prevent bobbin thread from showing on top and understand why it occurs.
Embroidery Digitizing Services
If you are looking for embroidery digitizing services, EMDigitizer is one of the best embroidery digitizing company. Providing all types of embroidery digitizing. I recommend you try digitizing services.
Overview
If you've ever used a black bobbin thread underneath a white stitch-out, you may have noticed small loops of black bobbin thread appearing along the edges of your design, marring the white surface.
This is a clear indication of bobbin problems. Ideally, your bobbin thread should remain concealed underneath the fabric and not show up on top.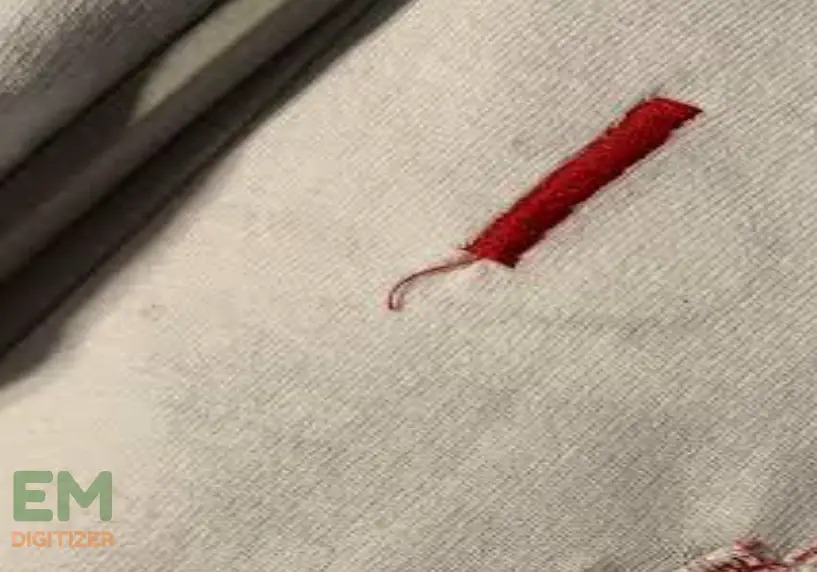 There are several reasons why the bobbin thread shows on top of your embroidery design. This could happen:
1- When you are stitching very narrow satin stitch or tatami stitch lines.
2-Or when your machine has tension or lint debris issues.
What Is Embroidery Bobbin Thread?
Bobbin thread is an essential component of sewing and embroidery machines. It is used in the lock stitch process where it is twisted together with the top thread by the machine's needle and bobbin mechanism.
Bobbin thread is typically thin and weighs 60 wt, making it stronger than other threads.

It is often pre-wound in white or black and is usually a single, untwisted strand known as monofilament.

Bobbins for home machines are often made of plastic, while those for embroidery machines are made of metal or paper.
Here is a comprehensive guide on using high-quality bobbin thread for embroidery to achieve the best results.
Reasons For The Bobbin Thread Showing On Top Of Embroidery
There are various reasons for the bobbin thread to appear on the top of the fabric, but the top three reasons are as follows: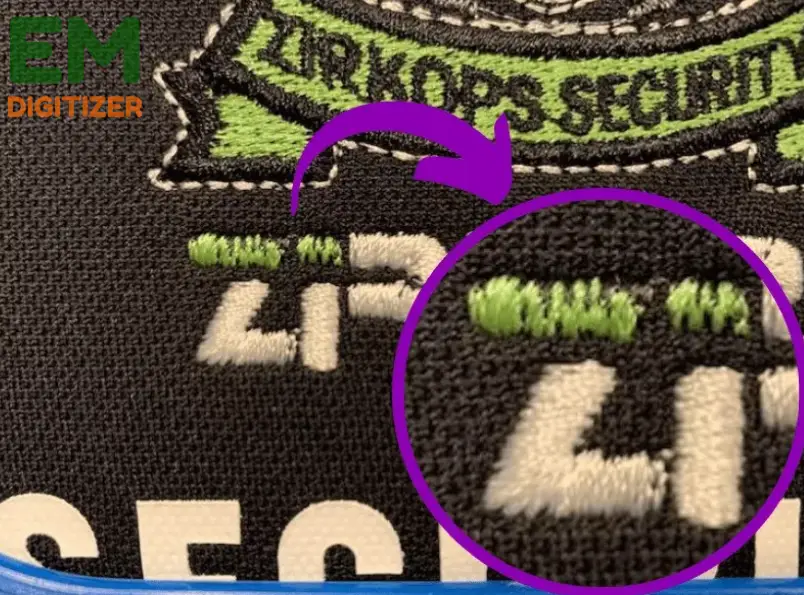 Incorrect placement of the bobbin where it is inserted in the wrong direction or not passing through the tension spring appropriately.
Typically, the bobbin thread should double back on itself. To resolve this, refer to the manual for instructions.
The tension of the bobbin is too loose, or the top tension is too tight, resulting in a tug of war between the two threads.
It is crucial not to adjust the settings without consulting the manual, and if the issue persists, consider contacting a dealer or repair shop.
Other Reasons Could Include:
Using the wrong type or weight of thread,

Improper threading

An issue with the machine's timing
Additionally, one may make other embroidery mistakes that negate all of their previous efforts to create the embroidery design.
It's essential to troubleshoot and identify the underlying cause to resolve the problem of the bobbin thread showing on top of your embroidery project.
Understanding Machine Tension
Learning about your machine's tension is important to get rid of the bobbin thread showing on top of the design and it can be achieved through a simple "H test," which is often available within the embroidery machine.
By stitching out a sample and checking the back of it, you can determine how far the top thread is being pulled and assess whether the tension is correct.
For smooth operation, learn everything there is to know about thread tension for machine embroidery.
Points To Consider: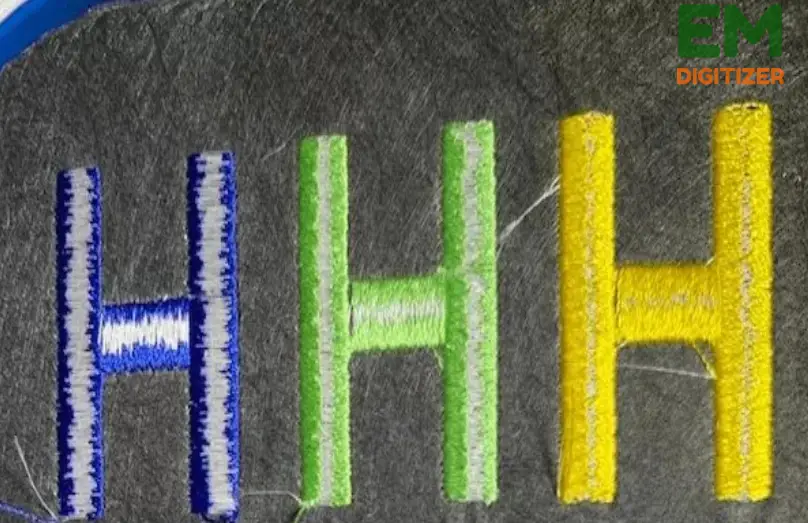 If the top thread is too loose or the bobbin is too tight, the threads will meet in the middle.

On the other hand, if the top thread is too tight or the bobbin is too loose, the top thread will barely show on either side and will eventually pull the bobbin thread up.
Note: While the H test may not provide detailed information, it can indicate whether there is an issue.
You can also make use of a thread kit repair tool. Every embroiderer needs to have this file to use regularly for testing purposes.
What Can I Do To Prevent Bobbin Thread From Showing On Top?
Here are some tips to enhance your sewing and achieve better outcomes by avoiding the problem of bobbin thread showing on top.
Clean The Bobbin Area and Bobbin Case
Ensure that the bobbin area and case are spotless and clear of any lint or dust that helps to resolve the issue of the bobbin thread showing on top.
Here are a few tips to follow: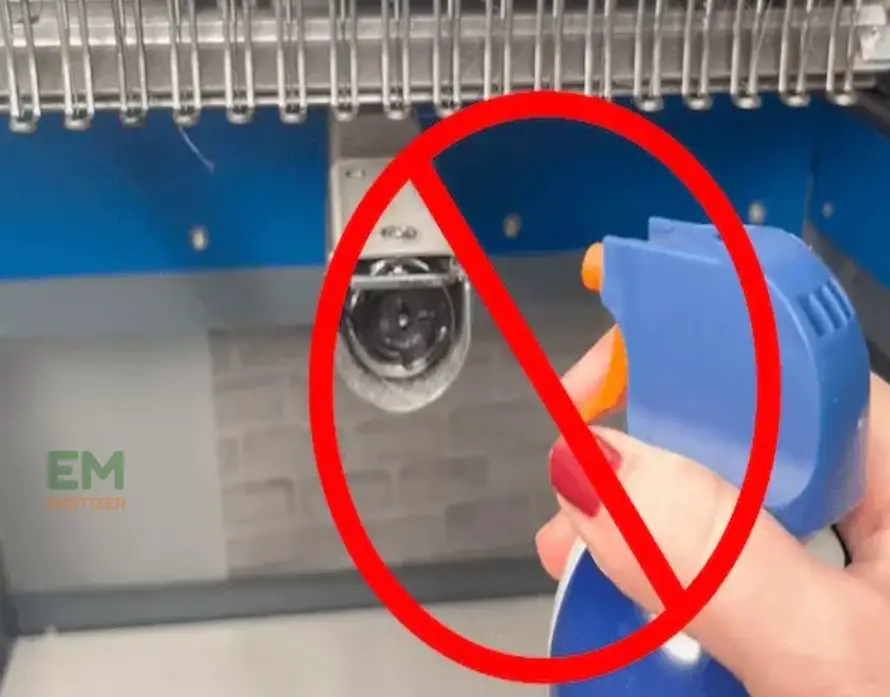 1- Avoid using compressed air to blow out debris as this can push the fuzz and dirt further into the machine, making it harder to remove.
2- Instead, use a soft brush to clean the bobbin area and thread path regularly to avoid the bobbin thread showing on top.
3- Using a dust cover for your machine will also help to keep it clean and ready for use.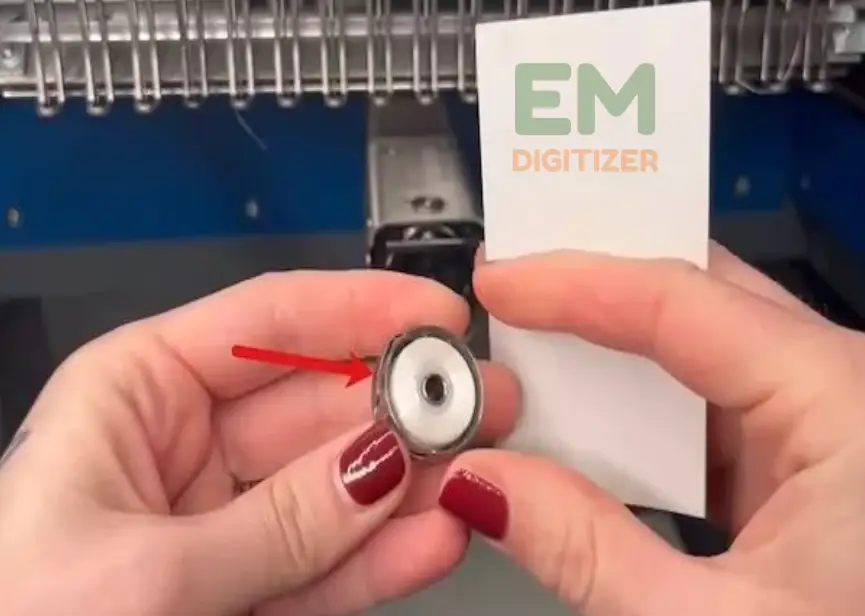 4- In single-needle machines, inspect the top tension, and in multi-needle machines, make sure the tension flap on the bobbin case is clean.
5- Follow the machine manual for oiling your machine, particularly for multi-needle users.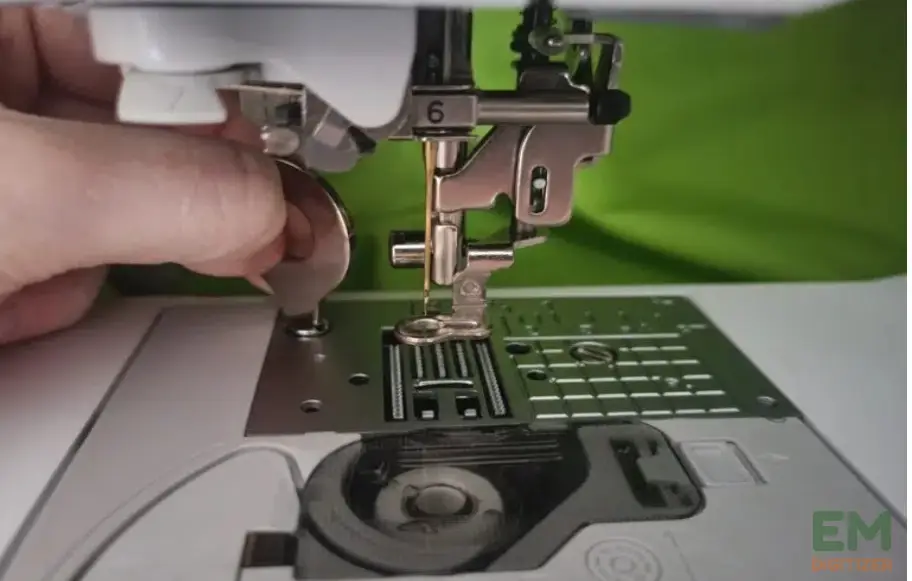 6- Using a dry-dragging bobbin can cause issues. However, be cautious not to over-oil the machine, as this can result in a slowdown of the machine.
There is also a comprehensive guide on how to clean and maintain embroidery machines to prevent problems.
Reduce The Speed Of the Machine
It is advisable to reduce the speed of your machine. Even though it can stitch at 800-1000 stitches per minute, a slower speed is likely to produce better stitch-outs.
This is because high speeds provide less time for the thread to rebound, which can cause the top thread to pull up the bobbin thread and cause the bobbin thread to show on top.
Make Use Of High-Quality Bobbin Thread
It is recommended to use a bobbin thread in your bobbin. This thread is designed to be thinner and less bulky, which helps to create smooth and even stitch-outs.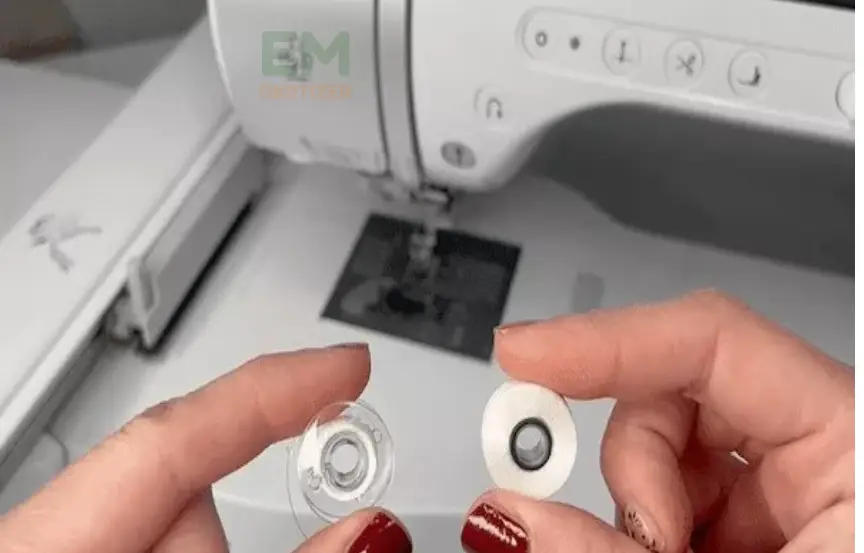 Additionally, bobbin thread glides easily through the machine. Most bobbins come pre-wound in black or white, and for multi-needle machines, magnetic bobbins are available.
These bobbins have a magnetic hold on the metal bobbin case, which reduces the rebound of the bobbin and ensures even thread release to avoid the issue of bobbin thread showing on top of the embroidery design.
Inspect The Needle And Needle Plate
I had an incident where I forgot to replace my needle with a suitable one before starting to embroider. I was using a 110/18 needle and the result was huge holes in my fabric, with visible bobbin thread.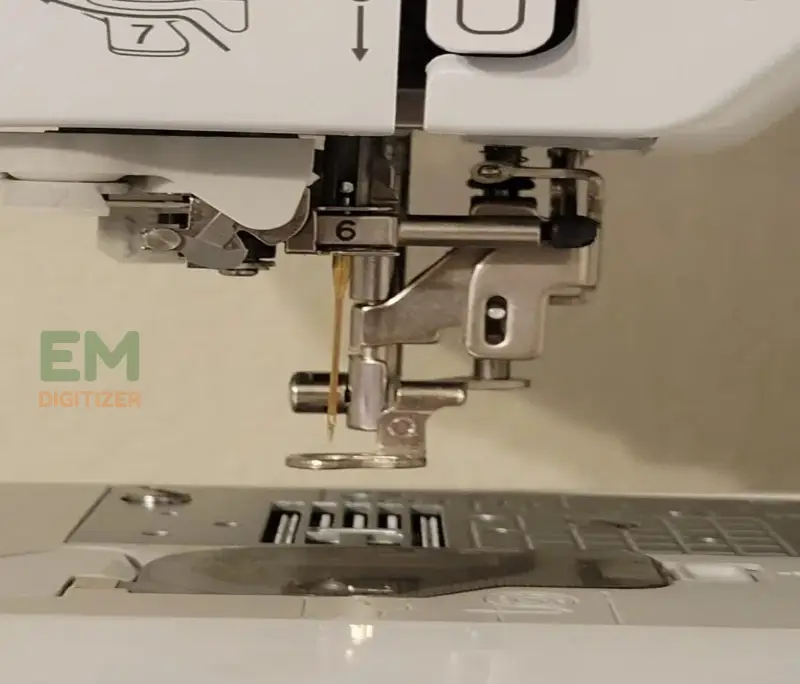 Using dull or bent needles can also cause bobbin thread to show on top of your design. Therefore, it's important to use a new and appropriate machine embroidery needle for your fabric.
Although it's unlikely to be the root cause, it's also advisable to thoroughly examine your needle plate and replace it if there are noticeable buffs or minor scratches.
Read this blog to find out how to choose the best machine embroidery needle to get these outstanding stitching results.
Set The Upper And Bobbin Thread Tensions Properly
The thread kit repair technique can be useful in fixing issues with the bobbin thread showing on top because it involves adjusting the tension on both the top thread and the bobbin thread.
When the tension on either thread is not correct, it can result in the thread being pulled to the opposite side and appearing on the surface of the fabric.
The thread kit repair tool typically includes a small screwdriver or another tool that you can use to adjust the tension on your sewing machine.
To use the thread kit repair tool, you will need to consult your sewing machine manual for specific instructions on how to adjust the tension.
By tightening or loosening the tension, you can balance the tension between the upper thread and the bobbin thread.
Once you have adjusted the tension, test sew on a scrap piece of fabric to make sure the tension is correct and the bobbin thread is no longer showing on the top of embroidery designs.
Conclusion
While there is more to learn about preventing errors in bobbin thread, the key takeaway from this session is that maintaining a clean embroidery machine and gaining knowledge about its workings can go a long way in improving your embroidery skills.
By understanding how the machine operates and the mechanics of stitching, you can become a more skilled embroiderer.
So, with a little patience and practice, you can say goodbye to unsightly bobbin thread showing on top of your embroidery!