Starting a tutorial on how to embroider on clothes is like entering a world of creative fashion. We'll teach you how to add your personal and artistic touch to your clothes.
It doesn't matter if you're new to sewing or have some experience; our step-by-step guide will explain fabric selection, using needles, and setting up your machine.
When you finish, you'll be all set to make your clothes unique with embroidery that shows off your style and creativity.
Embroidery Digitizing Services
If you are looking for embroidery digitizing services, EMDigitizer is one of the best embroidery digitizing companies. Providing all types of embroidery digitizing Services. I recommend you try digitizing services.
Order Now
Get Free Quote
Introduction:
Discovering how to embroider on clothes has completely changed my world. It's amazing! First of all, this skill lets me put my unique touch on my clothes, making them one-of-a-kind and truly me.
Embroidering is like a calming, soothing activity that helps me relax and escape from everyday worries. What's even more awesome is the feeling when I turn a plain piece of fabric into a beautiful artwork.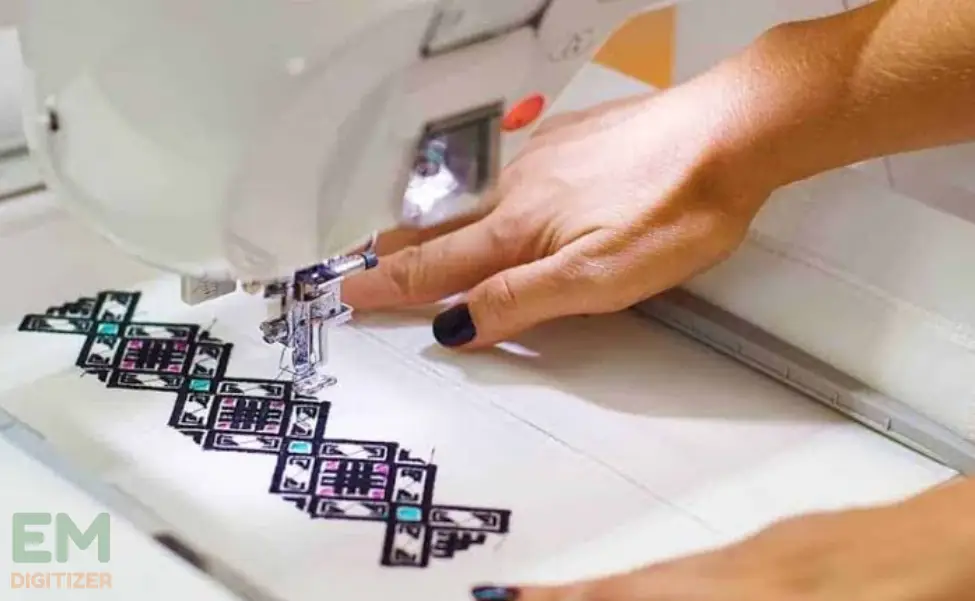 And you know what? It's great for the planet too, because I can give a new life to old or plain clothes, which is not only budget-friendly but also helps the environment.
Learning how to embroider clothes makes me feel like a magician, turning ordinary stuff into something special. I love sharing these custom-made creations with my loved ones.
How To Embroider On Clothes- A Complete Guide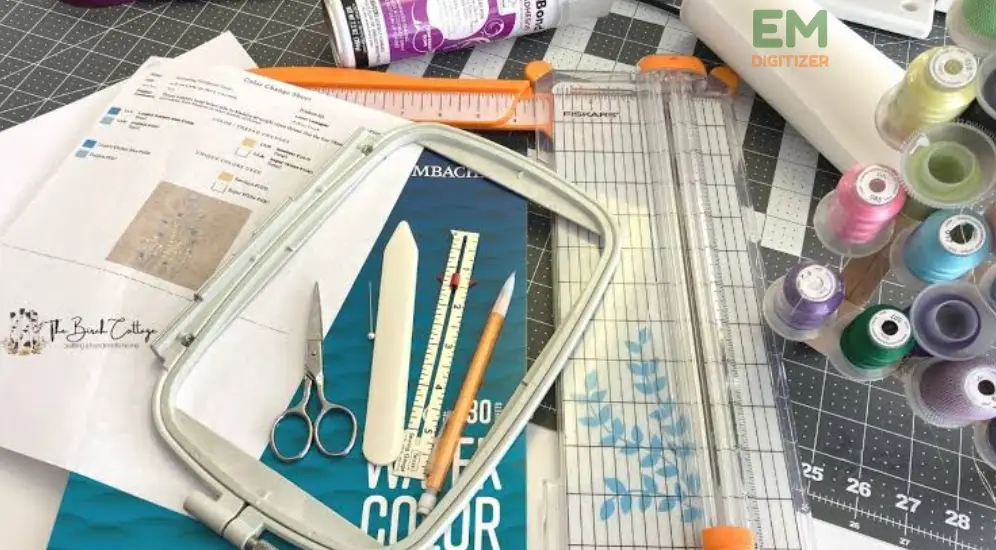 Materials You'll Need:
Embroidery Machine

Hoop

Cloth Napkins

Stabilizer

Embroidery Thread

Bobbins

Design Software (optional)
Step 1:
Before you start, select or create the monogram design you want to embroider. You can use embroidery design software to customize your monogram or choose a pre-made design. Ensure the design fits your napkin and is compatible with your embroidery machine.
Watch a tutorial to learn how to put your embroidery design in just the right spot on your fabric.
Step 2:
Place the stabilizer in the embroidery hoop, ensuring it's taut but not stretched. Lay your napkin on top of the stabilizer, ensuring it's smooth and wrinkle-free. Carefully align the center of your napkin with the center mark on the hoop.
For more details about the best stabilizer and use, visit this blog.
Step 3:
Load your embroidery thread onto your machine, matching the colors you want for your monogram. Remember to thread the machine correctly, and don't forget to wind the bobbin with matching thread.
Step 4:
Use the embroidery machine's interface to position your design. Make sure it's centered on your napkin and adjust any settings for size and placement.
Step 5:
It's a good idea to run a test stitch on a piece of scrap fabric to ensure your design is aligned correctly and that the colors look as expected.
You can discover how to use various embroidery stitches here.
Step 6:
Once you're confident in your setup, start the embroidery process. Your machine will guide you through the design, stitching out your monogram.
Step 7:
When the embroidery is complete, carefully remove the napkin from the hoop and trim any loose threads. If you use a stabilizer that tears away, you can gently tear it off from the back of the design.
Step 8:
To maintain the quality of your embroidered napkins, follow care instructions that include gentle washing and ironing on low heat with a pressing cloth.
Follow the given tips about washing and ironing the embroidered clothes.
How To Embroider On Clothes With Creative Ideas?
Try embroidering clothes by following ideas:
Kids' Clothing:
Transform plain kids' clothing into charming and personalized pieces with machine embroidery. Craft cute animal motifs like smiling pandas or adorable teddy bears on T-shirts, onesies, and baby blankets.
For a playful touch, consider adding colorful balloons, rainbows, or cartoon characters to create joyful and eye-catching designs that children will adore.
Monogramming: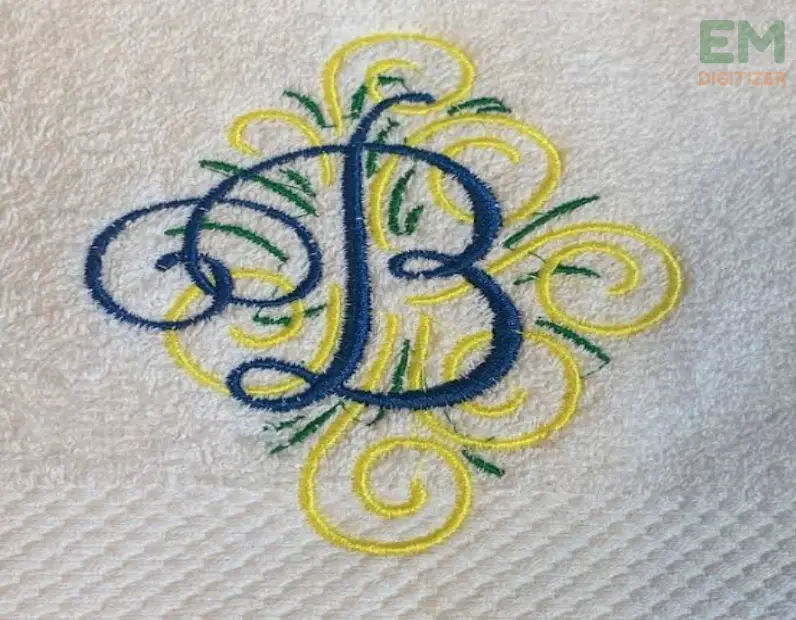 It involves adding personalized initials or names to your clothing. For example, you can add your initials to a shirt or a dress to give it a unique and custom touch. You can use various fonts and styles for monogramming to suit your taste.
Check out this blog to find the top machines for adding beautiful monograms to your stuff.
Quilts: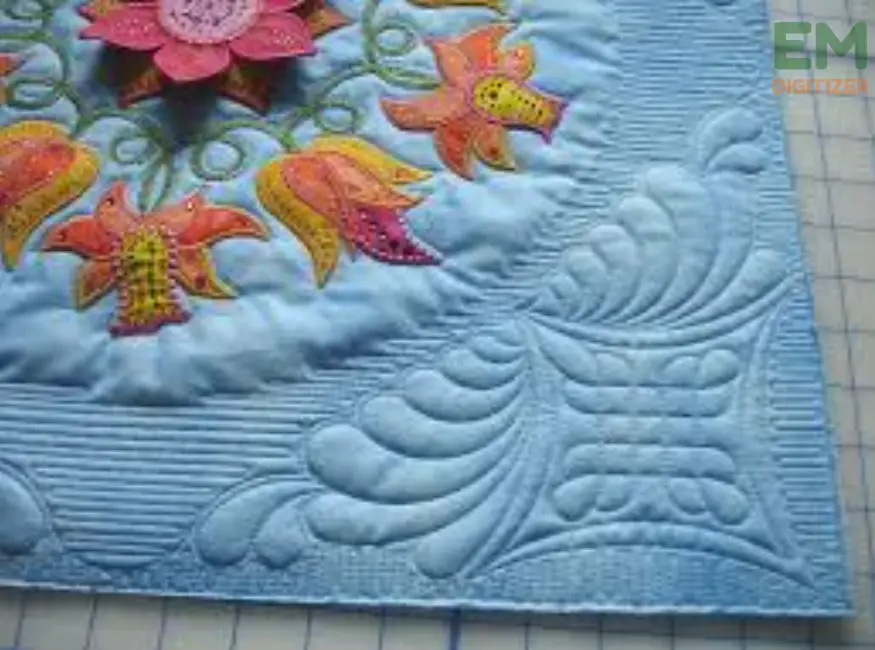 Embroidering on quilts is a creative way to add a personal touch. You can embroider intricate patterns, names, or meaningful designs on quilt squares before assembling them. This adds a special and customized element to your quilts.
Decor: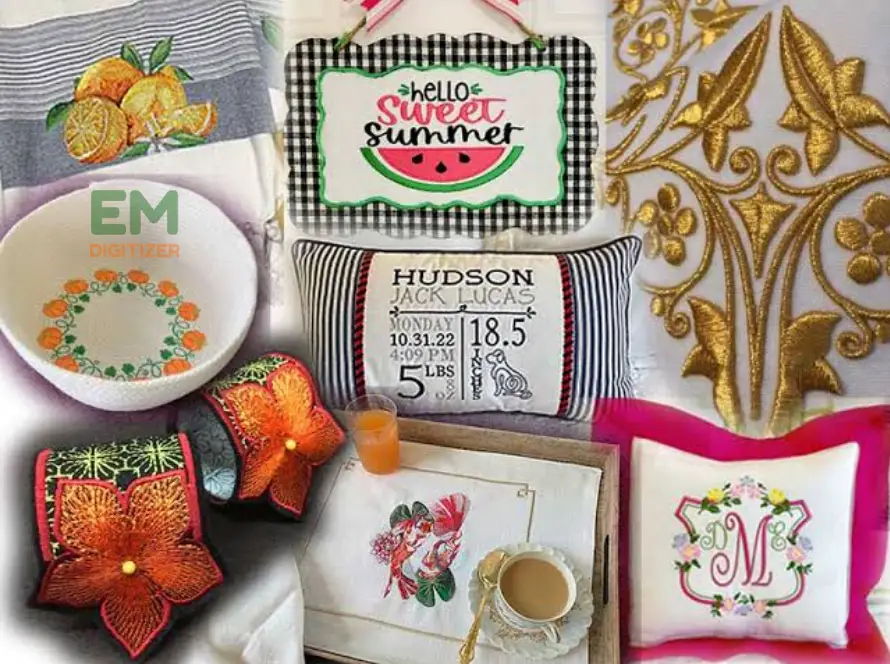 Embroidery can be used to decorate clothing in various ways. You can embellish the cuffs, collars, or pockets of garments with elegant embroidery. For example, floral patterns or small motifs can be added to make your clothes more visually appealing.
Applique:
For instance, you can sew a fabric flower or animal shape onto a T-shirt or jeans, giving them a fun and artistic look.
Towels And Linens:
Embroider your name or initials on towels, bed linens, or handkerchiefs. This adds a touch of elegance and personalization to everyday items.
Holiday Themes: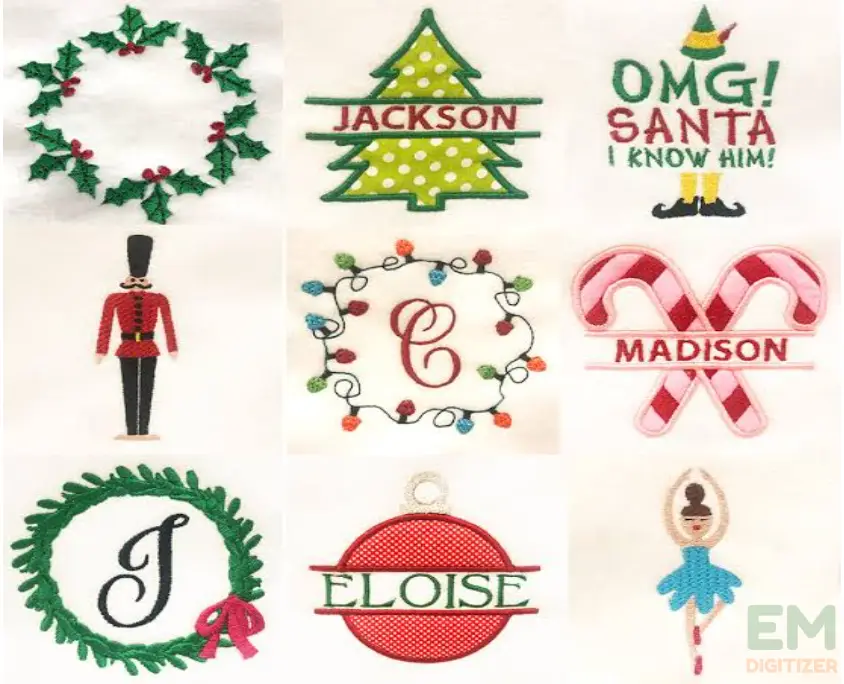 Embrace the spirit of holidays by embroidering festive designs on clothing. For example, you can add snowflakes to a sweater for winter or pumpkins for Halloween.
Beginner-friendly Tips For How To Embroider On Clothes: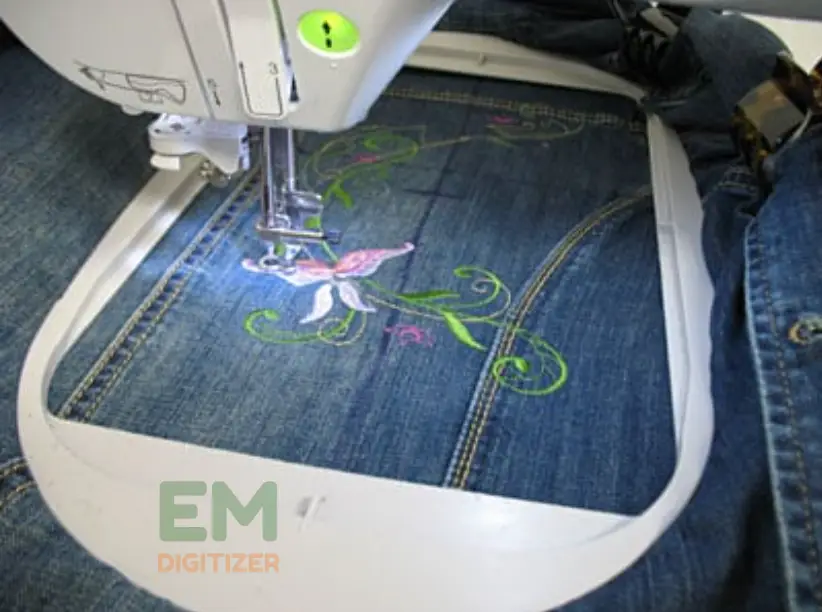 Looking for tips on how to embroider on clothes, follow these handy tips. With these tips, you'll be well on your way to creating beautiful embroidered designs on your clothes.
Tip#1: When you're new to embroidery, use fabrics like cotton or denim because they're simpler to embroider on. Don't use super stretchy or delicate fabrics at first.
Tip#2: To make things easier, use shorter pieces of thread, about 18 inches long. This helps prevent the thread from getting all tangled up.
Also, separate the embroidery floss into individual strands to make your stitches look neater and finer.
Tip#3: When you're embroidering on clothes, it's a good idea to put something under the fabric.
This helps to stop the fabric from getting all bunched up or stretched while embroidering. Different types of stabilizers work best with different kinds of fabrics.
Tip#4: After you finish, make sure to tie up any loose threads so they don't unravel. You can also think about putting your embroidered piece in a frame or turning it into a patch to sew onto your clothes.
Tip#5: Begin with easy patterns and try them on extra fabric before doing it on your actual clothes. Learning embroidery might take a while, so don't rush; be kind to yourself.
Conclusion
Learning how to embroider clothes with a machine is a creative and enjoyable journey. You can make your clothes special and unique, express your style, and even save money by upcycling old garments.
Remember to follow the steps carefully, use the right materials, and practice. Remember to explore online resources and connect with the embroidery community for extra support and inspiration.