It's officially autumn! It's the perfect time to bring out your cozy fleece garments and embrace their warmth!
Fleece is an ideal fabric for embroiderers, offering numerous possibilities for creating both fun and practical items.
Embroidery on fleece looks fantastic. If you're new to embroidery, you might be wondering how to embroider on fleece.
In this tutorial, we'll guide you through the process of embroidering on the fleece, including the types of fleece, project ideas, the embroidery process, and some helpful tips to ensure your embroidery turns out stunning.
Embroidery Digitizing Services
If you are looking for embroidery digitizing services, EMDigitizer is one of the best embroidery digitizing companies. Providing all types of embroidery digitizing Services. I recommend you try digitizing services.
Order Now
Get Free Quote
embroidering on fleece
can you embroider on fleece
how to embroider on fleece
can you embroider on fleece blankets
how to embroider letters on fleece
how to embroider on fleece blankets
how to embroider on fleece fabric
how to hand embroider a name on a fleece blanket
how to hand embroider on fleece
how to machine embroider on fleece
can you hand embroider on fleece
embroider on fleece
how to machine embroider on polar fleece
best way to machine embroider on fleece
embroider eyes on fleece
embroider eyes on fleece toys
embroidering on fleece blanket
embroidering on fleece by hand
hand embroider on fleece
how do you machine embroider on fleece blankets
how to embroider a name on a fleece blanket
how to embroider eyes on fleece
how to embroider letters by hand on fleece
how to embroider letters on a fleece blanket
how to hand embroider letters on fleece
how to machine embroider on fleece blanket
ladies fleece vest with volunteer embroidered on back
machine embroidering on fleece
placement of embroidered name on printed fleece throw
stabilizer for embroidering on fleece
what size needle embroidering on fleece
what stabilizer to use when embroidering on fleece
written instructions how to embroider on fleece
About Fleece
Fleece is essentially a relatively new contribution to the textile industry, with its soft and cozy texture, and is a popular fabric choice for creating warm and comfortable garments, accessories, and home decor items.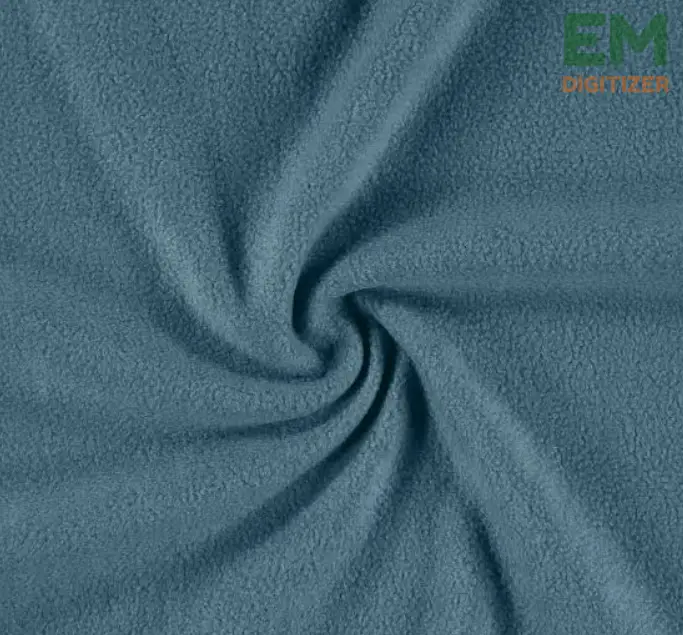 It's difficult to believe considering how much fleece is available at your local fabric store, yet it's less than 40 years old, and they even devote the entire row to it!
To help you make the best decision, we've compiled a list of the top embroidery fabrics and their uses in our blog.
Historical Background:
Fleece was invented in the late 1970s by Malden Mills, a textile manufacturer based in New England. Since the inventors didn't patent the technology, other companies were able to start producing fleece as well.
This not only kept the cost low but also contributed to the rapid rise in the popularity of fleece.
Not long after its creation, fleece gained widespread recognition for its moisture-wicking properties and excellent insulation.
Within a short period, fleece developed into the trendy material we see today, particularly in outdoor clothing.
What Makes Fleece Great?
Fleece is a fantastic fabric due to several reasons:
It doesn't pill or fray.

It is affordable.

It is durable and strong.

It provides excellent warmth.

It effectively wicks moisture away.

Being composed of reused plastic containers, it is ecologically friendly.

It comes in a wide range of shades and designs.
Is It Possible To Embroider On Fleece?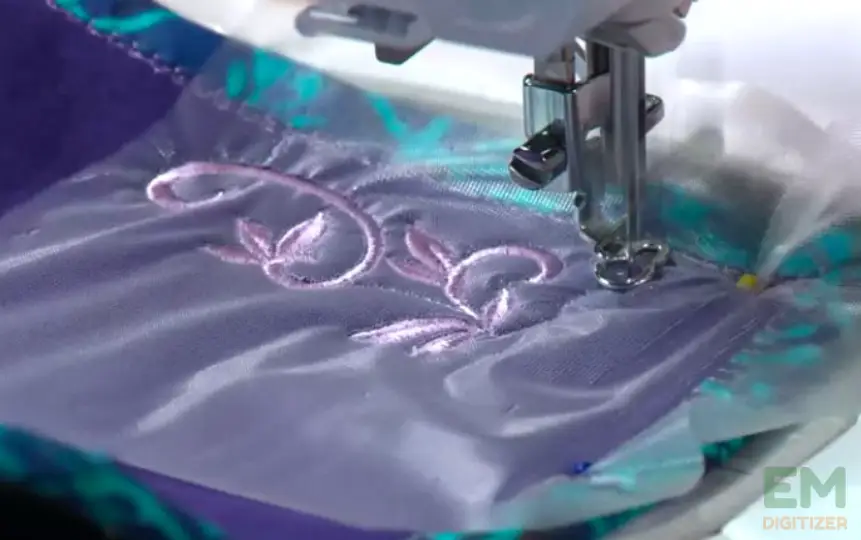 Certainly! The process to embroider on fleece is highly feasible and one of the easiest fabrics to work with for embroidery.
It doesn't stretch excessively, remains stable during the process, and most styles have a minimal pile.
Where Can I Find Fleece?
There is a wide range of options when it comes to embroidering fleece items and you have the choice of purchasing ready-made fleece clothing, accessories, and even home decor items.
Alternatively, you can create your fleece items and personalize them with embroidery. When it comes to purchasing fleece items, there are numerous options available.
You can find great deals on fleece garments at various stores like Old Navy and OshKosh, particularly during holiday sales.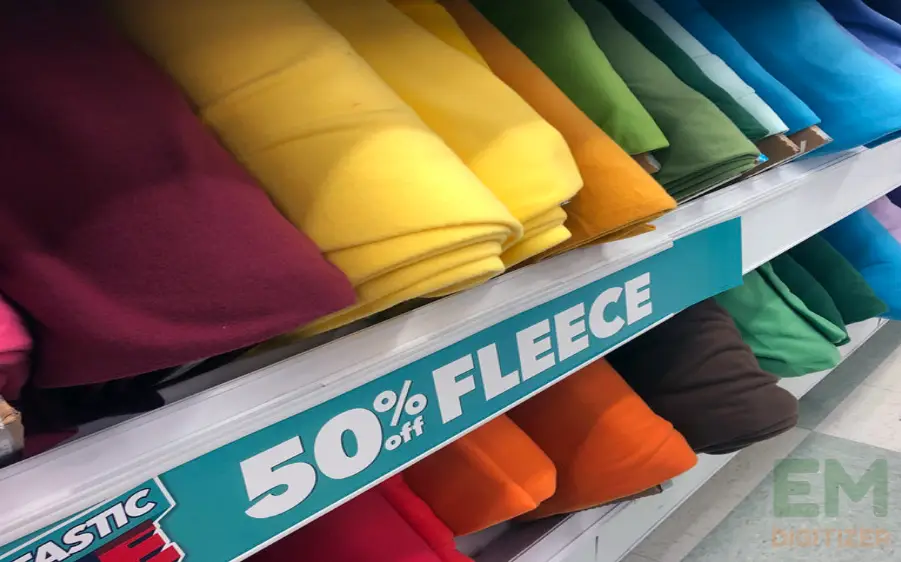 Additionally, there are reputable online suppliers, such as Sewforless.com (known for preppy fleeces) and Sanmar (offering sporty fleeces), where you can discover unique fleece items.
Furthermore, websites like Amazon offer a wide selection of fleece products, including coats.
For instance, the Amazon Essential Brand offers fleece coats for men, women, girls, and boys at an affordable price of approximately $20.
Check out the blog's list of high-quality online stores to purchase affordable fabrics for crafting.
Types Of Embroidered Items Made From Fleece
If you're interested in crafting fleece items yourself, there are numerous excellent patterns available that are suitable for fleece.
Throws
Fleece throws are cozy blankets that can be used to keep warm or add a decorative touch to your living space.
They can be made by sewing two large pieces of fleece fabric together, adding decorative edging, and optionally adding ties or pockets for convenience.
Hats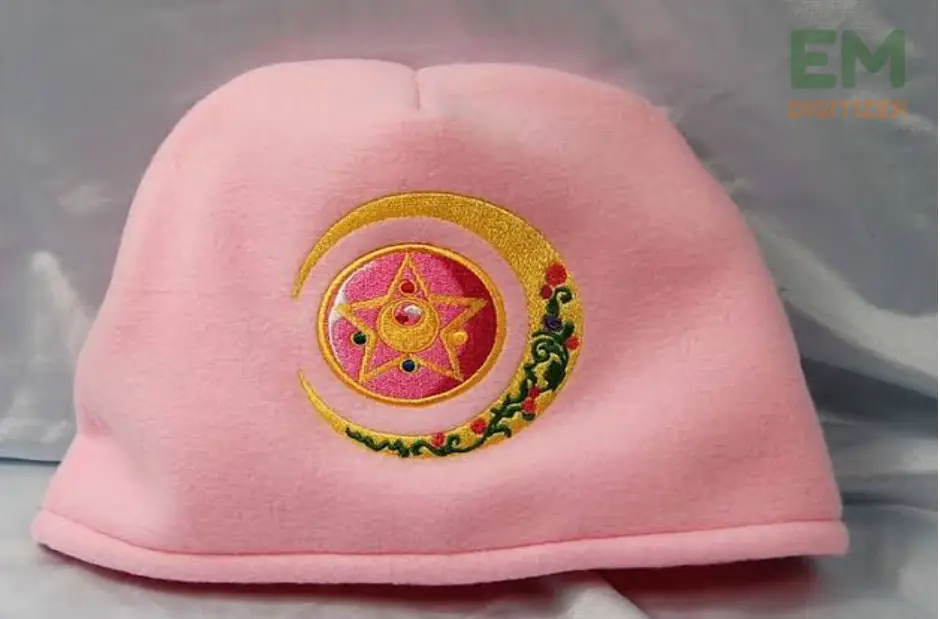 Making hats is remarkably simple and highly practical. Fleece hats are great for chilly weather and can be made in various styles, such as beanies, slouchy hats, or even animal-themed hats.
Look for patterns online or create your design. Fleece hats are typically sewn but can also be made by tying knots in a double-layered piece of fleece fabric.
Get comprehensive guidance on how to embroider a hat with your favorite design by visiting the blog.
Scarves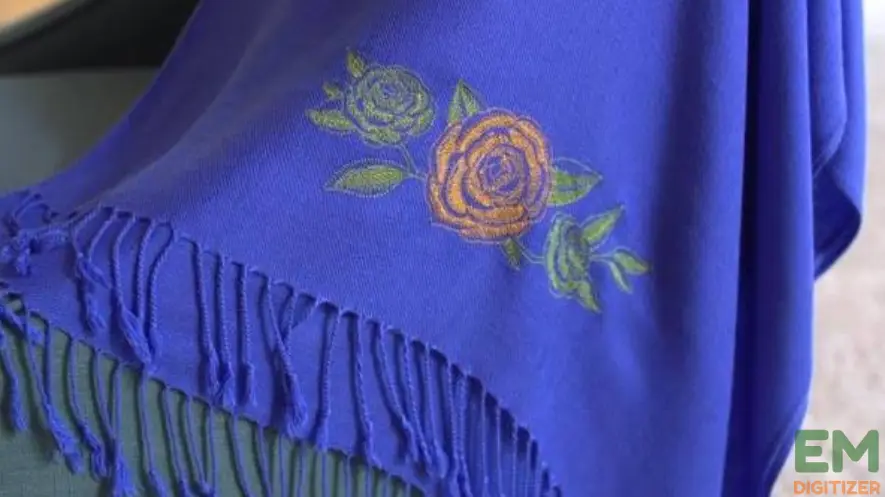 It doesn't get any easier than making a fleece scarf. Just cut a strip of fleece, add some fringe, and you're done. If you want to take it up a notch, you can add a monogram for an elevated look.
Get a comprehensive guide for adding embroidery monograms to your favorite items.
You could even create an infinity scarf with fleece and embellish it with a monogram for an extra touch of sophistication.
Jackets And Hoodies
Fleece jackets and hoodies are lightweight, breathable, and ideal for layering. Embroidering on these garments adds a unique touch.
Booties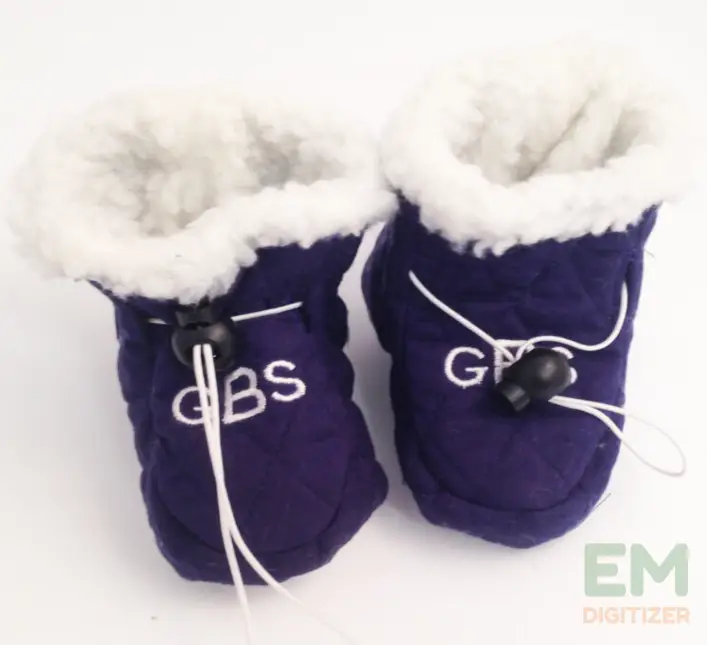 Fleece booties are perfect for keeping your feet warm during colder months and you can find patterns online or create your design to embroider on fleece.
Fleece booties are usually sewn and can be lined with a softer fabric for added comfort in winter for everyone.
Baby Items
Fleece is a great choice for making baby blankets, bibs, and clothing, as it is soft and gentle against delicate skin.
Pillows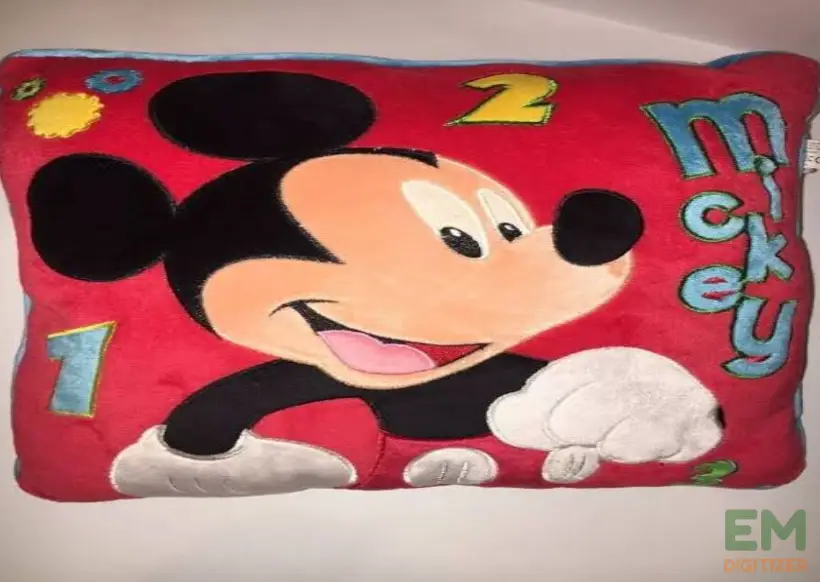 Fleece pillows can be made by sewing two pieces of fleece fabric together, stuffing them with polyester fiberfill, and sewing the edges closed.
You can customize the size and shape of the pillows if you want to embroider on fleece that suits your preferences.
Get comprehensive guidance on how to embroider a pillowcase with your favorite design by visiting the blog.
Coats And Vests
It's quite challenging to generate enthusiasm in me when crafting a fleece coat or vest, considering their widespread availability in various stores.
Fleece can be used to make lightweight coats and vests that are perfect for layering in cooler weather as fleece is breathable and provides insulation, making it a comfortable choice for outerwear.
However, if you're genuinely interested in making some outerwear, I recommend exploring Green Pepper patterns. They offer a wide range of patterns making them ideal choices for fleece projects.
Embroider On Fleece- A Complete Guide
When it comes to stitching a monogram or embroidery design on fleece fabric, there are a few key factors to keep in mind.
Here are some tips to ensure successful embroidery on fleece:
Step 1: Design Selection
Before starting the embroidery on the fleece, carefully evaluate the compatibility between the chosen design and the fleece fabric. Thin lettering or delicate designs may not show up well on high-pile fleece.
For nubby fleece, it might be more suitable to stitch the monogram on an applique, such as a quatrefoil design but incorporating a knockdown stitch before stitching the primary design can also be helpful.
Want to know more about how to make a knockdown stitch and its use in embroidery? Visit our blog.
Step 2: Hooping
It is crucial not to hoop the fleece fabric directly. Hooping fleece can result in hoop burn marks that may be difficult to remove.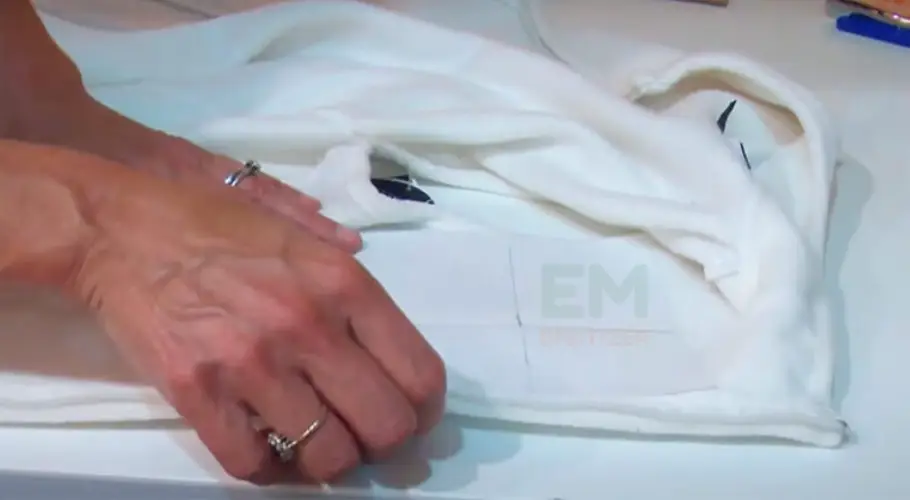 Instead, hoop a tear-away stabilizer and place the fleece on top of it. To secure the fleece, you can use adhesive spray or adhesive back stabilizer.
Additionally, pinning around the edges of the hoop can help keep the fleece in place. Any pin marks left behind should not cause permanent damage to the fabric.
If you're just starting off, read through the best hooping tips to get detailed instructions for the best results.
Step 3: Stabilizer Selection
For simple monograms or text designs, the tear-away stabilizer is typically sufficient for stabilization. For more intricate designs, it is recommended to use a cut-away stabilizer for long-lasting support.
A useful guideline to remember is "If you wear it, don't tear it." This means that if you are going to embroider on a fleece vest, you should use a piece of fusible poly mesh or "cut away stabilizer" on the wrong side of the fabric.
Get the complete details of the best stabilizers for machine embroidery by visiting this article.
Step 4: Topper
For fleece that has a nubby texture and could potentially damage the threads of the embroidery, it is recommended to use a water-soluble topper.
Simply place it on top of the fleece and remove it when you're finished. Any remaining topper will disappear when washed.
Step 5: Needle Selection
Opinions vary on the matter to embroider on fleece. Personally, I don't change my needle when embroidering on the fleece, but some people prefer using a ballpoint needle for this purpose.
To learn more about how to select the best needle for embroidery, keep reading this blog.
Step 6: Starting Embroidering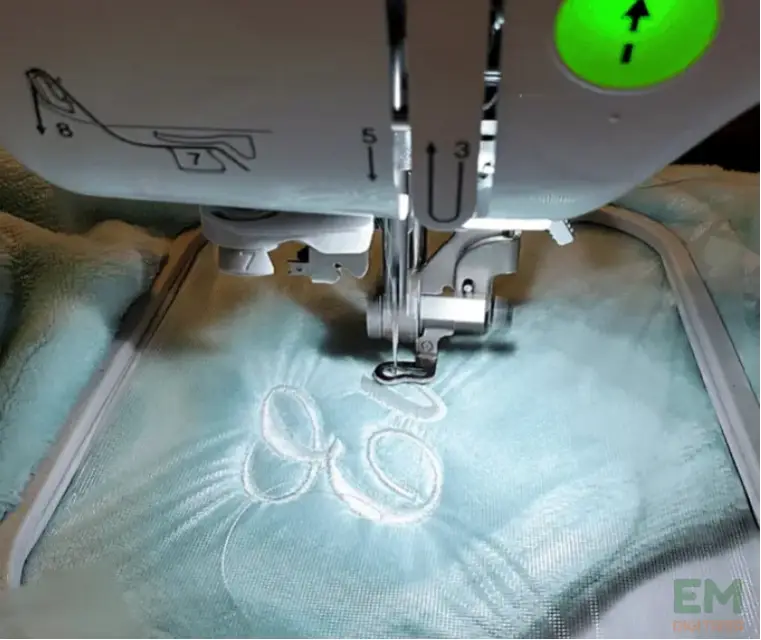 Once you have everything set up, you can begin embroidering on fleece as it is less likely to move or pucker. But it is still advisable not to leave your embroidery machine unattended while embroidering on fleece.
Finally Admiring Your Work
Notice how beautiful embroidery looks on fleece? It might even inspire you to embroider on fleece with monograms and multiple designs for everyone.
Tips For Embroidery On Fleece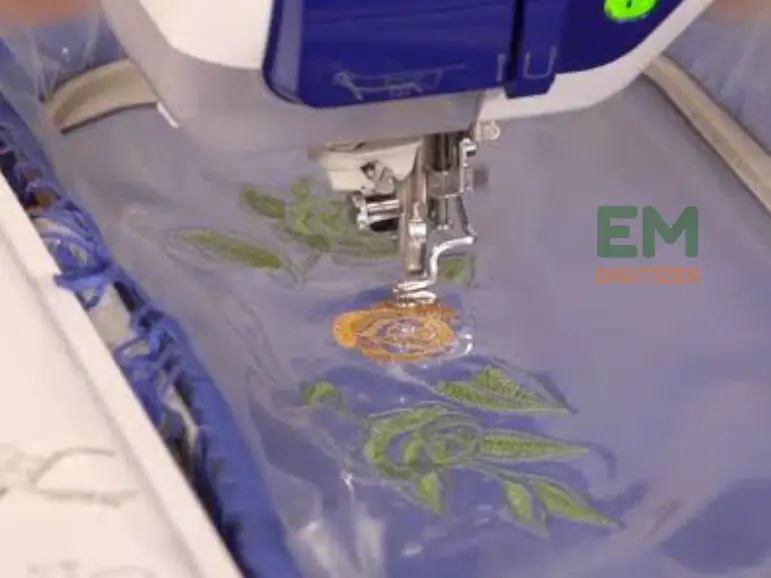 The method to embroider on fleece requires some precautions for optimal results, so you are advised to consider the following tips:
Avoid Melting The Fleece
Fleece tends to melt, so if you need to iron it, protect the garment by covering it with a thin cotton sheet. This will prevent direct heat from damaging the fabric. Also, avoid drying the fleece in a hot setting, as it can lead to melting.
Choose High-quality Fleece
Before purchasing fleece, perform a stretch test. Pull the fabric and see if it snaps back into place. If it stays deformed, it's best to pass on that fleece.
Look for anti-pill fleece, which tends to hold up better over time. Investing in good quality fleece is important to embroider on fleece.
Clean Your Machine
Certain types of fleece produce a lot of fuzz. Make sure to have a lint brush handy and thoroughly clean your embroidery machine after finishing embroidery on fleece. This will prevent any buildup that may affect future projects.
Select The Right Stabilizer
Opt for a stable and strong type of stabilizer to embroider on fleece so consider using a piece of fusible poly mesh floated on a piece of tear-away stabilizer.
This combination provides the necessary support for the embroidery on fleece without any distortion to the fabric.
Test Your Design Beforehand
Before embroidering on the final garment, it's wise to test your design on a scrap piece of fabric. This allows you to avoid any costly mistakes and make adjustments if needed. Moreover, testing ensures that the design will turn out as expected on the fleece garment.
By following these tips, you'll increase your chances of achieving excellent results while embroidering on fleece garments.
Conclusion
The process to embroider on fleece can bring your designs to life and add a personal touch to various projects. By following the step-by-step process and implementing the tips mentioned in this tutorial, you can achieve beautiful and professional-looking embroidery on fleece.
So grab your fleece fabric, choose your favorite design, and embark on a creative journey to adorn fleece with your unique embroidery creations.