It is a basic need of every embroiderer to view, manage and customize their embroidery designs. They make this possible with the help of different embroidery software that should be fast to learn and easy to use. As we have discussed in a previous blog post about the different embroidery software. In this tutorial, we will explain how you can use Embrilliance Essentials for appliques and their features. With Embrilliance Essentials, you can merge and resize the designs, recalculate stitches, remove overlapping stitches, colourize, print templates, add lettering etc. This is the reason why Embrilliance Essentials are made.
Embroidery Digitizing Services
If you are looking for embroidery digitizing services, EM Digitizer is one of the best embroidery digitizing company. Providing all types of embroidery digitizing. I recommend you test digitizing services.
Overview Of Embrilliance Essentials
It is embroidery software that can be run on mac and windows. One of the best features is that you need to install it one time and it can be run on more than one device as well. Embrilliance Essentials is one of the best-designed embroidery software preferred by most embroideries due to its easy-to-use features. This embroidery software has all the essential tools used to stand out with embroidery. Here's the list of features offered by Embrilliance Essentials: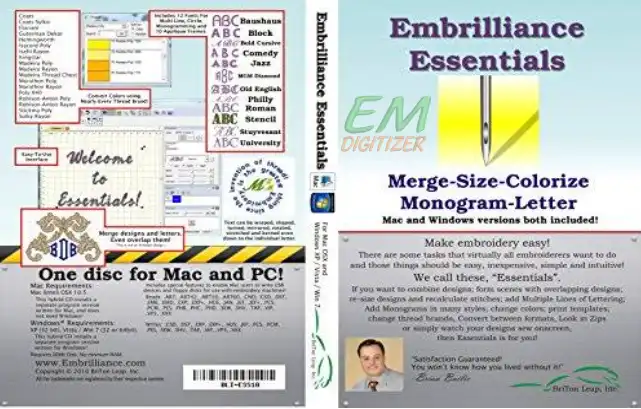 Combine Embroidery Design
You can combine and merge any embroidery designs in your desired format while using this software.
Resize
Resize your embroidery designs accordingly to the area you want to embroider on.
Recalculate Stitches
You can easily recalculate and remove hidden stitches from overlapped embroidery designs.
Recolorize Embroidery Design
Colourize your design that suits your embroidery project.
Lettering In Embrilliance Essentials
You can add and modify letters in multi-line, monogram and circle modes to your embroidery design. You can also create large letters and monograms with built-in templates. Moreover, you can do the sequencing of letters in left to the proper orientation, and reverse and centralized sequencing of letters for caps and hats. Embroiderers can convert lettering objects into stitches to insert mid latter and change the colour etc.
Suitable Design Format
You can save the design according to the format your machine can read. It may be in the form of CSD, DST, EXP, HUS, PCS, VIP, etc.
Split Embroidery
Embroiderers can split their embroidery design in case of multi-positioning hoops.
Project Advice
You can get project advice if you face difficulty in embroidery and using supplies.
Safe Working
This will help you when you require editing in future.
Print Design
One can print real-size embroidery design templates in Embrilliance Essentials for scanning and other purposes.
Jump Stitches
Set these stitches to connect the run stitches and for automatic trimming.
Fonts For Embroidery
BX embroidery fonts are the best-designed fonts for Embrilliance Essentials.
Cost Of Embrilliance Essentials
It is free of cost.
15 Days Learning Schedule
You will receive an email that contains the features guideline of Embrilliance Essentials and a link to give access to helpful videos that provide demonstrations on different topics and techniques by expertise.
Moreover, you can also manage your embroidery thread collection, including quick and easy import from CSV spreadsheet files, and create designer 1 floppy disks and USB sticks.
How To Use Embrilliance Essentials?
First, you need to find the design you purchased. Then select the file format your machine can read.

Select a design such as (4×4 or 5×7) and move it to the top centre of the hoop. You can also resize the design by simply clicking on it or by drop drag and moving the design by holding it so that the design fits the hoop.

If you want to merge your design such as a number or a name, you need to click the merge stitch file button.

For fonts

: You can either use the BX format specific to the Embrilliance platform or open and use the format that works with your machine. You can use your keyboard to type your lettering with the BX fonts. The feature is better because it doesn't import each letter file and then space and align them until they look right. Most of the fonts sold online are in BX format.

You can change the colour of your design and see the number of steps involved in the design by moving to the properties object panel. You can import a formatted CSV file to create your custom palette.
Tutorial Guide On Using Embrilliance Essentials
Let's discuss how to use Embrilliance essentials for applique embroidery.
Applique Designs
These designs are essential in embroidery as they provide more detail and depth to embroidery projects. Due to more incorporated stitches, these designs allow more customization. Simple embroidery thread cannot introduce patterns and colours into your designs. Although Embrilliance essentials is not a digitizing software its cool and unique features allow it to work with applique efficiently.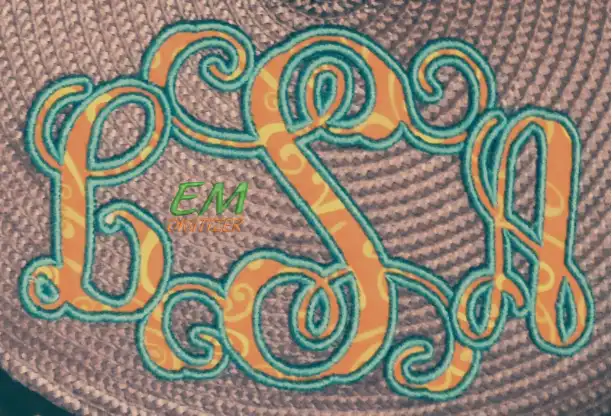 Working With Applique In Embrilliance Essentials
Let's Learn together how you can use Essentials to label your applique design, remove bulky stitches, assign a fabric colour, and save cut files.
Procedure
The next step is to tell the software that you are working with an applique file after you have imported it. You can see the three layers attached to the file in the object pane, which is usually three different colours representing position, material and finishing stitch.
Step 01- Stitch Order
To let the software know that you are working with applique, you have to assign the proper stitch border. The second tab at the top labelled applique allows you to select the position you want to work in.
Step 02- Remove Hidden Stitches
If you have a lot of images in one hoop, you need to overlap them. Once you have labelled each applique you can remove the hidden stitches from the objects. To remove the hidden stitches, you will need to label each layer as a position and material stitch. There is a button that you can use to remove hidden stitches, but you have to label your layers correctly and save your design.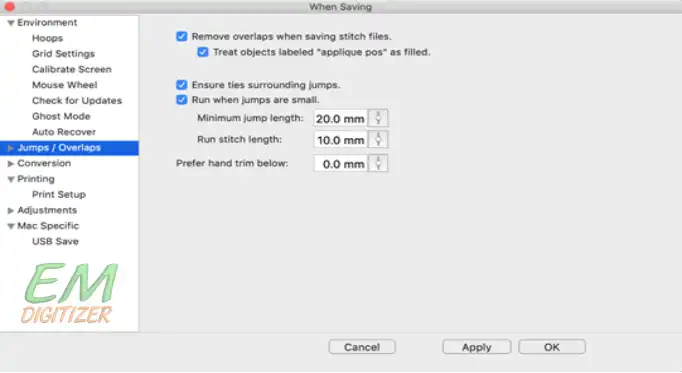 Step 03-Fabric Simulation
You can introduce so much variety through colours and prints of fabric while working with appliques. Embrilliance Essentials makes it easy to match up your applique fabric and your thread colour and it can be done by adding a fabric simulation. If you want to use a themed fabric, you will not be able to upload the pattern, but you can choose a similar colour. You can add a fabric simulation by labelling the applique position layer.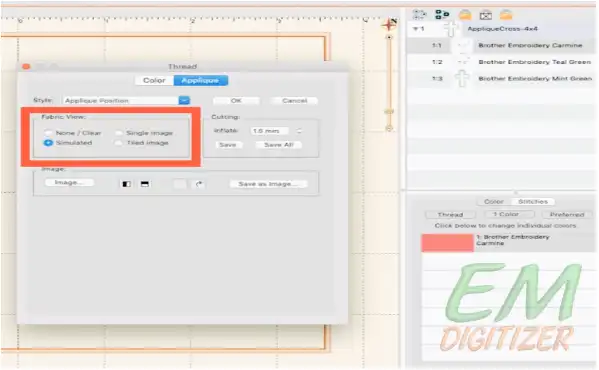 Step 04- Save Applique Files
The feature to save an applique file as an SVG cut file can be used in other design software. These features can be used to create the same design on multiple surfaces. For this purpose, click the thread colour to open the toolbox and select the applique tab once you have the design. You can save the file as you want. That's how you have learned how to use the unique features of applique designs in your projects.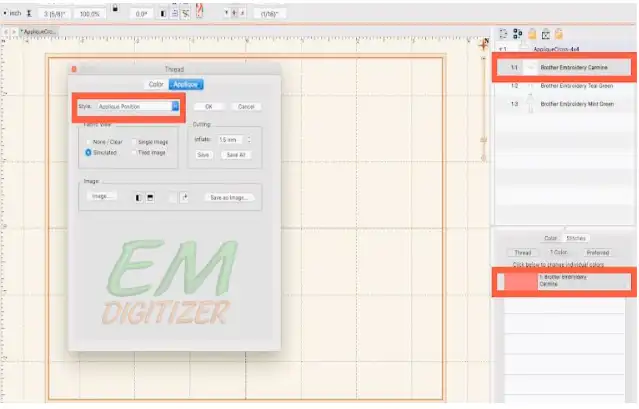 Conclusion
That's all about the key features and working of Embrilliance Essentials to provide you ease during embroidery. Its easy-to-use features make it the best choice for most embroiderers around the world. You can now easily view, manage, resize, colourize and modify your design. Not only this, but you can also add elements, delete elements, and adjust pull compensation and charge density. If we talk about applique embroidery, applique designs are of great importance that add a personalized touch to your embroidery. Hopefully, you will enjoy learning about these Embrilliance Essentials with this post.