The process to convert PDF to DST (Digital Stitch Format) can be tricky, especially if you're not familiar with the tools and techniques involved.
Embroidery machines use DST files to create stitched designs on fabrics, and they require a specific format that is different from the standard PDF format.
In this blog post, we'll provide a step-by-step guide on how to convert pdf to dst.
Embroidery Digitizing Services
If you are looking for embroidery digitizing services, EMDigitizer is one of the best embroidery digitizing companies. Providing all types of embroidery digitizing Services. I recommend you try digitizing services.
Order Now
Get Free Quote
Overview
PDF (Portable Document Format) files are widely used for sharing and distributing documents. Sometimes you may need to convert a pdf to DST (Data Stitch Tajima) file format to use in embroidery machines.
Before going to convert pdf to dst, have a look at a short introduction to PDF and DST files:
PDF file
PDF stands for Portable Document Format. It is a file format used to present and exchange documents in a manner that is independent of software, hardware, and operating systems.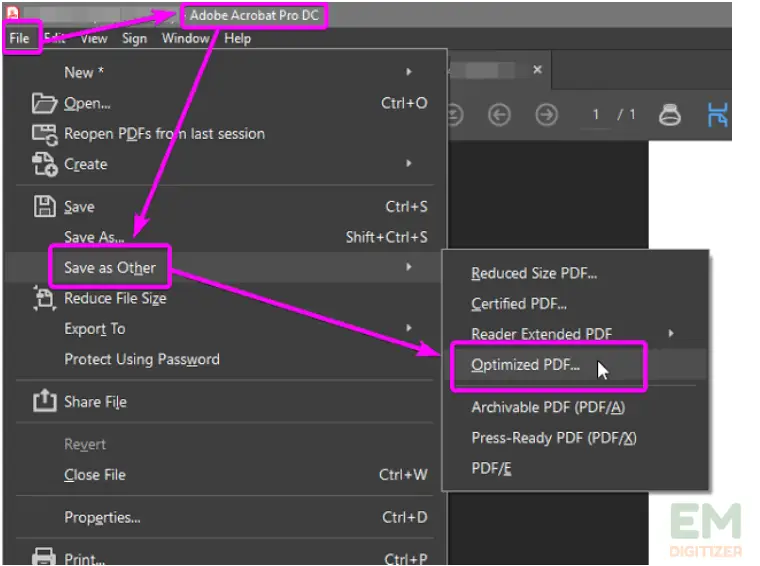 PDF files are typically created using software such as Adobe Acrobat, and they are commonly used for documents such as reports, manuals, eBooks, and forms.
DST file
DST stands for Data Stitch Tajima. It is a file format used in embroidery machines to tell the machine how to stitch a design onto a piece of fabric.
DST files contain information about the size, color, and placement of each stitch in the design, and they are created using embroidery or digitizing software.
DST files are commonly used in the textile industry for embroidering logos, patterns, and other designs onto clothing, hats, bags, and other items.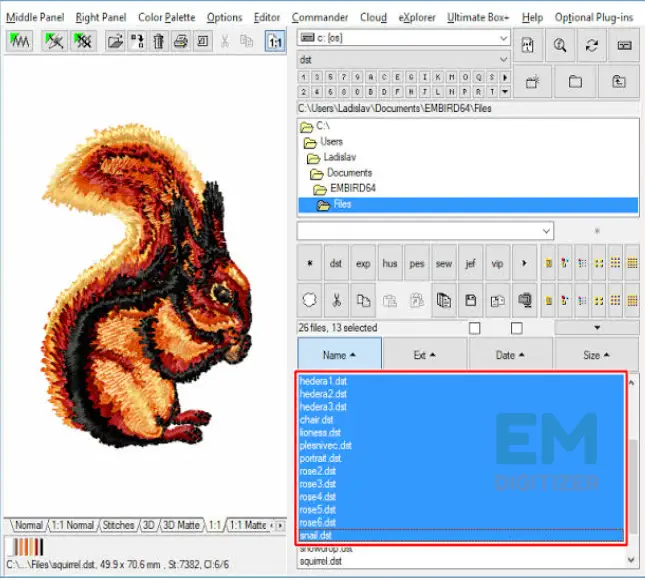 The Tajima format is a popular embroidery machine format, and DST files can be used with most embroidery machines that support the format.
Click here to read this blog's top commercial machine reviews, which will help you choose the ideal option for your needs and budget.
Why Is There A Need To Convert PDF To DST?
Embroidery machines require specific file formats, such as DST, to create embroidery designs.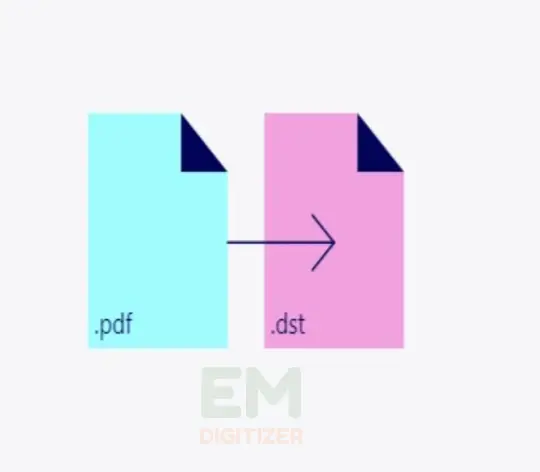 These machines are programmed to read the DST file format and translate it into stitching instructions that the machine can understand.
If you want to create embroidered designs based on a PDF file, you will need to convert the PDF file into a DST file format using specialized software.
Here is a list of embroidery file formats sorted by embroidery machine compatibility.
This process used to convert pdf to DST file involves using specialized software that can interpret the design elements in the PDF file.

And then convert pdf to dst format so that an embroidery machine can read and stitch onto fabric.

It's worth noting that not all PDF files can be easily converted to DST format.

The complexity of the design as well as factors such as the number of colors used and the size of the design can all affect the ease of conversion.

In some cases, it may be necessary to make manual adjustments to the design or simplify it to make it suitable for embroidery.
Convert PDF To DST- A Complete Tutorial
Fortunately, there are a few steps you can take to convert pdf to dst. Here's how to do it:
Step 1: Choose The Right PDF For the DST Converter
To convert a PDF file to a DST file, you will need conversion software that supports both formats.
There are several pdf to dst converters available, but some of the most popular tools are Adobe Illustrator, Ink/Stitch, Wilcom TrueSizer, Pulse Ambassador, and EmbroideryWare.

Each of these pdf to dst converter programs has its own set of features and capabilities, so be sure to choose one that meets your needs.
This post includes a selection of free machine embroidery file format converters that offer top-notch converting services while maintaining quality.
Step 2: Open The PDF File
Once you have selected the conversion tool, open the PDF file you want to convert.
Most conversion tools allow you to import PDF files directly into the software.

Simply click on the "Import" button and select the PDF file you want to convert.
Step 3: Prepare Your PDF File
Before going to convert pdf to dst, you may need to do some or all of the following:
If the PDF file includes unnecessary borders or whitespace, you may need to crop it to remove them.

The resolution of the PDF file may need to be adjusted to ensure that the embroidery machine can read it.

DST files are made up of stitches, so any text or vector graphics in the PDF file may need to be removed or converted to stitches.

Edit the design as the stitch density, stitch direction, and other embroidery settings.
Check out this post to see how one may guarantee the highest quality outcomes when converting images into the embroidery files of their choice.
Step 4: Convert The File
Once you have imported the PDF file into the conversion software, the next step is to convert the pdf to DST format.
Click on the "Convert" button or select the "Export" option from the file menu.

Choose DST as the output file format, and set the other conversion parameters as desired.

The conversion tool will automatically generate the DST file once the conversion is complete.
Step 5: Save The DST File
Once the conversion process is complete, the converter software will generate a DST file containing the embroidery instructions.
You can save this file to your computer by clicking on the "Save" button.

Select a location to save the file.
Step 6: Transfer The DST File To Your Embroidery Machine
The final step is to transfer the DST file to your embroidery machine.
This can be done using a USB flash drive or a network connection, depending on the capabilities of your machine.

Consult your embroidery machine's user manual for instructions on how to transfer files.
If you wish to transfer an embroidery design to your embroidery machine in the simplest possible ways, you may also check out Emdigitizer's blog.
Step 7: Test The DST File
It's always a good idea to test the DST file before using it for embroidery as many conversion tools come with built-in simulation or preview options that allow you to view how the design will look once embroidered.
Check the stitch density, thread colors, and overall quality to ensure that everything looks as expected.

If the preview looks good, you can proceed to embroider the design onto your chosen item.
Convert PDF To DST By Visiting Emdigitizer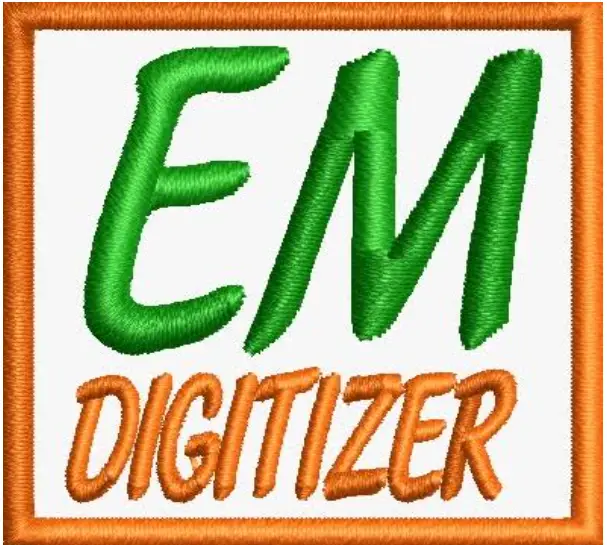 Emdigitizer is a reputable digitizing company that specializes in converting various types of designs, including Logos, images, and artwork, into embroidery files.
In addition to its digitizing services, Emdigitizer offers services to convert pdf to DST file format.
With their expertise, dedication, and commitment to quality, you can be confident that your embroidery designs will be converted to the DST format accurately and with the highest level of quality.
View the collection of premium free embroidery designs provided by Emdigitizer.
By converting a design from PDF to DST, Emdigitizer helps clients to achieve excellent embroidery results that are accurate, detailed, and of high quality.
The company's digitizing process involves careful analysis of the design, selection of the appropriate stitch types, and meticulous attention to detail to ensure that the final product is of the highest quality.
Whether you need to convert a single PDF file or a large batch of files with fast turnaround times, affordable rates, and exceptional customer service, Emdigitizer is a top choice for businesses that need high-quality embroidery digitizing and conversion services.
Want to convert pdf to dst? Feel free to contact Emdigitizer via email or phone to confirm availability and obtain a quote.
Conclusion
Converting pdf to dst format is a straightforward process that can be accomplished using specialized software tools. With the right conversion tool, you can easily create embroidery designs from PDF files that can be stitched onto fabric-based items.
Whether you're a professional embroiderer or a hobbyist, mastering the art to convert pdf to dst is an essential skill for creating stunning embroidery designs. With a little bit of practice, you'll be able to create beautiful, personalized embroidery designs in no time!