This post is incredibly vital if you're acutely aware of your embroidery business and need to create the most effective selection for your embroidery projects. In embroidery, you are given a lot of projects such as branding products, advertising material, themed decorative items, seasonal or occasional embroidered clothes and more. All you need to have specific fabric for embroidery. It is necessary to make a suitable choice of fabric for embroidery to create the target design for various projects. The beauty and sustainability of the design depend upon the quality of the fabric chosen for embroidery. Browse this content totally if you wish to pick the most effective fabric for embroidery to boost its decorum.
Embroidery Digitizing Services
If you are looking for embroidery digitizing services, EM digitizing is one of the best embroidery digitizing company. Providing all types of embroidery digitizing. I recommend you test digitizing services.
Fabric For Embroidery Digitizing
When you enter into the world of embroidery, it is possible to have millions of ideas in your mind to create on the different materials you see in front of you. It is so fascinating to embroider what you have. Isn't it? So how it would become possible? This is all because your embroidery machine offers you to create infinite designs to digitise on a variety of fabrics and others surfaces. To turn your dreamy ideas into reality, you need to know which fabric suits best to your embroidery design and for how long your fabric supports your complex or sturdy embroidery design.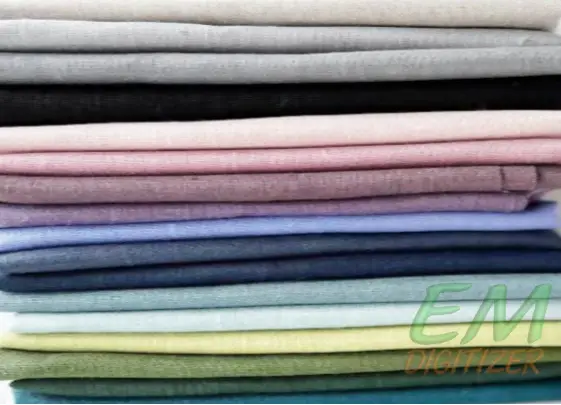 Not all of the designs are made with the same fabric for embroidery. For example, if you create the same design on different fabrics, the results will be different. The type of fabric used for embroidery is a matter of attention as it will decide the overall presentation of your embroidered projects. For these reasons, the basic task of embroiderers is to choose the fabric with good infrastructure and features that enables it to withstand needle stress, stretch, ironing etc.
If you want to know about the best types of fabrics visit our blog.
Factors To Consider When Choosing the Best Fabric For Embroidery
Here I am going to discuss which properties an embroiderer must consider while making a careful choice of fabric for embroidery such as weight and texture of fabric for embroidery, colour, thread count, quality, thickness, reliability etc.
Quality Of Fabric For Embroidery
Do you know that the quality of your fabric affects the overall look of your embroidery design and fine stitching? Yes, it does. If you are using a piece of poor-quality fabric, your embroidery machine cannot stitch it out easily. And secondly, this fabric wouldn't support your design for a long time. What if you are putting all of your efforts into creating distinctive designs for your projects but in the end, poor quality fabric for embroidery vanishes all these efforts? That's why try to use superior quality fabric for embroidery not only for yourself but for the satisfaction of your customers.
Keep In Mind The Weight And Texture Of The Fabric For Embroidery
Depending upon the nature of the design, embroiders will select the best-textured fabric to support the embroidery design.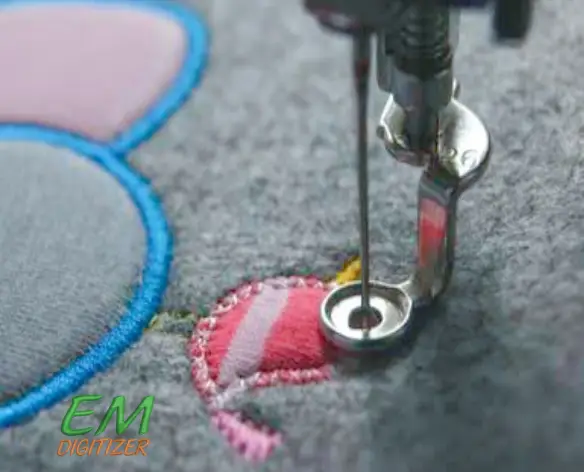 For example, you want to embroider a logo, text or design onto different textiles such as hats, caps, twill or jackets. You need to go for strong and sturdy fabric which could bear the weight and underlay stitches easily. But for lightweight fabrics like silk, you need to incorporate more stitches to stabilize the design and the same case with loss or stretchy fabric which is unable to hold the number of threads used to embroider a Complex design. But according to my point of view, you should medium-weighted weighted fabric for embroidery as working with too strong or too lightweight fabrics can be frustrating.
Must Consider The Thread Count
To choose the best type of fabric for embroidery, it is essential to consider thread count which is the number of threads per square inch and is often called weave. To maintain the sturdy appearance of your embroidery projects, select a fibre with a low thread count because a higher thread count, tighten the weave which is hard to embroider. It is estimated that fabric that has a thread count under 150 could embroider easily and you will not face any inconvenience while passing your needles into such kinds of fabric to create the design. Examples include cotton, linen, Aida fabric and muslin etc. Meanwhile, there is a variation in thread counts from fabric to fabric.
Note: Fabric with a high thread count could be the best choice for high-quality stitches in some projects. Again there is a difference in choosing fabric with a higher or lower thread count depending on the complexity of your project.
Choice Of Fabric Based On The Type Of Design
It determines how easily your needle can perforate and thread the fabric. As per the type of design, the fabric has a loose weave can make the stitching process easier than a tight weave. There is a difference in considering type or weave fabric as full weave fabrics can be used for many projects for a more fine look. And tightly woven fabrics are a great option if you are interested in thread painting and want clear stitches to be prominent.
But if you want to use ribbon in your embroidery projects, the use of heavy fabric such as velvet is recommended.
Type Of Stitches
Selection of fabric for embroidery is also confined to the types of stitches you want to apply either simple, cross or dense stitches.
For example:
If you want to go with a single strand of thread, lightweight fabric can be easily stitched out during hand embroidery.

With machine embroidery, fabric with high weight can make a big difference.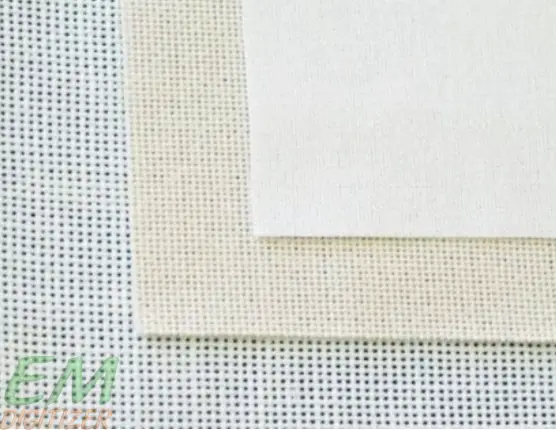 That's why I am saying that the choice of fabric for embroidery depends on the type of incorporated stitches.
Go With Naturally Fabric
A very common aspect of choosing the best fabric for embroidery is its nature of constituting material. Fabrics with natural fibre content are strong enough to carry the weight of the embroidery project including cotton blends, linen, silk or wool. These all are naturally made fabrics that go best with any kind of embroidery design. The fibre content of these natural fabrics runs horizontally and vertically which makes your needle find its path of stitching easily other than synthetic fabric which can cause fraying of thread hence deteriorating your embroidery look.
Prewash And Consider Backing Support
It is always recommended to wash your fabric before embroidery to avoid shrinkage and so tighten the fabric weave to hold on design. Consider embroidering a complex design and you want to adorn the design with different decorative materials such as beads, ribbons, buttons, a badge or a pearl. In this case, you need to add backing or stabiliser to support your fabric to bear that doubled-layer complex design and dense stitches. It will adhere to these materials in the design. This is just for improving stability not the final look.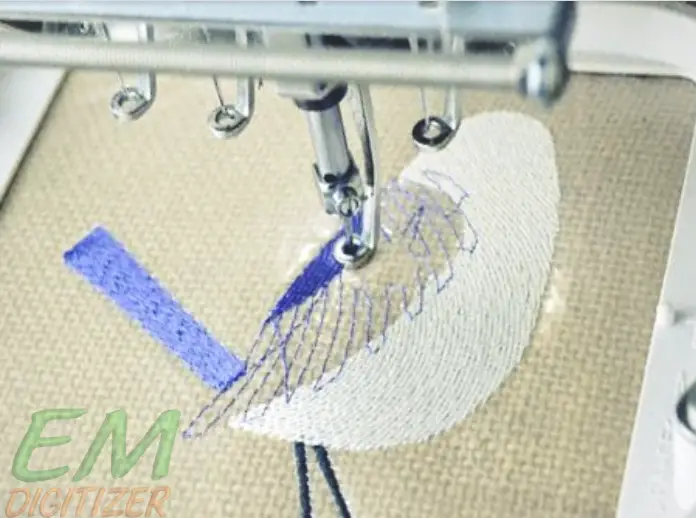 Final Usage Of Fabric For Different Projects
Choosing the fabric for embroidery is not an easy task. By keeping in mind the all factors listed above, another important factor is the purpose of selecting specific fabric for embroidery projects. Either you want to embroider the fabric for clothing or hanging decorations. For example, you like to decorate pillows, bags, upholstery etc. Hard and washable fabrics are the priority for embroiders.
The choice of fabric differs from those of clothing. It's all about how durable your fabric is and how it retains the embroidery design for a long time.
Make A Habit To Test Fabric Before Creating Design
Some of you still have a question: how would we know that we are working with the right fabric for embroidery projects? The only thing you can do is perform a test on the fabric. By doing so, you can easily get out of this tricky question and won't regret it later. Take a pause and check the quality and strength of the fabric to make sure that it is right enough to support your embroidery design.
Examples Of Best Fabric For Embroidery
Among the huge collection of fabric you see in a fabric store, here are a few picks for the best fabric:
Quilting cotton

(Used for embellished table cloth and quilts etc)
Hankey linen

(Cotton linen blend used for embroidery)
Low count linen

(lighter than cotton)
Silk

(Shiny and delicate but hard in texture to hold the embroidery)
Wool

(Natural fibre content and avoid thread fraying throughout the design)
Denim

(Sturdy fabric for heavier projects such as jackets)

Terry cloth

(Serves best to embroider towels and item like that)
Conclusion
This is all concerning the guidelines I'm attempting to offer you to unravel the puzzle created in your mind before careful choice of the best fabric for embroidery. In short, take into account the naturally driven fabric with good thread count and weight according to the projects as well. Because the selection of material for embroidery is truly supported the sort of style you wish to make. After reading this post, hopefully, there is no doubt left in your mind before selecting high-quality fabric for embroidery.